---
"Amerigo Vespucci", Italian Training Ship 1931 (active sailing ship)
I made my plans after a visit on the ship in 2010.
Shortly after that I received the Italian book "La più bella del mondo - Nave Scuola Amerigo Vespucci" by Piero Carpani,
in which i found my reconstructions confirmed on pages 102-103. Its arrangement is quite unique among all tall ships!
Here is my Italian-English compilation of it (click to zoom in):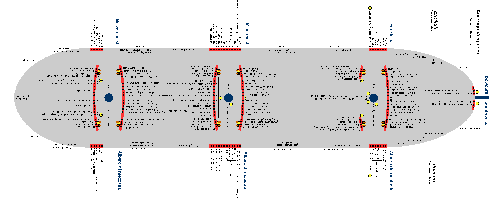 More pictures of this magnificent ship are here on this website.
---
"Cutty Sark", British Tea Clipper 1869 (preserved in Greenwich)
→ Sister-in-Law-ship "Stad Amsterdam", 2000(!) by Randstad Holding (active sailing clipper ship!)
There is no original belaying scheme preserved of the Cutty Sark. In fact, only one deck plan survived, which is even in bad condition...

When the Cutty Sark was "rediscovered" as "Ferreira", she was in utterly bad shape and rerigged as a brigantine. She was sailing under Portuguese flag, where she was mercilessly "used until no more useful", like any other ship. After all, as ship is just a vehicle.

Her reconstruction made her a museum ship in the 1930s, but she never was to set sails again for real. Her much reduced museum rigg had entirely been reconstructed.

A matter of discussion still are her very individual fiferails, it seems that not all are preserved (due to the age of the ship!), and when rerigged as a brigantine, that rigging was simplified quite a lot, much less lines than for square sails. As a clipper, the mizzen and main mast had 5 times more ropes to belay than wth her last active brigantine rigging.

And the single surviving original deck plan indicates a different fiferail layout than we can see today!

So after all, everything that can be said today about her belaying schemes is some sort of sophisticated guess...

There is even no modellers belaying plan available; Longridges´ "bible" about the Cutty Sark does not(!) provide it. Longridge just mentions that beyond the 12 holes in the reconstructed rails, he added "more" pins for his model - how many, we may speculate, and the photos in the book do not show all those details. We just can guess that those were as many as Longrodge thought they were needed for all lines to belay - which is precisely the way the real ship was altered all the time... first comes the rigg, last come the pins.

Noel L.C. Hackney made a plan available in his modelling book about the Cutty Sark. But his plan is still very hard to read, and - sorry - full of mistakes and omissions. You should not wonder about that, it is easy to make mistakes, and I also make mistakes I see when I review plans after some time, having done more research.

OK. Here are FOUR possible versions for the Cutty Sark belaying positions:

1. The "original" plan (mapped into a deck scheme I reuse) made by Noel L.C. Hackney, for his model of the Cutty Sark, in 1974.

2. My first "revision" of the plan in 2008 ... here I added a fiferail to the mizzen mast to have room for the densed belayings

3. My second "revision" of the plan in 2011... here I kept to Hackney´s deck layout

In this version I have less buntlines for the upper sails (only 2), as can be seen in many clipper ship depictions. The "fashion" to have at least 4 buntlines was a pattern used in the later windjammers. All yard lifts except for the lower yards are fixed.

4. My third and final "revision" of the plan in 2015, after having sailed with Cutty Sarks "sister-in-law"-ship "Stad Amsterdam"!

This one includes even the running rigging for the stunsails, which are rigged off completely when not used. They do not have dedicated belaying points, so these where belayed "somewhere". Yet, some patterns can be shown.

... based on my latest work; the plan of the "Stad Amsterdam":
Compare these for Yourself.
Sailing with the clipper ship "Stad Amsterdam" in October 2015 was the key experience for me to get answers for all details finally!
A big thanks to Kristina Jacobsen, quartermaster and master instructor for the crew!

---
"Dar Młodziezy", from Poland - the "Mir-Class" (active sailing ships)
Both sister ships (and there are yet two more in that class) were mooring behind each other in Halmstad. And finally, I now made my own bilingual belaying plan in Polish and English, of the Mir Class ships (although some small differences may be).
Yet another mission "Belaying Pins" accomplished =)
Alas, my friend Małgorzata Klubinska AKA Gosia from Poland, being an instructor(!) for the cadets, indeed found some small errors ...
---
A Galleon (Reconstruction), 17th century
No original belaying scheme has prevailed, if it ever existed. We do not know if or when shroud clamps have been used.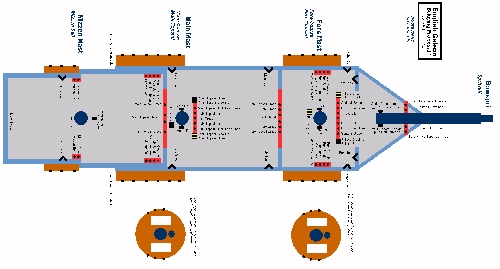 The sources for this plan, revised by me, are various. But foremost are the rare seagoing replicas of today (Kalmar Nyckel, Duyfken, etc), and ship models, and the German book "Risse von Schiffen des 16. und 17. Jahrhunderts" by Hoeckel a.o., 1970
---
A French 74-gun ship of 1750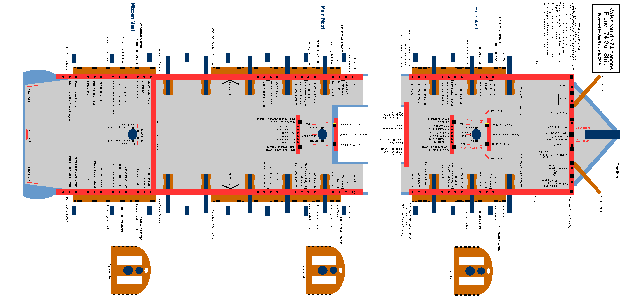 This is my personal reconstruction. I used the third volume of Boudriots "Le vaisseau de 74 canons", but was not content with his version - too many "errors", asymmetries and missing lines. I will apply my own plan on my models ...

For all who want to check the plan that Boudriot had in mind, here is it (as mapped to a non-geometric plan scheme), in French and English: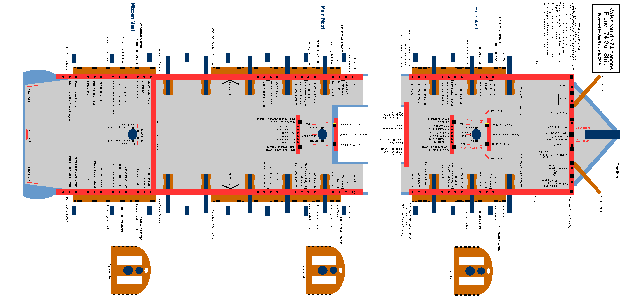 When You look closely You will find some strange things, that is why I made my own version...
UPDATE 2010-12-11:
after requests of the German modellers forum Wettringer Modellbauforum, here is my bilingual version English/German
auf Wunsch des Wettringer Modellbauforums, hier eine zweisprachige Version meiner Überlegungen: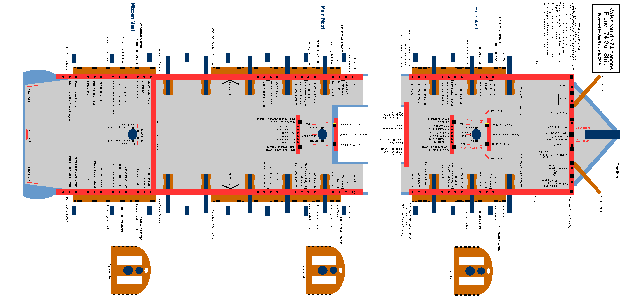 ---
"Gladan" / "Falken", Swedish Training Schooners (active sailing ships)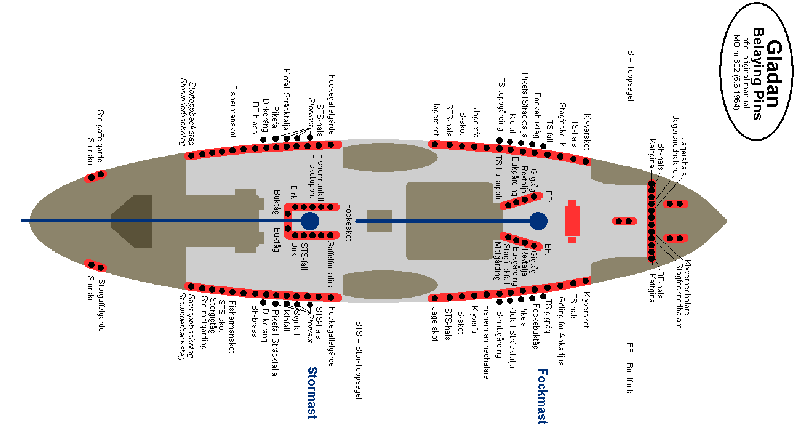 This is the information for the trainees, taken from a manual in the 1960s
Another issue of this cadet manuel 10 years later showed a different plan: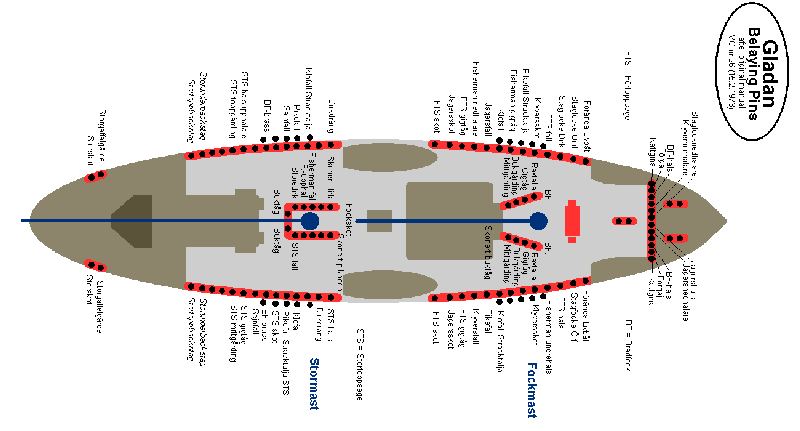 So You can see, on schooners even more than on square sailing ships, the belaying is some kind of arbitrary and subject to changes.
I apologize for not having translated these into English, they are Swedish. But You can use my Online Maritime Dictionary in the menu above :)
---
The "Gorch Fock Class": Sagres, USCG Eagle, Gorch Fock, Mircea
Here is my compilations in original languages (click to zoom in):
Belayings on Sagres II
in Portuguese (after original plans)

Belayings on USCG Eagle
in English (according to the manual)

Belayings on Gorch Fock II
in German (after original plans)
---
"Götheborg III", replica of a Swedish East-India-Man (active sailing ship)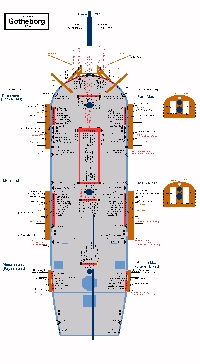 The belayings here in Swedish and English

This original belaying scheme is printed in the book "Skeppsboken" by Björn Ahlander / Jens Langert (available at SOIC), a lecture book for all trainees and visitors of the ship.

The plan in the book is also geometrically correct - I just made a schematic view of it ...
---
"Jarramas / Najaden", Swedish Training sister ships 1897 / 1900 (preserved in Karlskrona / Halmstad)
Since I visited the Marinmuseum in Karlskrona in summer 2008, I have the luck to have a copy of an original belaying scheme, and about 100 copies of old photos of the ship under sail. Yet, I found some "errors" in it, and I made a new scheme that I believe to be more correct:
| | |
| --- | --- |
| Marinmuseum´s version [Swedish] | my version [still Swedish] |
---
"Nippon Maru & Kaiwo Maru", Japanese 4-masted barques (built in the 1930s)
Compiled by me, using Japanese documents and my own pictures from Japan, in 2016 (click to zoom in):


The Japanese sailors actually use English terms for the entire rigging - so You will be able to read it!
---
"Pamir / Passat", German 4-masted barques (Passat preserved in Lübeck)
Here is my German-English compilation of it (click to zoom in):

It can be assumed that many other schemes of the Flying P-Liners had been very similar.
---
"Preussen", German 5-masted Fullrigger 1902
Here is my German-English compilation of it (click to zoom in):


She was the only 5-masted fullrigger ever built in the world. But the scheme is still "classic" for all full-rigged Flying P-Liners.
---
"HMS Prince" 1670 Of course, it is just a sophisticated guess :)

---
STS "Sedov", from Russia (active sailing ship)
In 2011 I entered their souvenir shop onboard. And I found a small manual with all the information for the trainees,
about the rigging, in Russian, English, and German. Bingo!
And a giant picture book about the Sedov.

And finally, I now made my own bilingual belaying plan of the Sedov, in Russian and English.

Yet another mission "Belaying Pins" accomplished, the third in one single day =)
---
"Shtandart", Replica of a Russian Frigate 1703/1988 (active sailing ship)
Anton Sudakow, the rigging master of the ship, was so kind to give me copies from their belaying plans of 2012, in Russian.
Here is my Russian-English compilation of it (click to zoom in):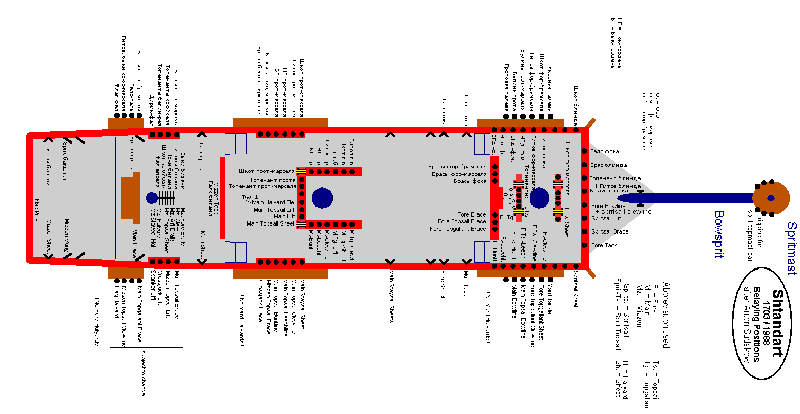 Anton makes some changes to it sometimes ... some lines are simple that "arbitrary".
The arrangement is meant to be as logic as possible, but You always need to make compromises.
More pictures of this ship are here.
---
"Soleil Royal" 1670
I stopped working on the Soleil Royal model in autumn 2007. Not because I was preparing my final move to Sweden, but because I found the plan provided somewhat unlikely ... and yet I had not sailed by myself with the Swedish replica "Götheborg", on two occasions in 2009 and 2010, that helped me to solve the riddle eventually.
In short: I think the belaying plan that Heller provides it almost totally wrong. Well I would not have known better before my real sailing experiences, and other visits to museums.
The original plan is a "number plan", to be read by a table - that does not give the lines names that seamen use, like "topgallant brace". It takes a lot of time to read such a plan, and it is unfortunately prone to make mistakes. So I translated it into a named plan, using the English terms, for this web page: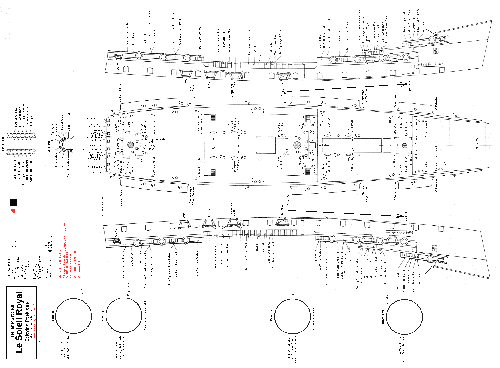 December 2010: using all my experience from real sailings, my books, plans, pictures and studies of the last 10 years, I finally put the puzzle together, without altering any pins or fiferails and knights layouts, but with a completely different result: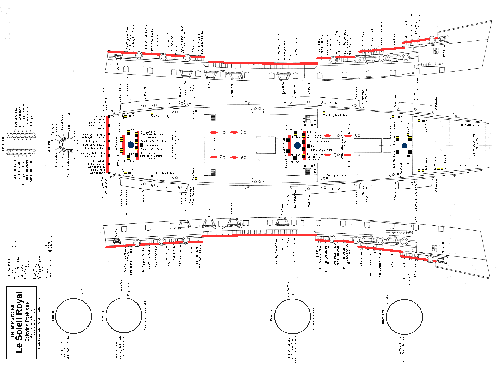 This is how I will rigg my model - yes, it is only my personal reconstruction. If it comes close to the historic original, I simply don´t know. You may have Your own ideas about it. Now I can continue building ...
UPDATE 2010-12-11:
after requests of the German modellers forum Wettringer Modellbauforum, here is my bilingual version English/German
auf Wunsch des Wettringer Modellbauforums, hier eine zweisprachige Version meiner Überlegungen: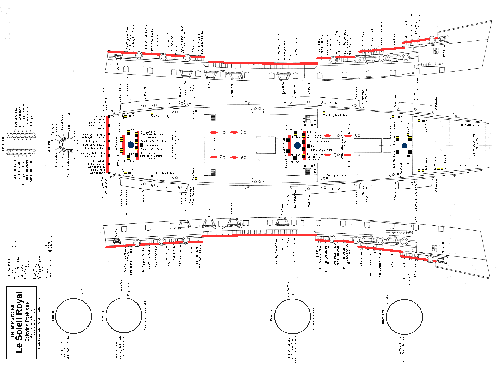 ---
"Sovereign of the Seas / Royal Sovereign" 1637 Of course, it is just a sophisticated guess - and my third version already :)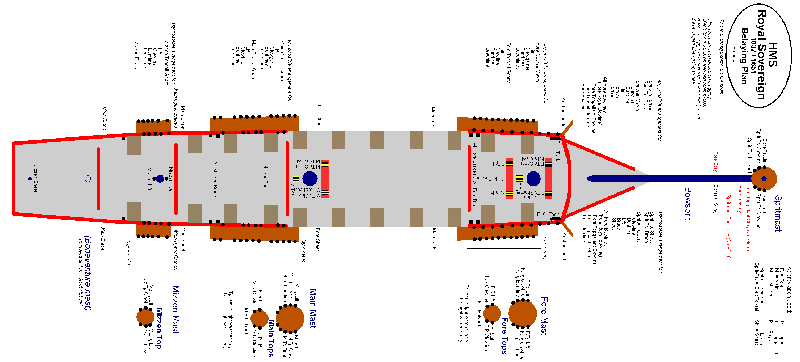 Actually, there are many possible arrangements that I did not give an exact position here, but only some areas of "probability". The topsail sheets, course sheets and tacks are the only lines being most "certain". All the rest is speculation. The inclined modeller may find his/her own special solution ...
---
"USS Constitution", American Frigate 1797 (preserved in Boston)
I can show You SEVEN different versions here! Scroll down ...

WHY do I put so much time and energy on finding out these things? In the first place I only wanted to build a model, but in order to do so, I wanted to study the entire rigging before I start building. The Revell kit comes with a simplified plan that does not satisfy me ...

The belaying positions are one of the details that need to be clear before I build and place all the bitts and rails on the model.

All other details, the various blocks, line splices, knots, leadings etc, have been documented in many excellent contemporary and modern books, both in texts and pictures, so You will find all other details there.

The general problem is: no belaying plans of that era exist, and of course none of the Old Ironsides. Even the original layout of the deck fittings are subject to sophisticated speculations. That layout of the bitts and the physical "areas of probability" where to belay what line makes it impossible to make a definitive plan, too many variations are possible.

There is a contemporary model, the Hull model, indicating some layouts.

The actually rebuilt fiferails on fore, main and mizzen show a unique detail, that I observed here only, and that all landlubbers oversee: two shifted rows of belaying pins, an inner and an outer row. Who ever had this idea might have had the number of lines in mind that must be belayed somewhere ... yet, if these fiferails are like the original mast be doupted.

More than 200 lines comes down from the sails when fully rigged. All these "gears" need a belaying position somewhere. You can let lead all lines down to deck, like modern sailing ships, or use the ancient methods, where many lighter lines were not belayed on deck but in the tops (that is: on a shroud clamp or pin somewhere up in the masts)

The most "controversal" question here is the belayings at the full rigged mizzen mast. The Revell kit, Edson and Eriksen only show a spider band, where Magoun and Marquart show a fully equipped 3-sided mizzen firerail, which can also be seen on the ship today.

Meanwhile I have many possible "versions", and my own guesses, too, inspired by these ...

For a long time I "only" had these four: still I found them not satisfying, so I stopped building the model until I found a better source ...
1. The Revell Kit Plan, around 1970

The famous plastic kit by Revell in 1:96 suggests a very simplified rigging, in order not to "overcharge" the poor average modeller; most do not even follow this plan and build it even simpler ...

2. Source: Magoun, 1928

"The Frigate Constitution and other Historic Ships"
(Reprint by Dover Publications, 1987)
→books

to be polite: it is very unlikely ... ok it is "just" for a plastic model :)

I stopped after building the Revell hull, and started research for a better reconstruction ...


The first true reconstruction available

All original plans are believed to be lost

3. Source: Edson, 1979

"Modeller´s Shop Notes"
→books

4. Source: Marquardt, 2005

"The 44-Gun Frigate USS Constitution"
(Conway, The Anatomy of the Ship-Series)
→books

Edson copied this one from Karl Vogel, who made notes of Col. W.F.Spicer

(the ship is not longer, just this scheme is ...)
Well, that is a choice ... two most experienced authors (Edson and Marquart) come to completely different results! All four rail layout are also entirely different (and not even 100 persons on earth would be able to see it).

And of course, they all omitted the stunsails again :) ... those were belayed obviously anywhere

So here I stand, scratch my head, and ask myself what to do out of all this...

Well, I first look at the sail gears, then at the rails layout, and then comes the scheme ...

Here is my own scheme, just of many possible arrangements, for my Revell kit (the first complete version, but without scratch build addings, compare my second plan below). It has limited space on the rails provided (this version keeps to the parts given in the kit), so let´s see if I can make an arrangement without adding more rails: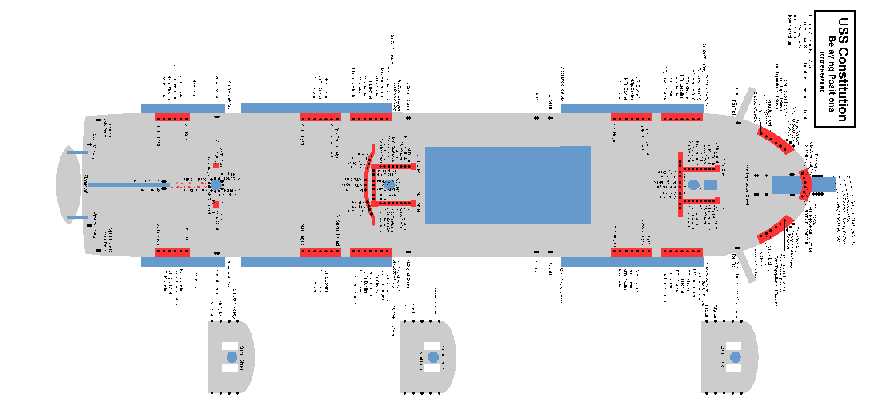 ... which is indeed possible, to my own surprise, even at the fully rigged mizzen mast!
Of course, You may have other ideas about it ...
UPDATE 2010-11-12: I finally found the source I had been looking for many years

Source: Olof A Eriksen, 2007
"Constitution - All Sails Up and Flying"

My latest source on the Constitution is a book that I ordered in November 2010 via internet, I had a tip from a modellers forum. This book is even more detailed than that of Marquart (The Anantomy of the Ship series). Olof A. Eriksen did not only make a gigantic research, he built also a not less gigantic model of her - in steel, hemp and flax canvas!

In his book, which is indeed expensive, but worth the price for advanced modellers, he provides a thorough description of historic details, hundreds of detail plans of his reconstructions, and: a belaying plan.

Although even Mr. Eriksen did not find any historic records about her belaying plan, he made a "sophisticated guess" of his own, based on many other indirect details. He made his model rigg functioning, so his plan might come very close to reality. Still, he suggests to the modeller, that each modeller is like a captain of his (or her) model, and every captain has his own ideas how the ship should be. The ship had many many different captains and almost each of them added or changed something...

And this is his belaying scheme, as I read it: it INCLUDES the stunsails!!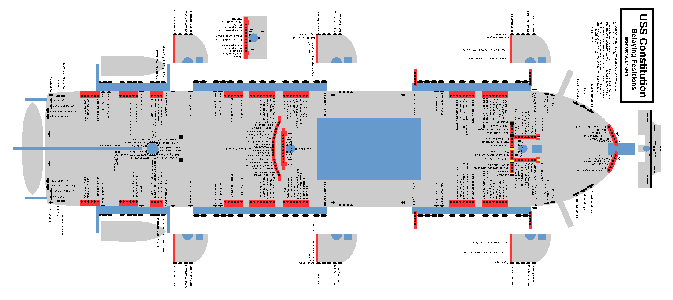 In fact, I contacted Mr. Eriksen, a very fine man in the U.S., although very busy, and asked him what source his reconstructions were based on, beyond his books text. He replied, his main source, aside from the midshipman´s notes of 1835 (giving only general belaying indications), was Brady´s "The Kedge Anchor, or Young Sailor´s Assistant", but the first edition of 1841. Mine is a reprint of 1970, from the 1876 edition...it has no belaying plan and no such indications. Mr. Eriksen gave me in fact a warning on this: the editions of Brady´s "Kedge Anchor" of 1841 and 1876 are much different, the latter containing much more modern ways of rigging, like steel wires etc, which were not used. The pity is, there are only 6 copies worldwide of the 1841 editions surviving in the archives, and it was hard even for Mr. Eriksen to find access ... so as of today, we modellers could assume Eriksen´ recent book as the most accurate - and AVAILABLE - resource for studies.

UPDATE 2010-11-25: being inspired by the plans of Eriksen, but being different though ...

Source: my little lot, 2010
My latest try to reconstruct the belaying scheme, but using the actually existing bitts on the deck. They are very special in that sense as they have "double-pin" rows, to give space for all the lines coming down from the rigging, including the stunsails. The circumstances why these fiferails had been rebuilt like this, or when, are not known to me ...
This one is not about historical correctness - some purists may cringe on this! -, this is a "virtual modelling game", about plausibility for an operable running rigging using the combination of the Revell kit (as my base for a model) and the actual shape of the real surviving Old Ironsides in Boston, which we have many pictures from luckily.
I wanted to see if or if not it would work, too - it does. And I made this scheme only for my Revell kit, adding some scratch built bitts and rails.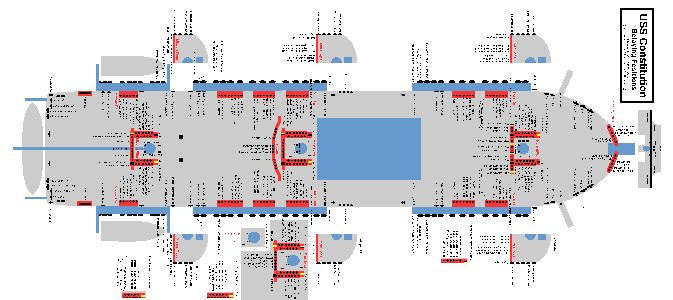 "But this is wrong!?", purists may. say. Right, it IS wrong, historically! But without these comments on it, how many people would have noticed? Not even 10 on this planet! And nobody even in the highest modellers ranks will ever catch up to Mr. Eriksen.

UPDATE 2011-01-15: And there are even more plans out there ...
one example was made by Ben Lankford, Model Shipwright, in 1998. One of many possible solutions for a model. Lankford also states that Navy plans do not exist, not even for the reconstruction. His plan, using the actual layout of the Old Ironsides of today, even if he includes the studding sail gears, unfortunately makes not much sense, at least not to me. So I will not map it here ... which should be no critics. Some years ago, I may have made a similar plan.

But now I feel my search has come to and end. And so I restarted building ...

UPDATE 2015-11-22: I wonder how I would remake the plans after having sailed with "Stad Amsterdam", where I could finally answer all my questions about stunsails - a big thanks to Kristina Jacobsen, quartermaster and master instructor for the crew!

---
French 18-Pdr Frigate "La Vénus" of 1782 (42 guns)
The "godfather" of the French naval history researchers and editors, Jean Boudriot, wrote sereval books on the French frigates - of course, in French. Only some have been translated to English.

One monography was dedicated to the frigate "La Vénus" of 1782. The English translation is more like a summary, but has excellent plans and tables, including a detailed belaying plan. The original version of Boudriot, translated from a "number plan" into my preferred "named scheme plan", is this: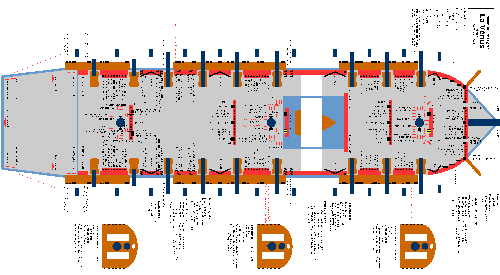 Of course, I found some "errors" in it ... and I had some ideas on my own, so I made another revised version; it is not totally different, though ...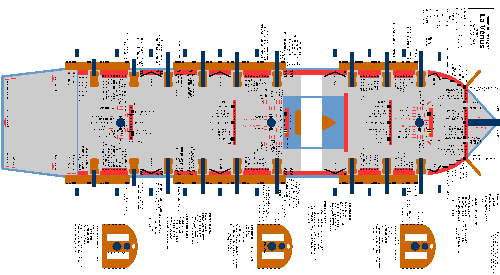 Of course, You may have other ideas about it ...
---
"HMS Victory", 100-gun ship, around 1800
There is a belaying plan published by C Napean Longridge in his Bible of the Victory, "The Anatomy of Nelson´ Ships". The problem with this plan is, that is was drawn long after the last time when the HMS Victory put to sea and used her sails. The rigging already was a symbolic museum ship rigging, missing most of its running rigging, and so forth.

Longridge´s plan is still of high value, yet, I am about to revise it for my model...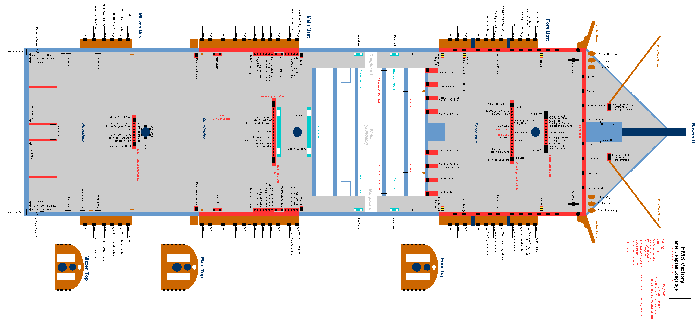 And here is my personal, revised version: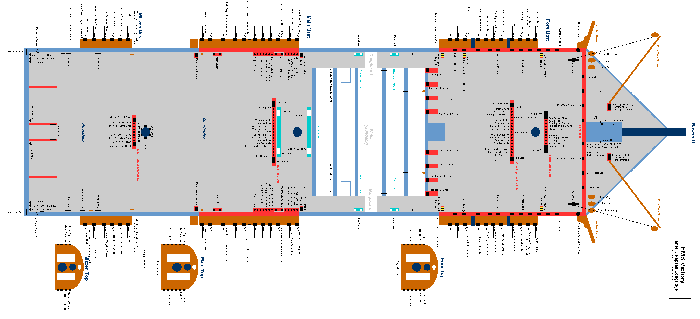 NOTE: the Victory, the most famous sailing ship of the line in the world, was built in 1765, but rebuilt many times. It is very likely that also the belaying scheme had altered many times during her life.
What we have today is a "snapshot of history", with many questions that will remain unanswered for us. Yet, it is possible to reconstruct a model of the Victory, that carries a functional rigging. The real Victory will put to sea never again, and the last time she wore sails is more than 150 years ago. The Victory of today, in her last dock in Portsmouth, has a reduced museum rigg only.
---
"Wasa", Swedish Royal Ship 1628
This is 100% speculation for the Wasa, even if we actually KNOW about her hull and deck layout! NO original plans survived (it can be assumed that they never existed), and not even a contemporary artists´ picture that could tell anything about her rigging!
OK. Despite all this, here is my guess, based on the sail plan reconstruction by Stolt, some plans for modern models of the ship, and the experience onboard the Götheborg III replica in 2009:
(click to zoom in):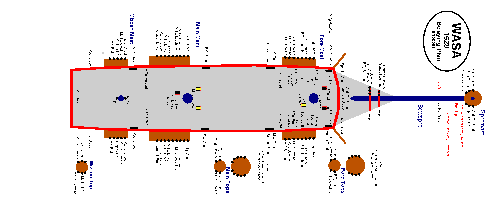 ---
And I DO have more "in the pipe", indeed, but those are subject of study yet ... after all, there is no definitive solution, and many captains and bosuns change things as needed.

A model builder has of course all the freedom to arrange a rigging, or to omit all of it. I just think that, if You keep to historic evidence and some research, at least to some degree, You can make much finer models =)