Again: I used to see this only in my classic photo books ... now I see this for REAL!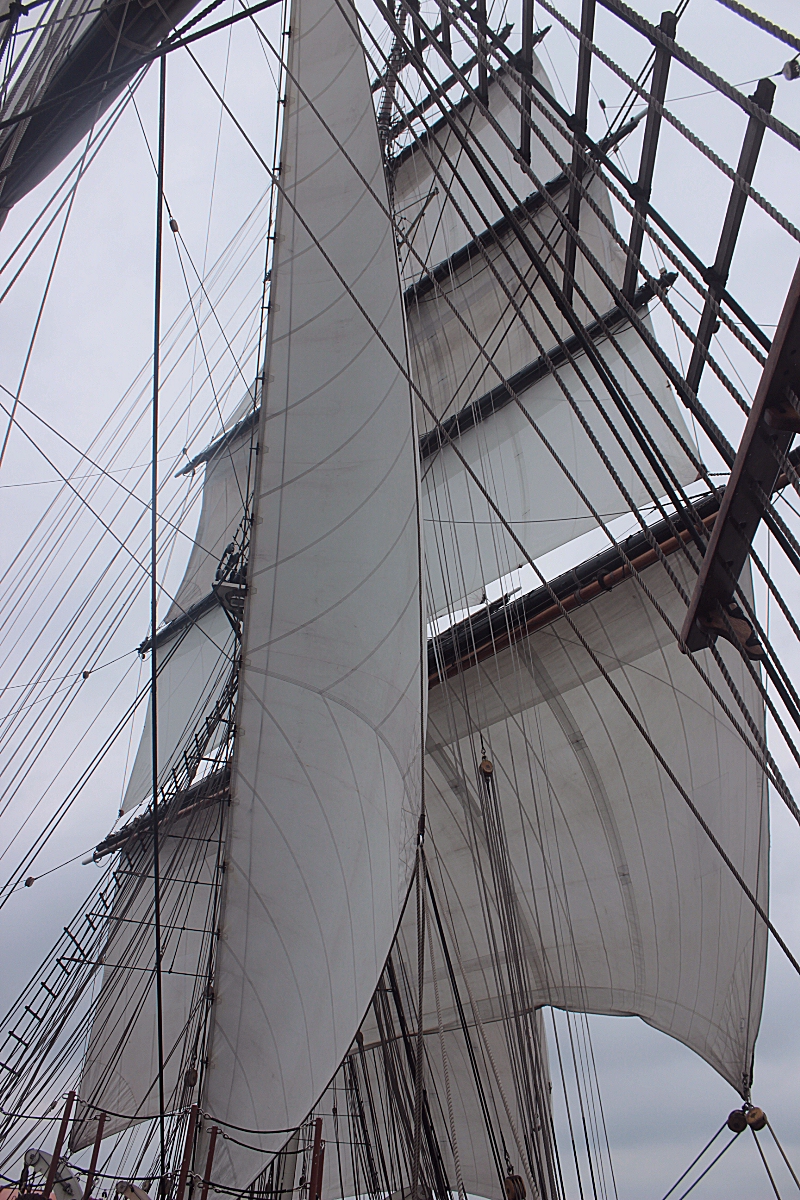 04:00 AM: White Watch: some showers, wet wind, but calming down; very dark, sails sharp braced again.

Setting the inner jib, fore and main upper topsail (the capstan for the halyard is driven by a machine, actually), then again sail trimming. Cleanup decks and make shipshape.

06: breakfast. After that: setting the set the fore topgallant (4th yard of 5) for the first time, and the next watch would set even then main topgallant as well.

08:00 watch hand over; change plans: no anchoring at Tessel, going slowly to Ijmuiden directly.

I was VERY tired! This was the limit I wanted to see: I can take this week, but not more than that. Good to know. I may not be a candidate for the 6 weeks over the Atlantic.

12 AM: White Watch lunch. Then again: helping the Blue Watch (12-16)

In between 13:00 taking a shower; 14:00 logging, download camera and gopro to my pc. All equipment runs like a charm.

16:00 White Watch, last time. Cleanup decks, taking in sails finally.

3rd time of climbing, main course furling, starboard and port, as we did before on fore mast, again filming it all on video.

But when I was trying to go aloft more - to the topgallant! - , as I was just reaching the crosstrees (second platform at the upper topsail, 30m high), I was reaching my new limits! It was not the height - I had been on the very top on the "Götheborg III" in 2012. But, I was feeling too weak now, and it was rather cold and rainy ... I can take a lot of hard conditions, yet my hands were becoming TOO cold, having not enough energy to go further AND to descend ... so I was hanging in the shrouds and make a quick decision: I said to the crew sailor near to me (Gerhard du Toit, quartermaster) "Sir, I give up!" I would NOT make it to the very top this time.

This is the only thing that the crew expects from us guests: we need to be honest and realistic about ourselves, for safety. Gerhard acknowledged and asked me if I am ok to go down by myself - I was. I went first back to the top platform and continued filming for a while from the main mast. Then I went down for the last time onto deck.

So I was continuing the watch as deck hand: coiling up ropes etc., make shipshape for mooring.

About 17:00 PM: typical Dutch/North German/British clouds of october, dizzy weather, all grey, cold. Quiet. No sun, probably rain, You never know. Coming into Ijmuiden Harbour slowly by our own machine. Routine mooring done without any issues.
---
After mooring: begin of the Main deck party: delicious crabs and meat balls, and Glühwein. All happy - me feeling like a luxory passenger =)

Later: Captain's diner in the long room, good food. Nice small talks.

A last task for me, as a book lover: I registered some books from the ships library, they had some 100. Gosia wants my book list, ok ... welcome. Kristina was giving me the stunsail presentation powerpoint as usb copy ppts - I promised her NOT to republish it! So I won't.

The party went on until midnight or so, but me and Dieter were going to bed early around 10:00 PM. Sleeping quietly on the moored ship, last night onboard. Next morning all guests would leave, and the ship would be under maintenance for the coming 3 weeks.

On this last day I made 173 photos. In total I made over 1200. When would I ever have a chance again? That is why ...

Would I do that again? Of course I would!