2015, October 12th. Preparations to leave Kiel ...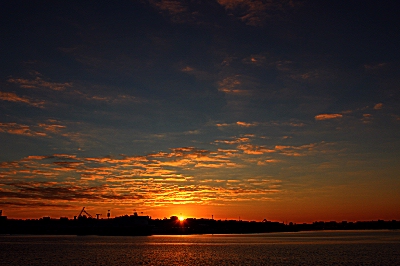 An excellent "kitsch" morning sunrise in Kiel harbor

On the "Götheborg III", I was just signed into any watches, to which I would keep to all the time. You could of course send Your preference, but the decision was not Yours.

This time on the Stad Amsterdam, it was my free choice which watch I would join, and even: if at all I would join a watch. I had my cabin together with another German, Dieter. He also had sailed on Russian trainee ships, but this time he would be lazy, he said. But which watch should I join? Most guests of course wanted the convenient watch from 8-12 AM and PM. So that would be crowded already - I actually never follow the crowd ... a crew officer suggested me to join the White Watch: 4-8 AM and PM. That was also the same watch on my first trip with the "Götheborg III".

4:00-8:00 AM! Most people get sick of the pure idea! Well, as I am getting old, I get up early even on vacations - and I escaped hearing Dieter snoring =)

The watch system is habit on most ships: a 6-shift system, 4 hours each, around the clock, and for the 3 watches (Blue, White and Red - which represents the Dutch Ensign!), it is 4 hours work two times a day. In between, You have the "free watch", or You can sleep as You want.

Another luxory onboard the Stad Amsterdam that it is actually driven like a floating hotel. On the "Götheborg III", we all were supposed to help with ANY work, including dish washing and cleaning the toilets etc; we were after all crew members. But here, this would be done for the guests, by the crew. Some guests may expect that comfort, I certainly did not. Must be a dream ... oh, it wasn't!
---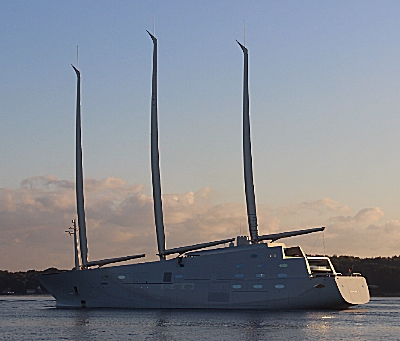 Ummm ... is ziss a space ship ???

One man's dream might be another man's nightmare - or: the beauty lies in the eye of the spectator.

This one was even in the news. I know this new sailing ship is most advanced by any means - yet onboard the Stad Amsterdam, representing an utterly classic sailing ship, noone like this one!!

We did not know this would happen exactly when we were leaving Kiel, but just before that, this "space ship" was passing us by. A unique occasion to make photos ...
Leaving Kiel, we started setting the inner and outer jib (2 of 4 fore staysails) on the bowsprit. And as an excercise, we braced all yards sharp using the winches.
---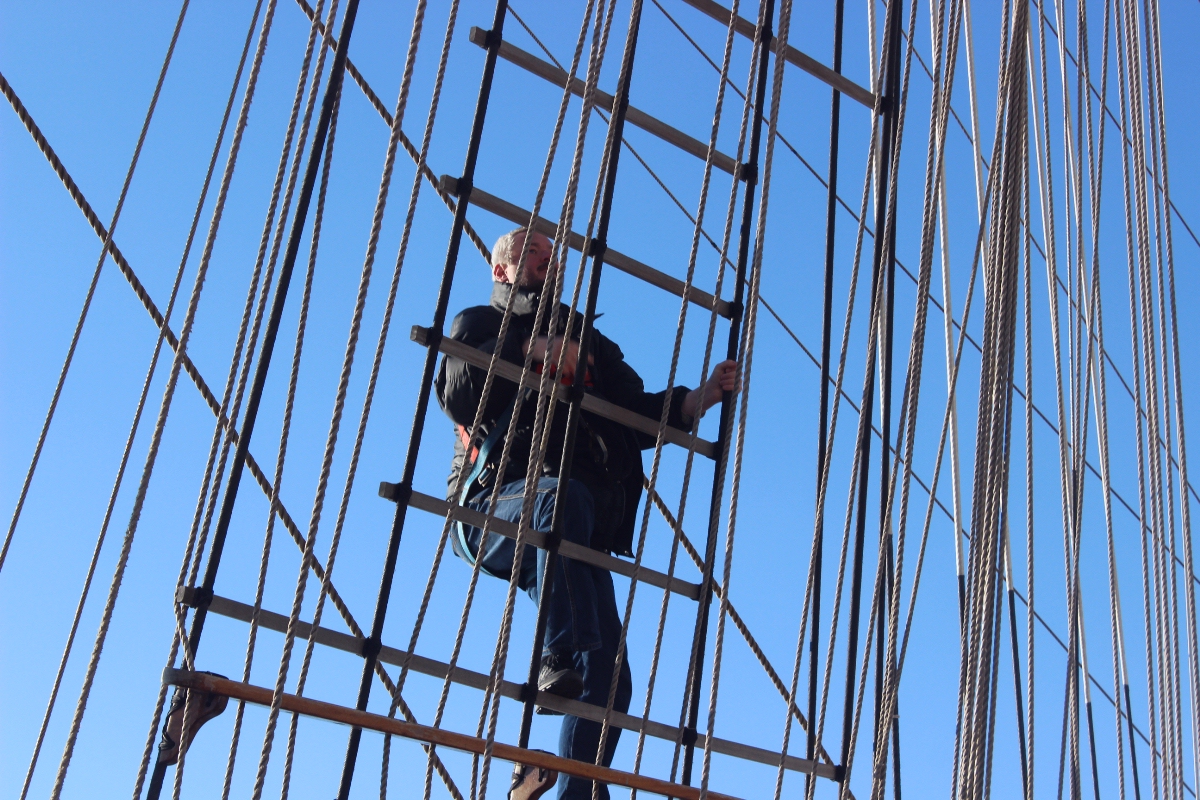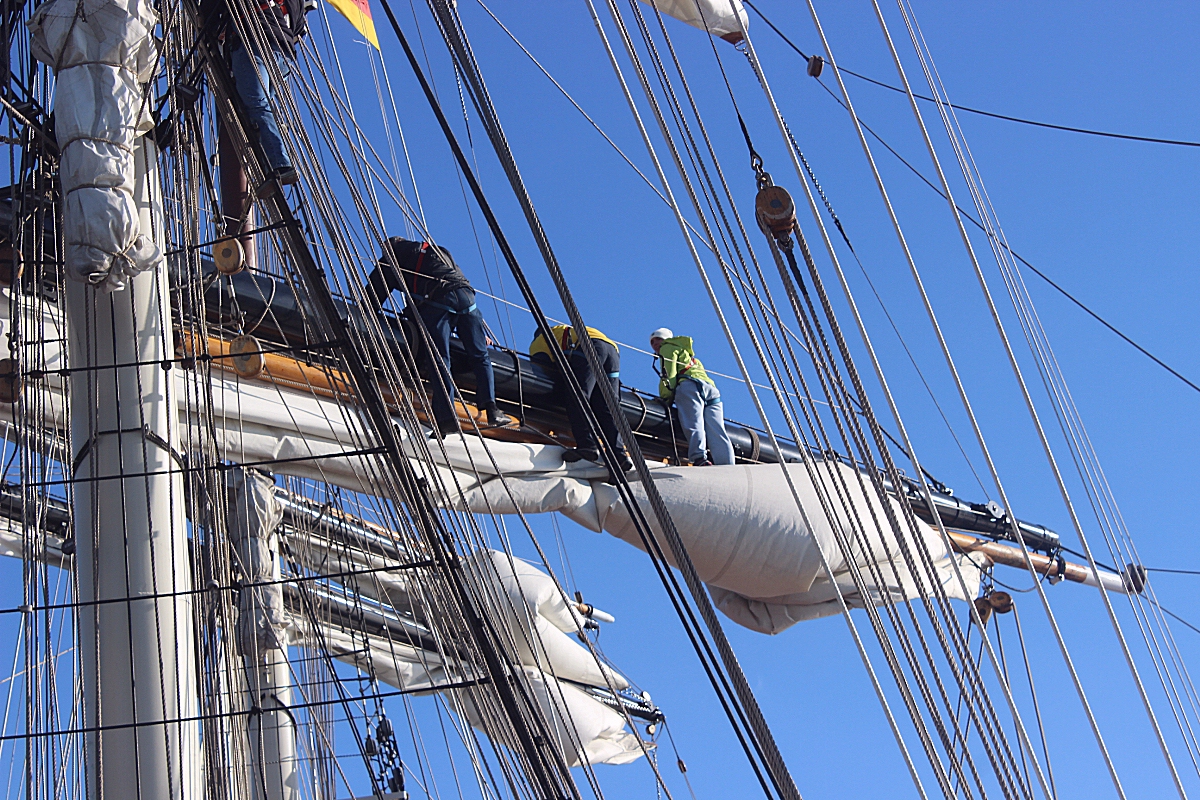 And so we weighed the anchor (i.e. easing the quai ropes, the anchor is not used there, actually), the watch system started. I was as untrained as all the other guests - but I wanted to go aloft, having 105 kilos; after all I love food =)

After some formal introductions and warnings about safety etc, we could sign in to go aloft by the rules given. Most of the 20+ guests did. Shortly after that we had our first climbing excercise ... I gave Dieter my camera, he would stay on deck. My GoPro I would use next time.

Going aloft after 3 years appeared to be no problem for me ... the lower shrowds are easy. Instead of ratlines, You were stepping on battens. Of course we we using a harness with two hooks to secure ourselves.

We were swaying out to the main yard arm "only", some 15 meters high. And I LOVE it as I ever did!!! I felt fresh like the old days =)

This time it was only our "exam", we did not yet work with the sails. The crew has a good grasp upon how (in)capable we as guests are for going aloft, and how we would perform aloft. After all, even when You have all freedom as guests, the crew members are responsible for the safety of the guests, and You need to comply to their orders when they say: no! There was Marina, an older Italian lady having an honest wish to go aloft, but she would not make it there. She was with us on the bowsprit, though, next day.

But, all crew members are also very good in soft skills to say: no! There is no wild command shouting on deck, not even for the dumpest land lubber; all happens with calm. BTW, as Dieter told me later, same calm rule is on Russian ships to this day: tsar Peter the Great had once forbidden to shout onboard - well, and in stronger winds, You not hear it anyway =)
---
And soon, we made sails! Just the courses and the topsails (lower and upper), not the t'gans and royals ... the ship would be too fast otherwise, we had one full week to reach Ijmuiden, and the ship was a CLIPPER =)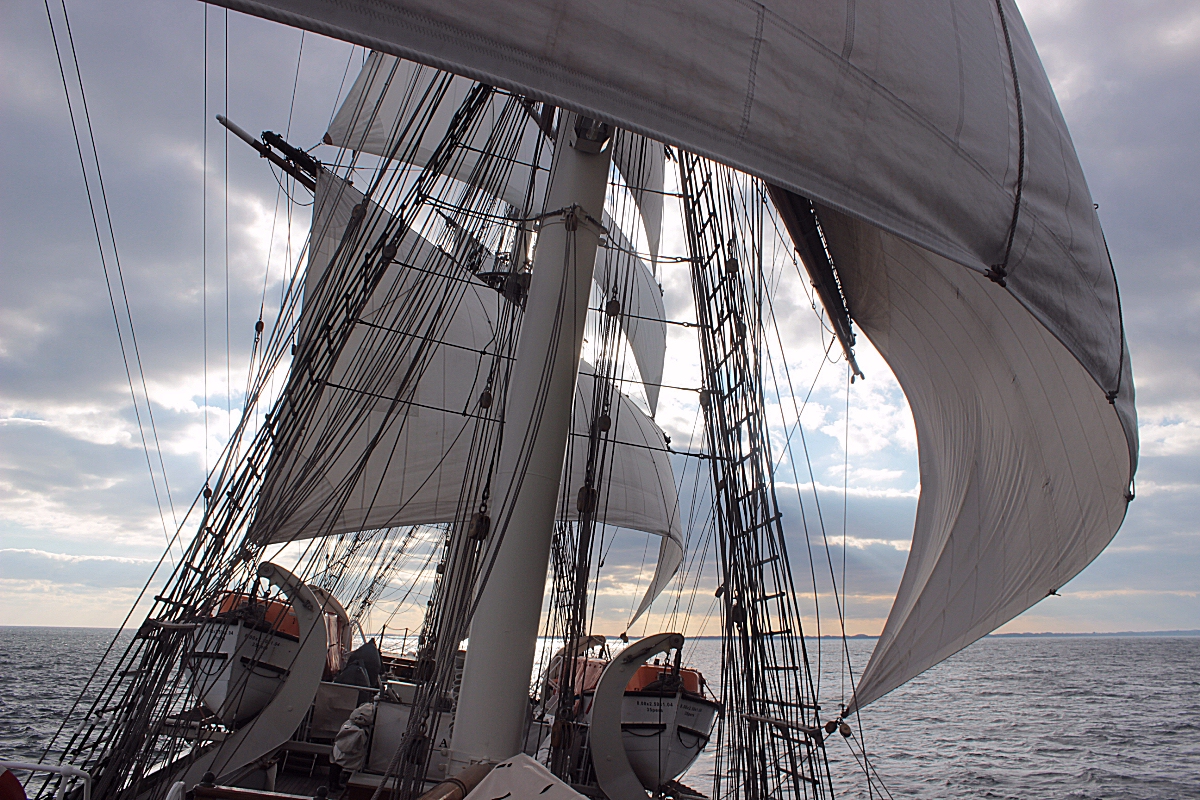 Sailing as close to the wind as possible, thus, bracing very sharp!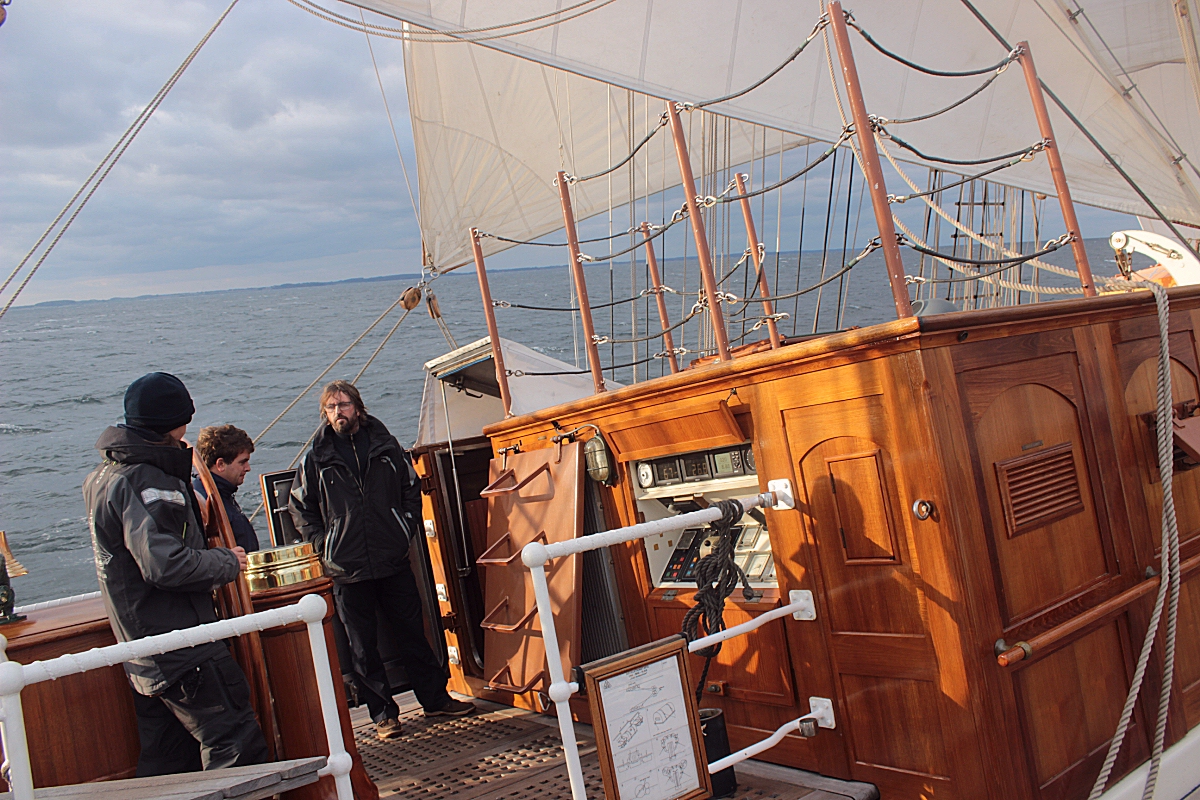 Hand steering like this can be done - but for most of the time, they are using an autopilot!!
My first true White Watch was from 4:00 to 8:00 PM, when it was getting dark (we had October) around 6 PM. To my own surprise, I found myself NOT freezing, without a cap on my head! The wind was about 5-10 plus Celsius, and even most of the crew members wear a cap or something to keep them warm, especially the outlook. During the whole voyage, I never used my cap!
Just as White Watch ended, we were passing this bridge at night! It connects the E20 highway between Nyborg and Korsør in Denmark.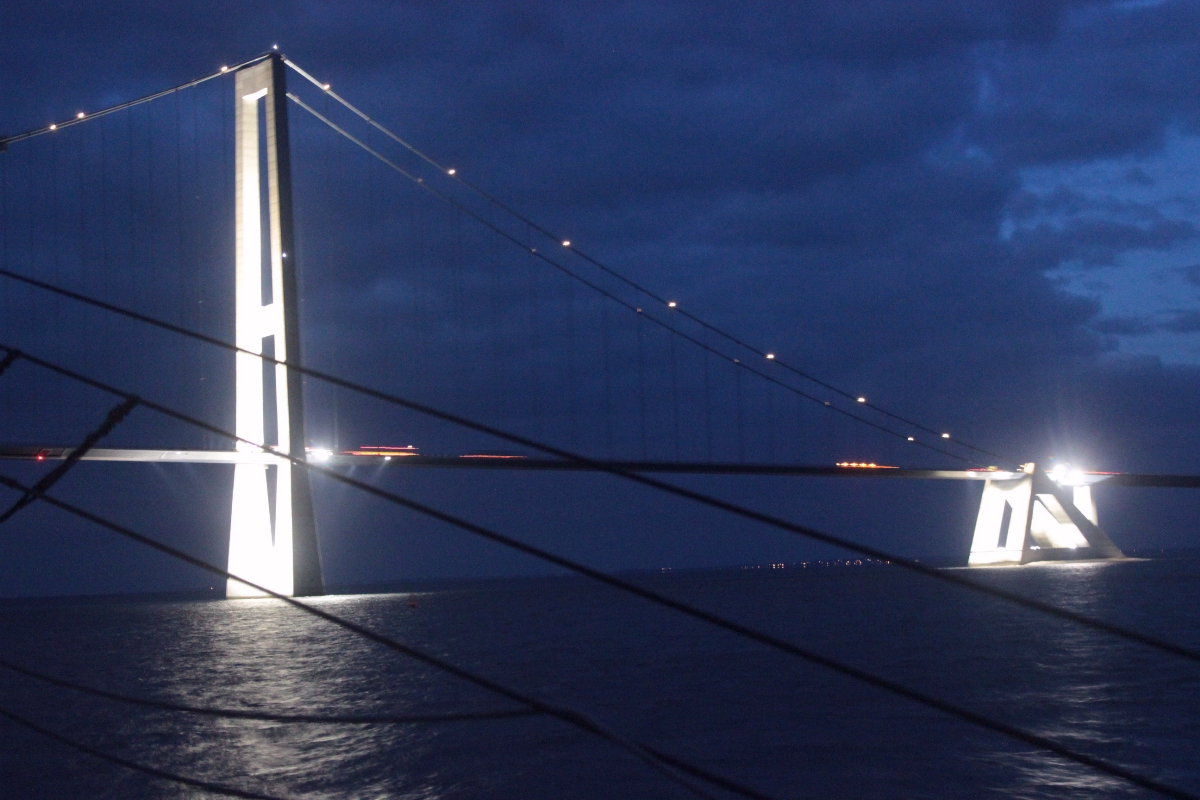 P.S.: I made 331 photos on this day alone.