2015, October 11th. My first voyage with THIS ship - before I had sailed three times with the Swedish replica "Götheborg III" (2009, 2010, 2012). Then I had some health problems and lost almost all hope to sail ever again ...
---
But I recovered. Then came an email that tenfolded my energy at once! First it looked like "spam" - but the kind I love: they offered a last minute trip on the "Stad Amsterdam". I was at work in the office - but I could think of nothing else that day!!

I could not join that voyage, but another one few weeks later, booked it on INMARIS, and asked for vacations from IKEA, where I am essentially: a mouse pusher - I am no seaman, but rather a seeman =)

The Stad Amsterdam laid at the quai of Kiel, Northern Germany, to the Baltic Coast. More and more guests arrived ...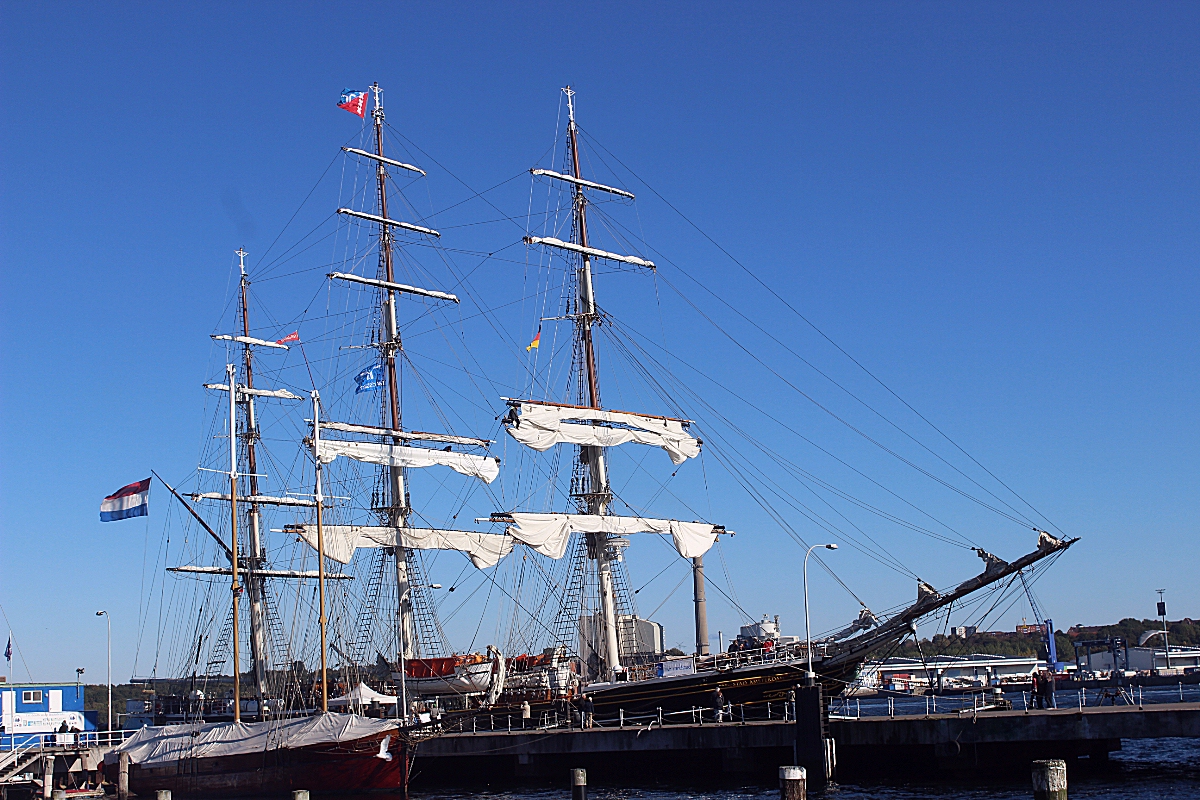 ... as beautiful as I remembered her
I had seen the Stad Amsterdam first in Halmstad, Sweden, in 2011 (pictures also in the galleries menu). Yet, they did not allow for visitors ... pity.
So You must sail with her in order to get onboard ... and here was the chance I ever longed for!
I am so fond of her because SHE resembles the Cutty Sark! With only some details different, first I thought I had hallucinations when I first saw her in 2011!
So I prepared myself with all equipment to document this ship as good as possible: a camera, and a GoPro for making movies when I would go aloft. In the end, I made some 1200 pictures (typicly me) and 16 videos. I went aloft 3 times during the watches ...
But on this day we were not yet weighing anchors: some guests came later ... so I would get in touch with the crew in the evening. And almost immediately I started taking pictures of all details. It would look different when we sailing and work as deck hands ...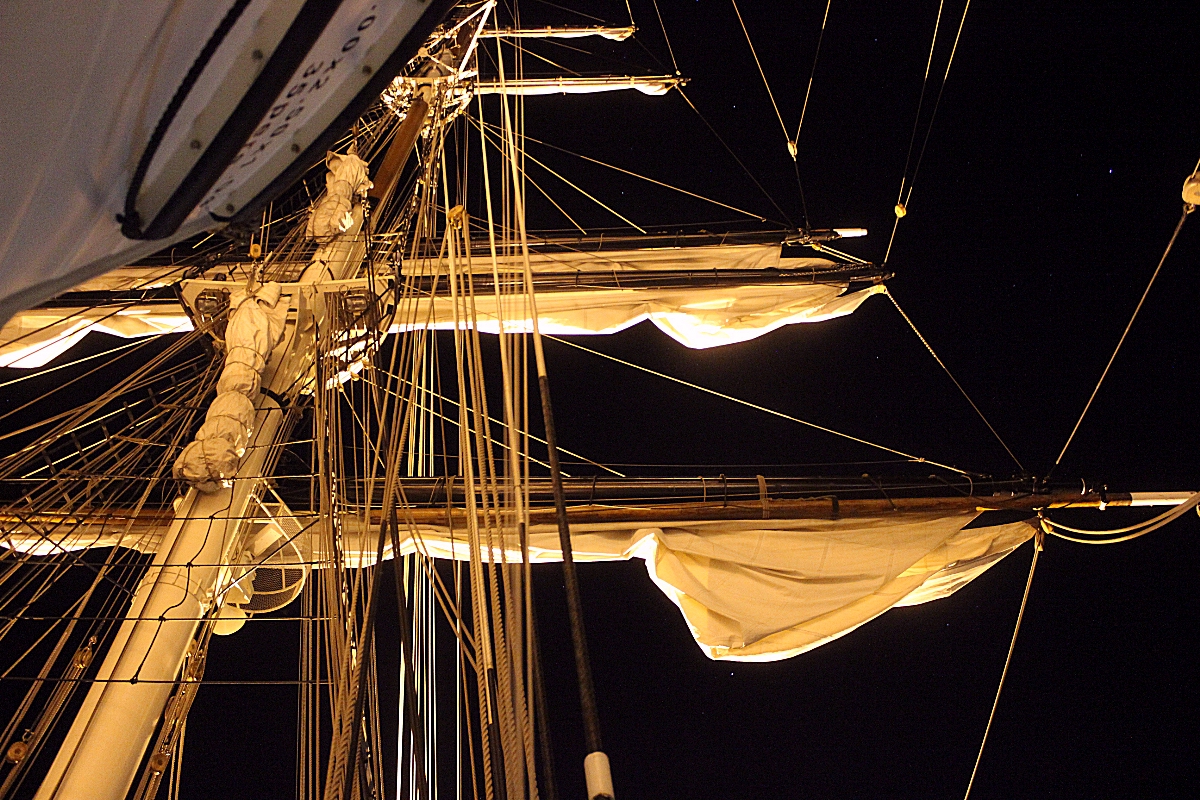 Nicely braced square.
The Stad Amsterdam is much different from the "Götheborg III", in many ways. Both are seaworthy replicas,but the clipper ship Stad Amsterdam represents a ship and rigging 200 years later. She is very closed to the Windjammers, the last generation of sailing ships. But in sharp contrast to the "Götheborg III", she is a ship of luxory! The guests and the crew has very fine cabines, each with its own shower! Which is also a sharp contrast to the true history of clipper ships when they were nothing more than cargo vessels; the conditions for the seaman were very poor, actually, in those days ... today, a clipper like the Amsterdam has other "duties".
And on some occasions, people can book adventure sailing trips on her - those are the "guests", and this time I was one of them. For the rest, Amsterdam used to sail between Europe and the Caribbean, into the Medierranian, for representative business meetings etc. This is why they do not allow visitors in the harbors to come onboard: You must be registered.
The ship docter Karel, a fine Dutch man who also is an excellent cook, confirmed me that there would be no problems with my light asthma, that I have: just take it calm, and listen to Your body, it will tell You Your limits. Descend from the rigging when You feel You need it, the crew does it the same way.
Which those new limits now were for me, I wanted to see. It turned out to be much less difficult that I thought ... and I LOVED it!
P.S.: I made 392 photos on this day alone.