Wednesday 2012-07-25 - Arrival at Bremerhaven
08:00-18:00(!) - Extended On-Duty for Port Watch
We were taking a pilot in the morning, reaching Germanys coast.
For the arrival, we were asked to have historical clothes on us, and we will be watch for Open ship when we arrived, which would be soon, we were told ...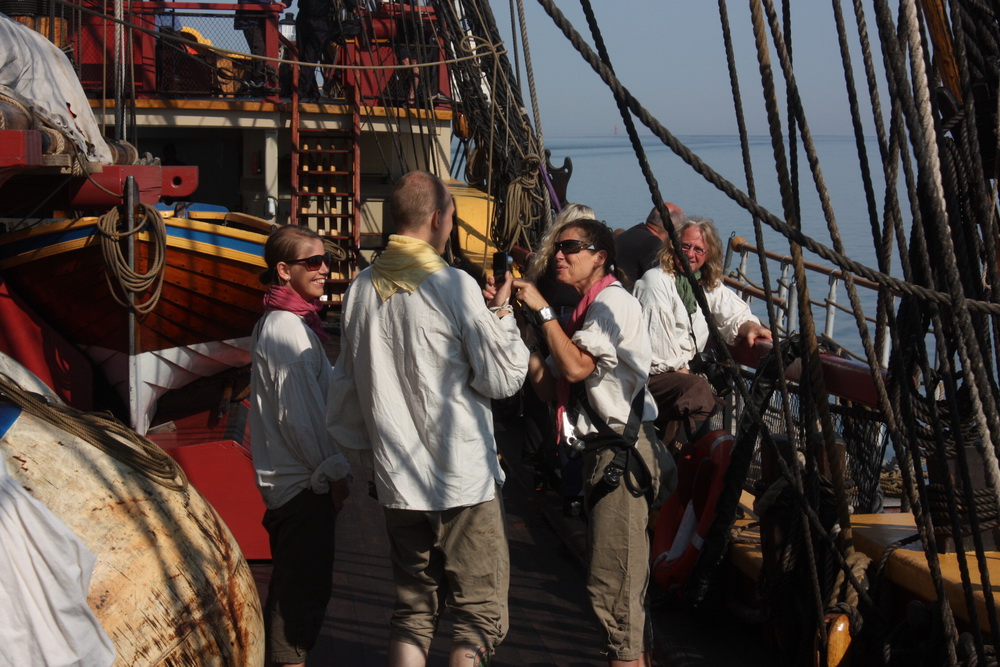 Around midday, we were reaching Bremerhaven. Small preparations tasks like paintings, cleaning up the deck from ropes etc.
The wind was dead again, so all sails had been taken in by the early watch already. We went by machine up the river Weser, passing the giant container terminal. But also here, only two ships in the harbor. Most of the long quay was idle.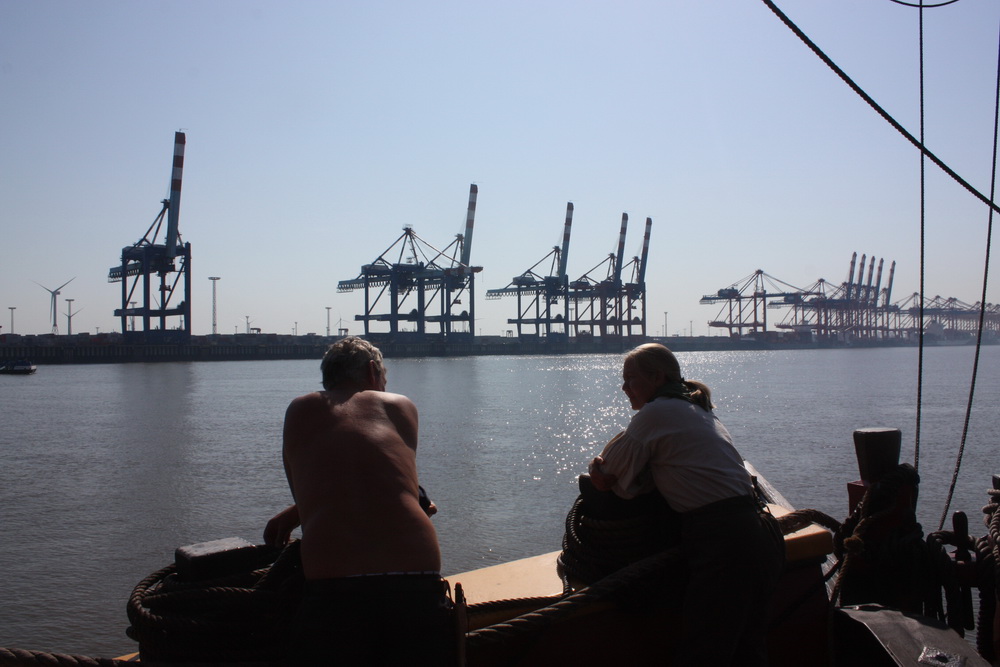 By that occasion, some of us revealed their remarkable tattoos: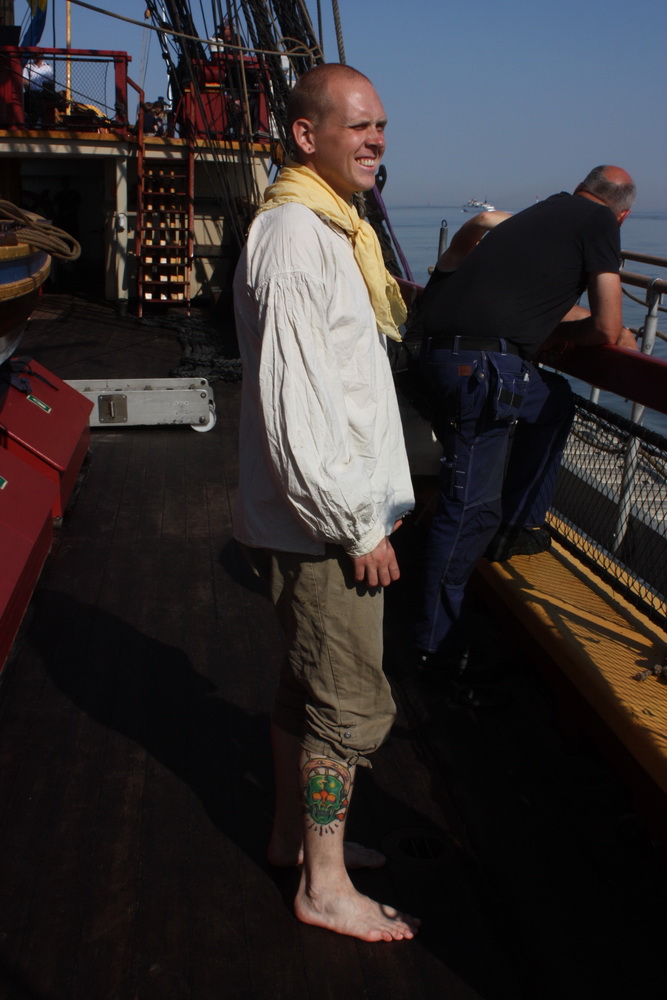 BTW also a lot of the girls had tattoos ...
Hampus, another skilled "idler" who sails also in other ships, together with Björn, prepared the warplines for the tugboats.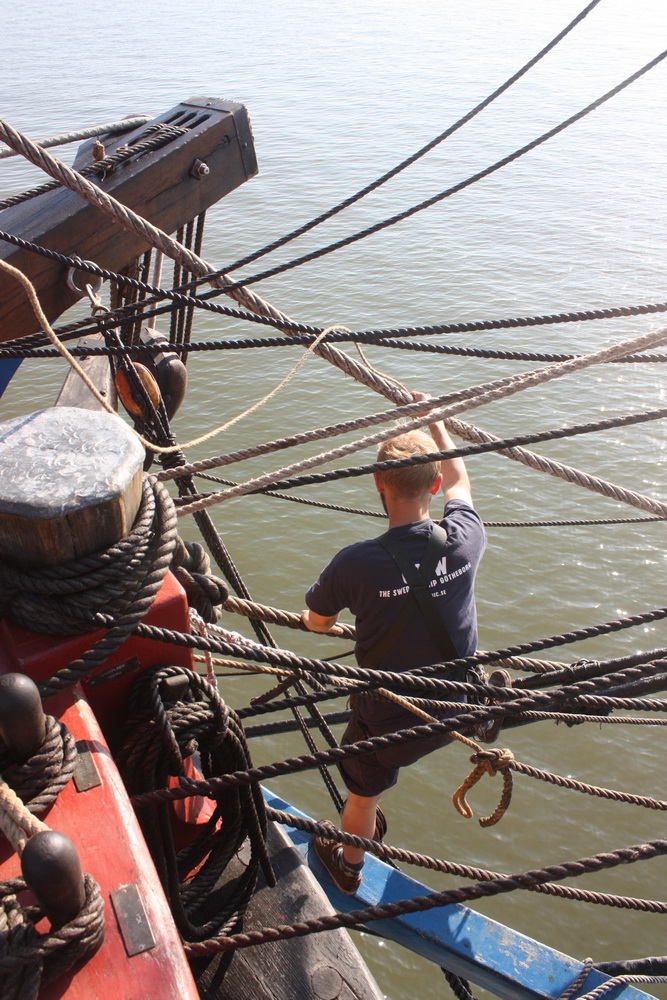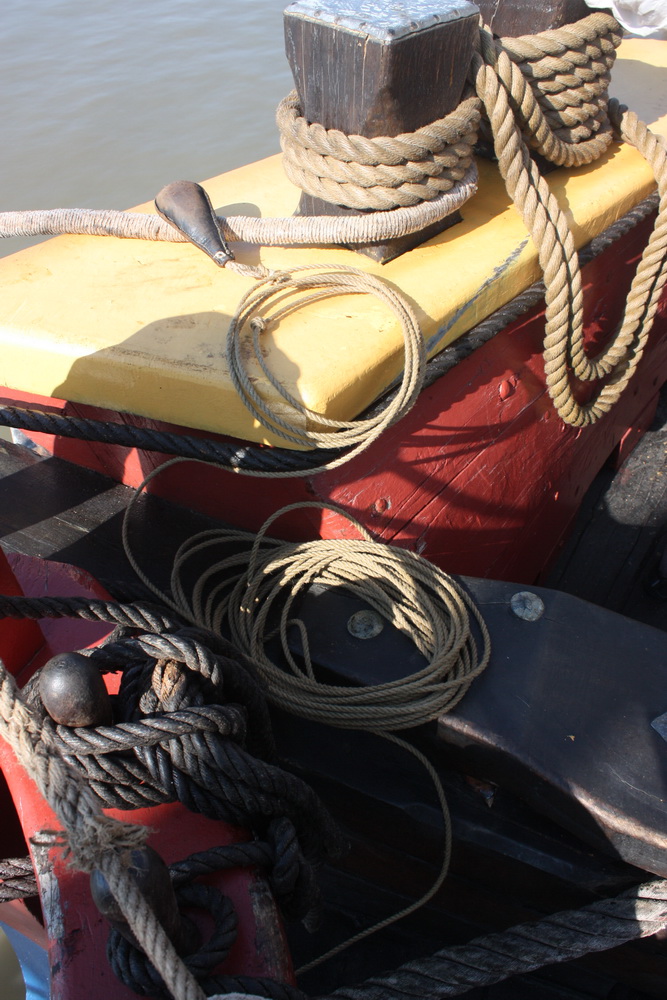 Then the ship was to enter the watergates into the port Neuer Hafen (New Port) of Bremerhaven. The first manouvre of our ship had to be cancelled, and two large tug boats were pushing and dragging us into the right positions.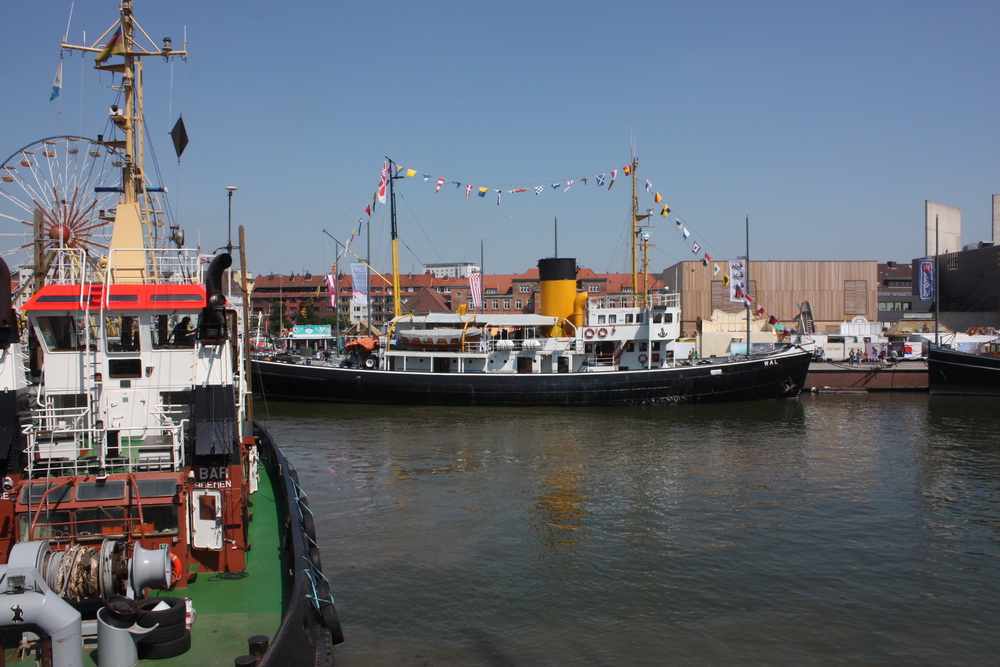 For some of the time I was having a post at the tug lines, but later I was in the galley instead, washing dishes ... of course I could not see anything from there. But it was OK. In the galley there was fresh air. Outside it was a very hot, too hot, day, very unusual for the North German coast, not a single cloud the whole day. Funny: the more we came to North from Brest, the hotter was the weather! Used to be just the very opposite ...
By 13:00 PM, with some hours delay from our schedule, we were mooring at the quay of Bremerhaven, lining all up at the rails in historical clothes, singing shanties for the public.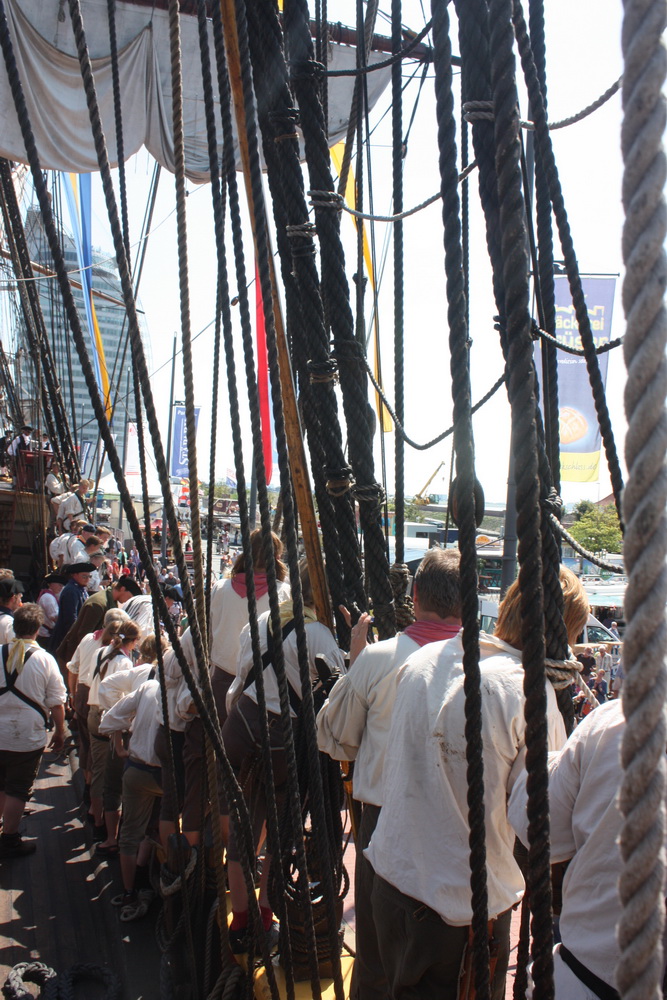 The quay was not as over-crowded as on the last visit here (in 2010) - which was good, so it was a smooth getting on board for the visitors, as we immediately made Open Ship for the public as the gangway was down and the short welcome ceremony was over.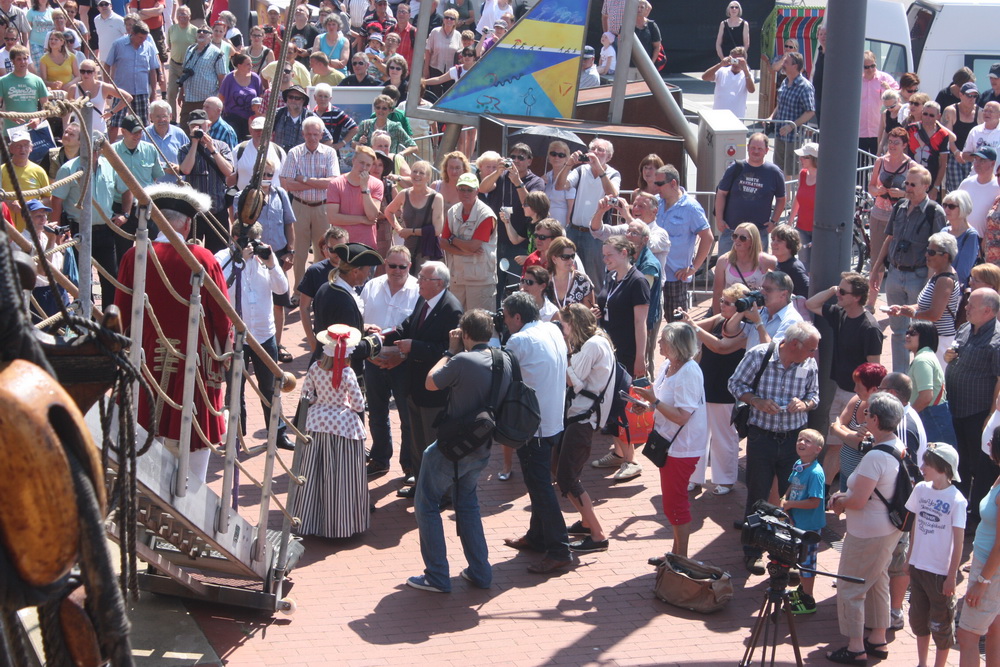 The rest of the day I and most of us were tourist guides, explaining details to the visitors and answer their questions. The ship was full of hundreds of visitors ...
Then I had a special event, I (as one of the few German speaking sailors onboard) was interviewed by WDR3 radio station, about the Götheborg ...
18:00 PM, a looong working day ends. Open Ship continued, I think until 20:00 or so ...
I was leaving all historical clothes behind. I knew, from now on, there would be no more going aloft for us.
So we were free to go on land and have a bratwurst and a beer together ... or two, or three, or moar =)
August, one of our officers, said nobuddy must drink alcohol on deck - well, as long as he sees it, har har =)
At 19:10 I called my German friend Eddi, my first time linking myself into the real world again. I had had no news for two weeks.
How did I feel? Well ... my body hurt in many parts (as I expected), and my left foot was swollen (maybe a too tight sock). I had no more feelings in my fingers from hauling the ropes. But no worry whatsoever. My psyche was as high as can be!!!
We had 1000++ open ship visitors until 20:00, some said. Wow!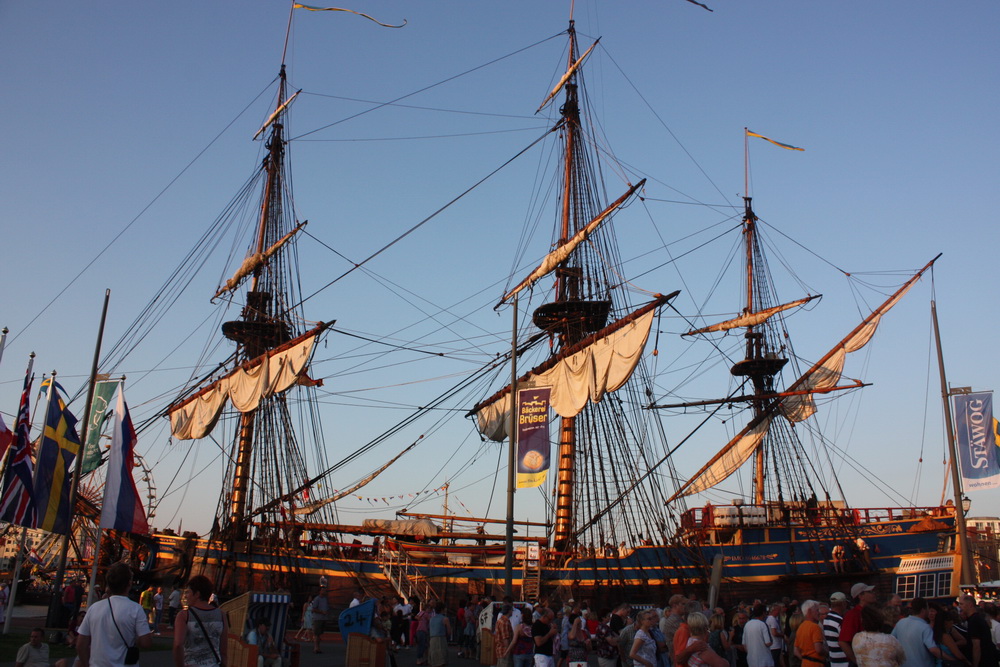 21:00 PM feast for us on the ship. It was opened with a "contest", one of each watch would wait for the word, and Dagge would say the name of a rope that they must find as soon as possible.
"OK, where is the ... uuuhm ... fore counter-brace?"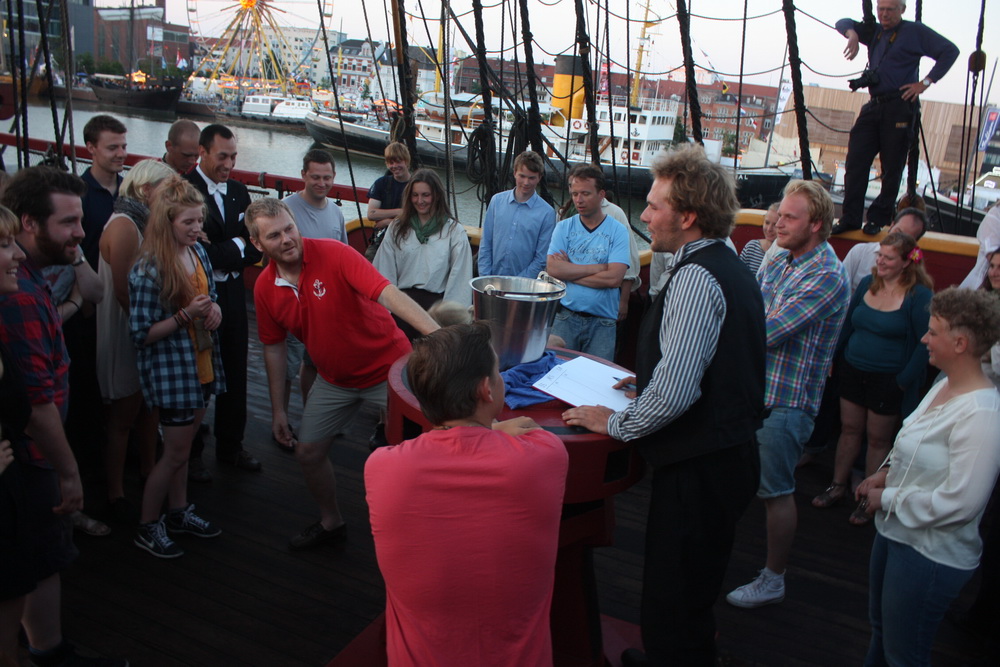 The one who is first gets a point for his/her watch. Midship watch won ... even I (taking my pride in knowing every single line of this ship!) missed my one (the fore top clewline) ... shish ... at least I was very closed. But it was still was fun!
And for the rest of the evening, the ship was ours =)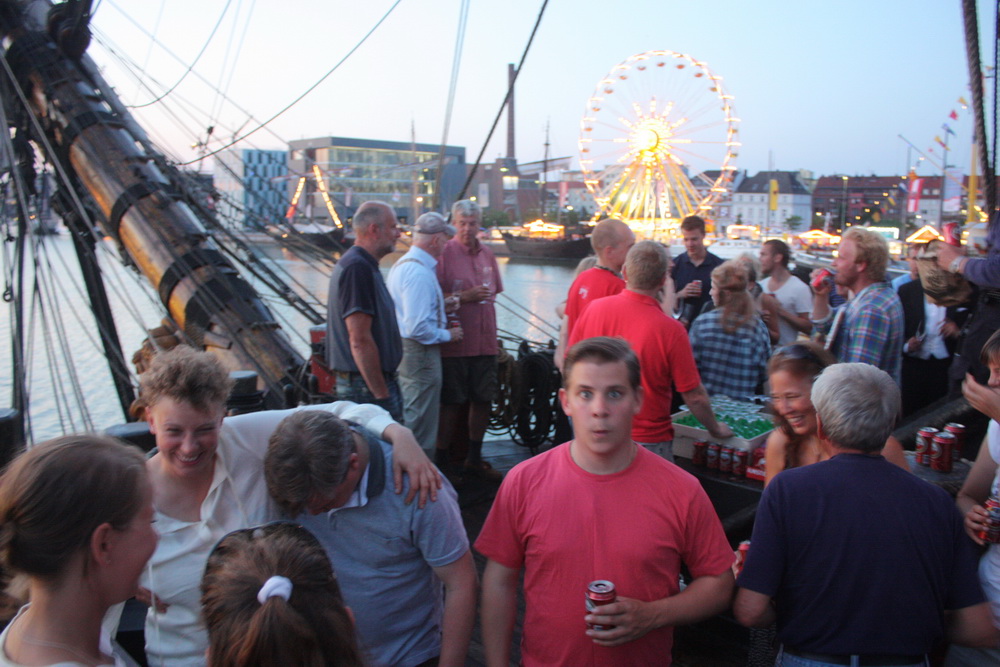 ---
Questions? Feel free:
j_gelbrich@gmx.net