Monday 2012-07-23 - Full Canvas
08:00-12:00 Morning Watch
Light winds, sunny, excellent weather for trainees.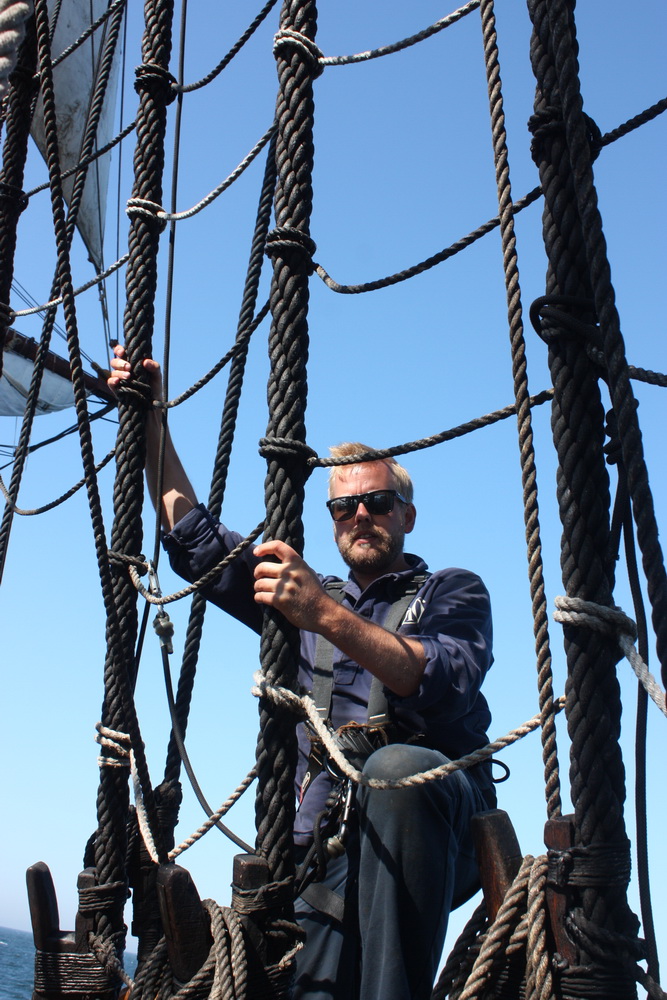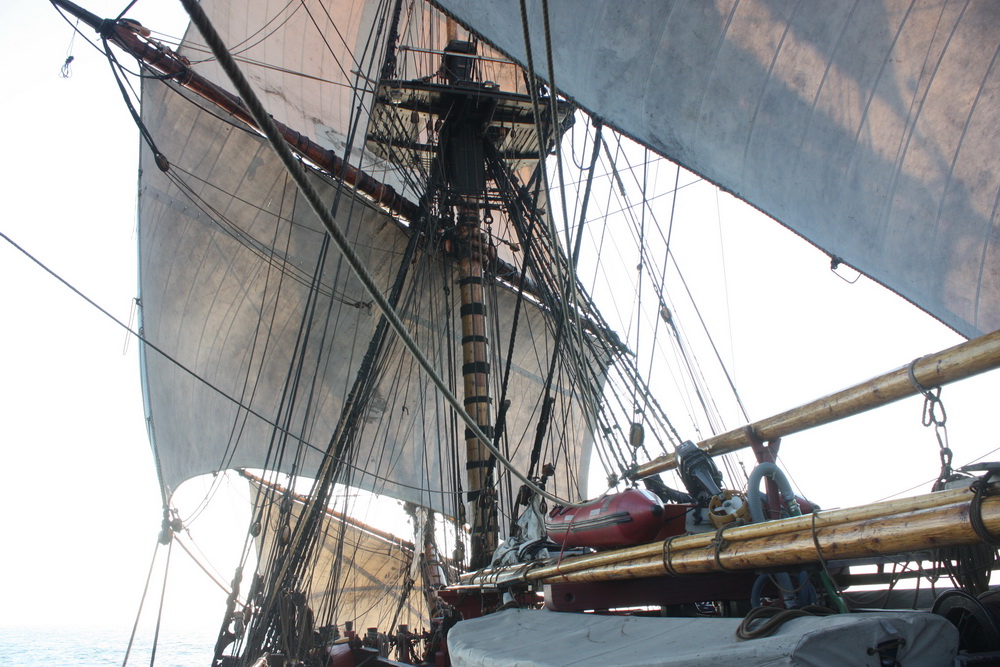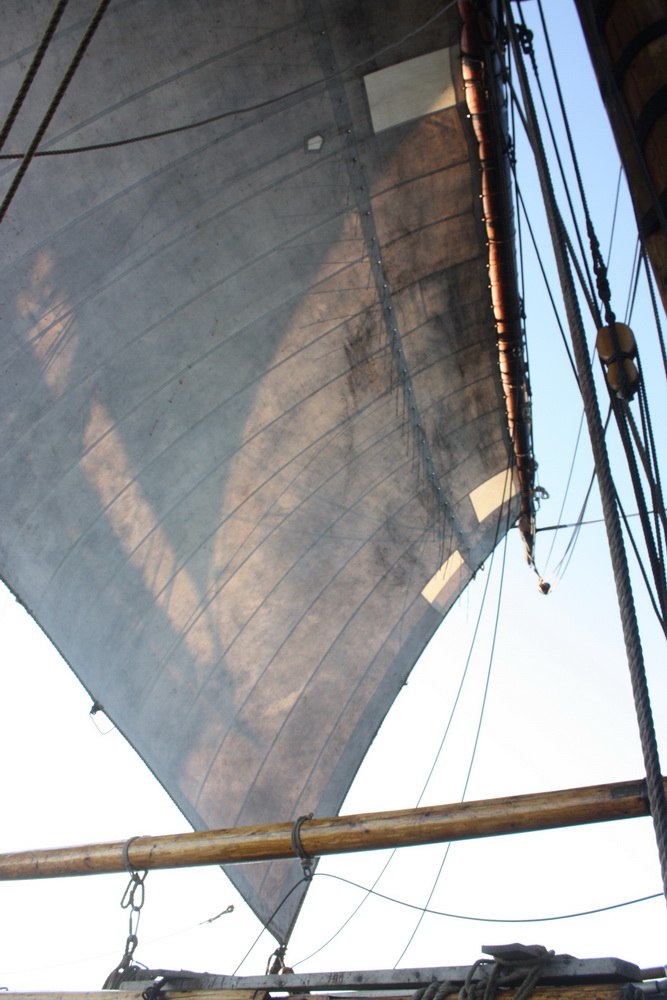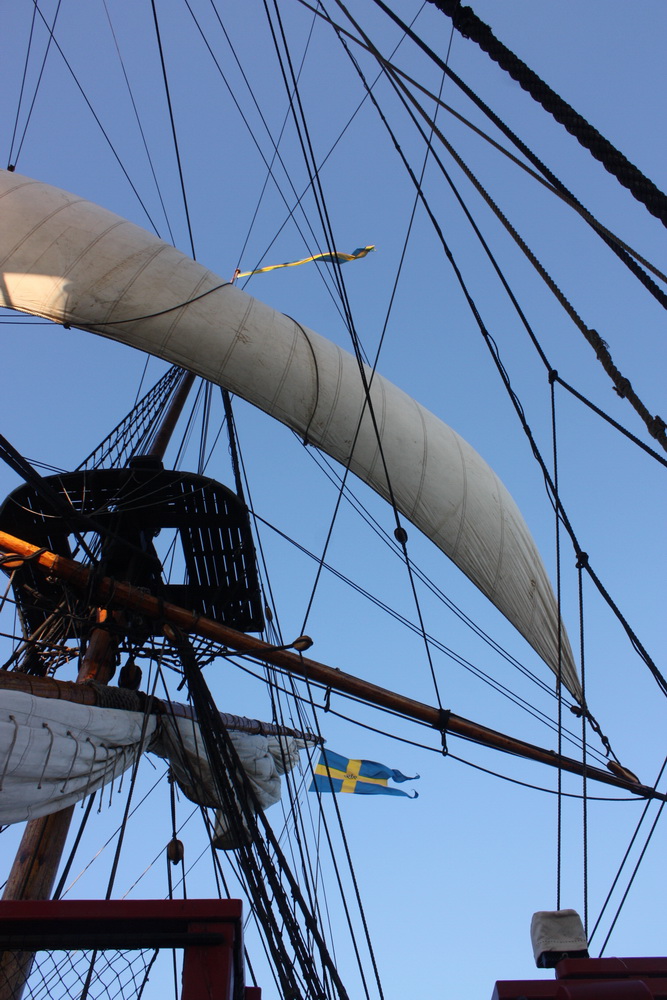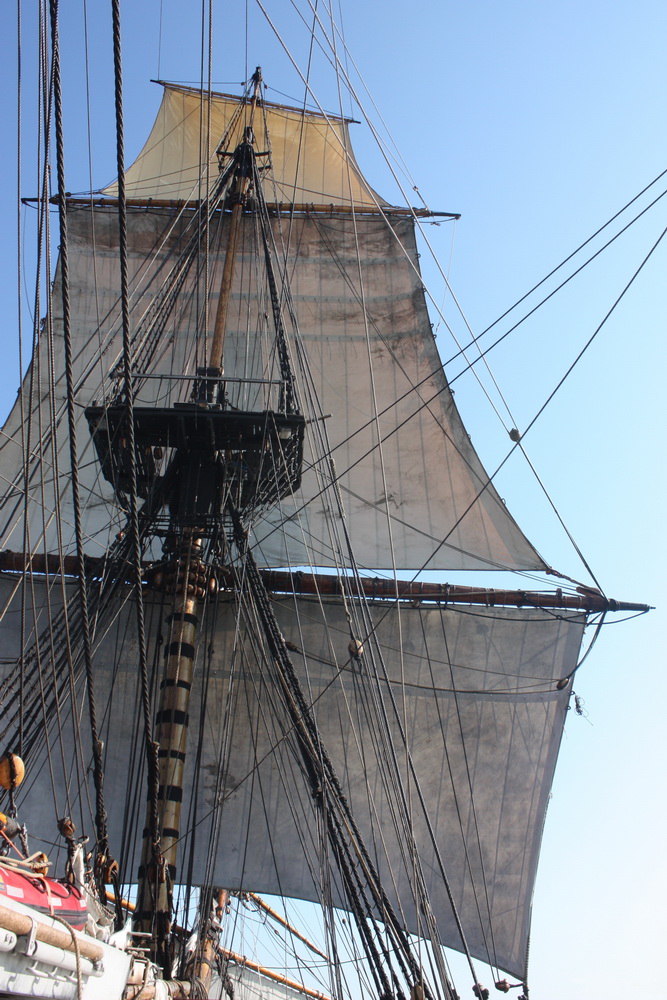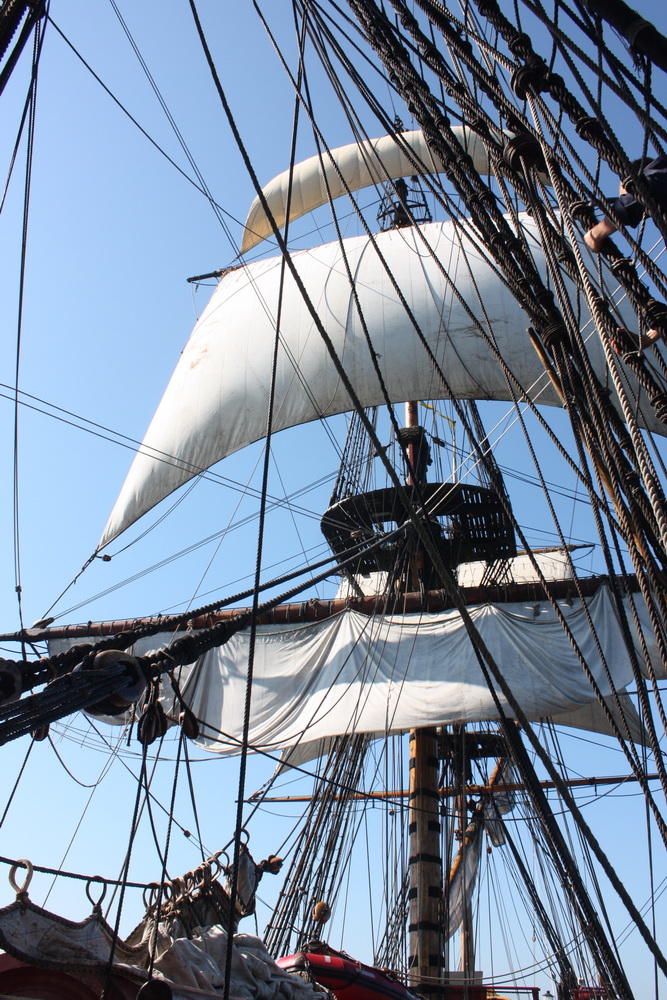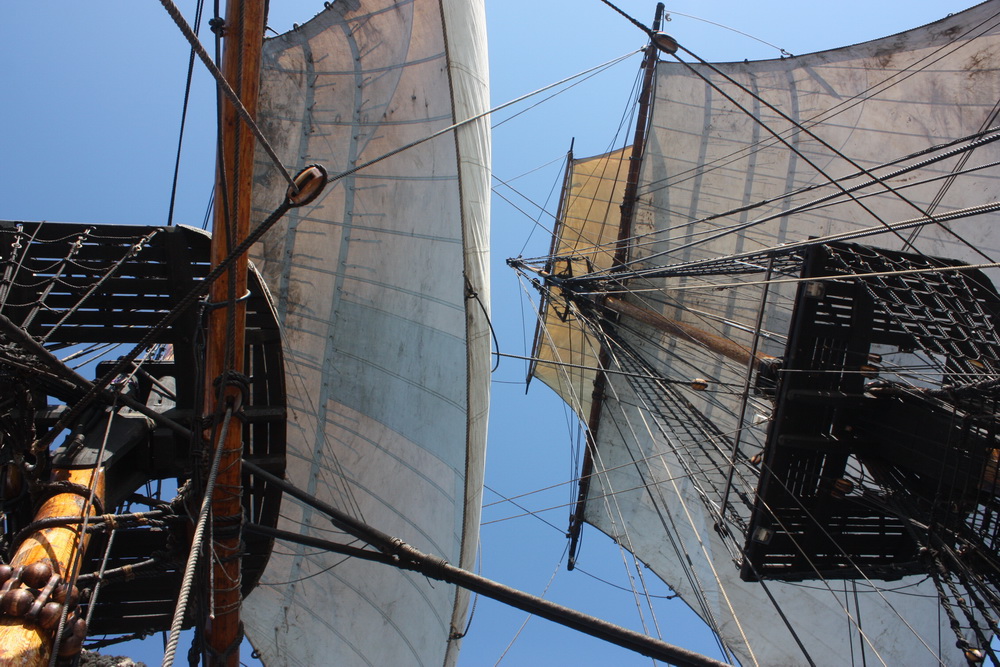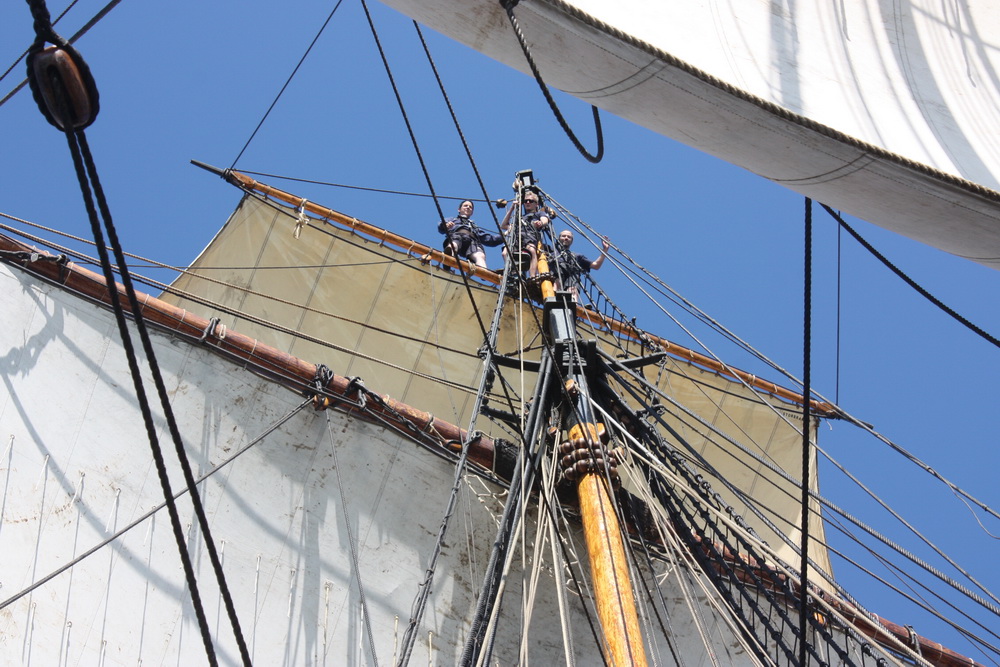 Here comes the Flying Dutchman! It was REALLY the name of that ship!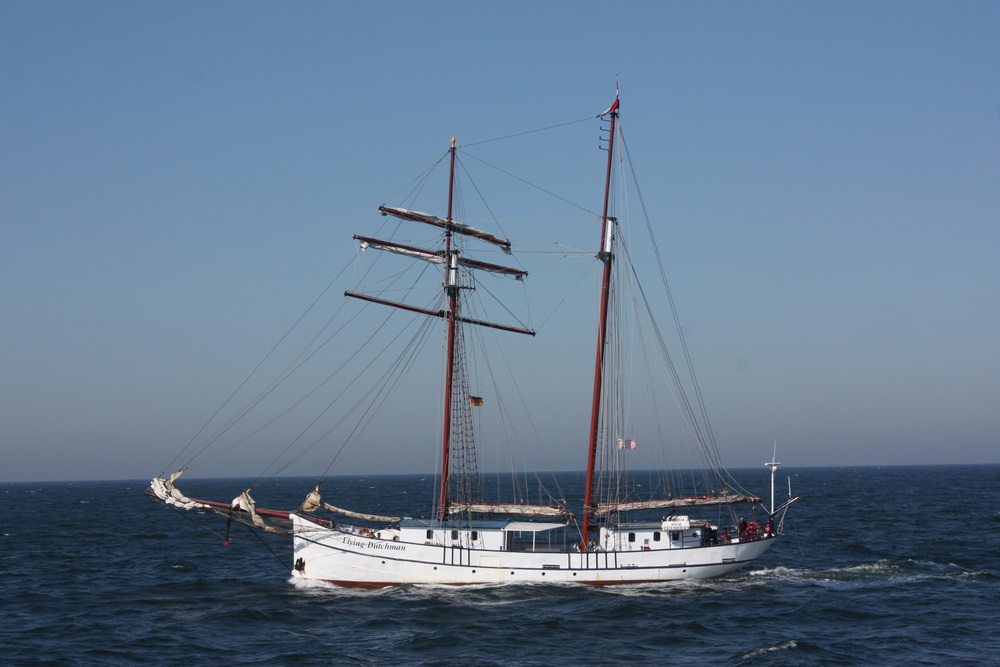 The last sail to be set was the sprit topsail: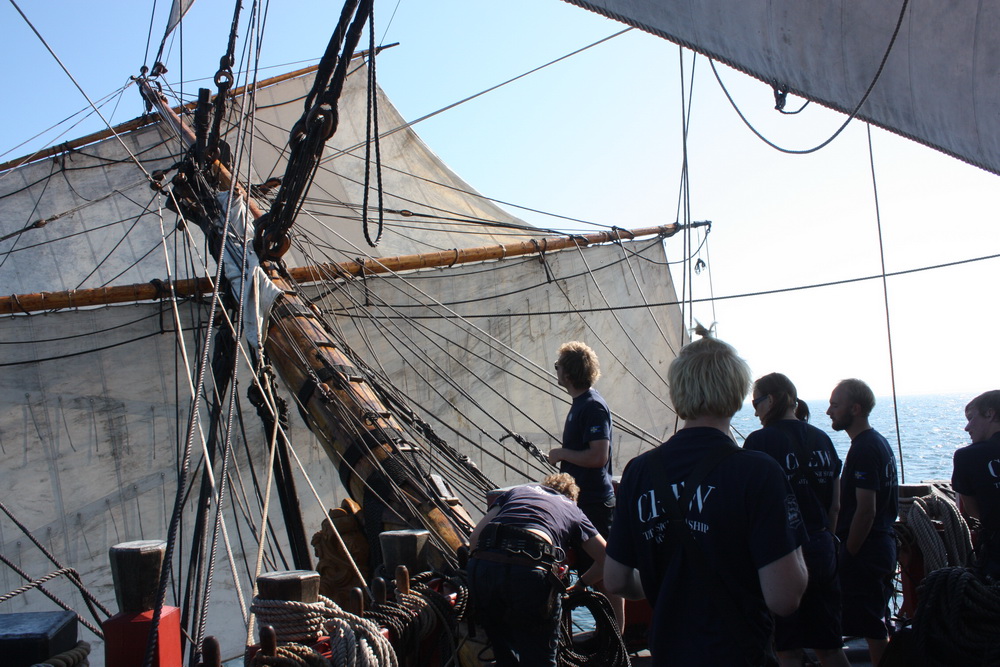 12:00 midday - Godvakt
Starboard watch takes over. We were free ...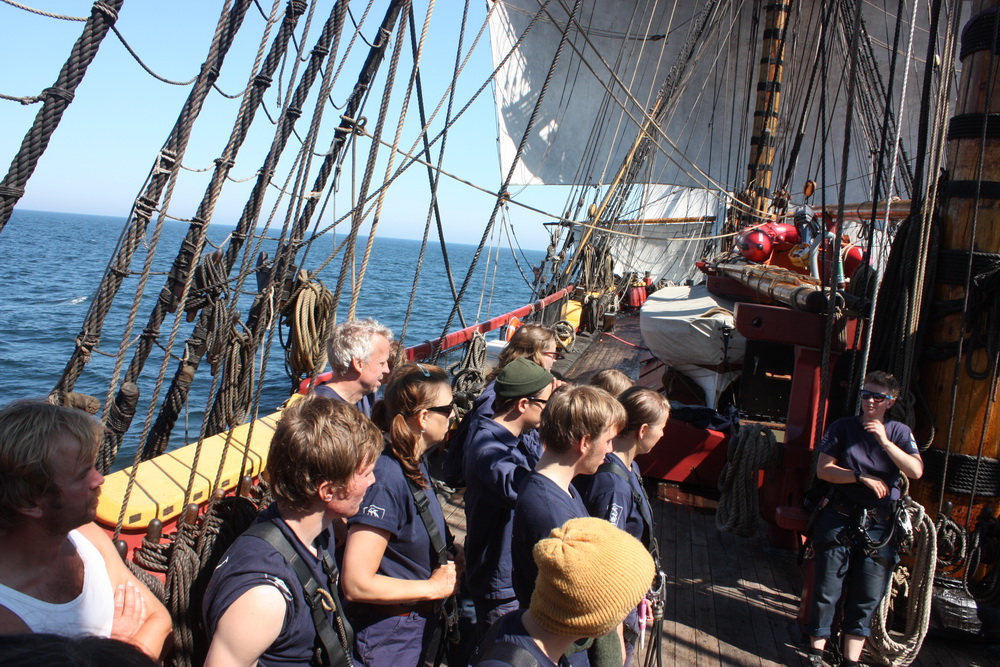 ... except for this: 12:45 - 13:10 cleaning up aft decks. THEN we were free =)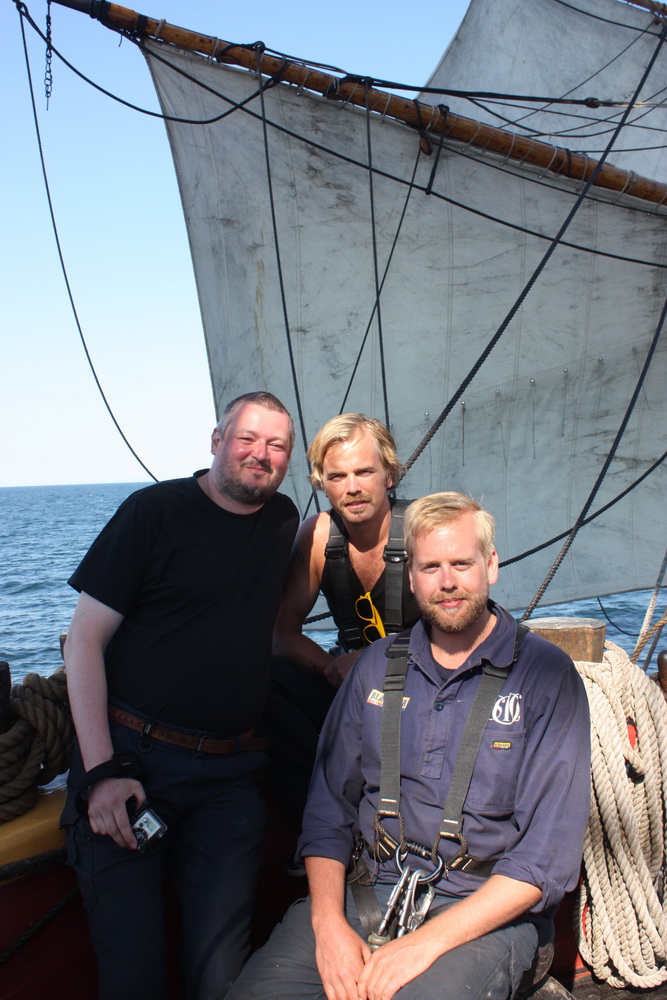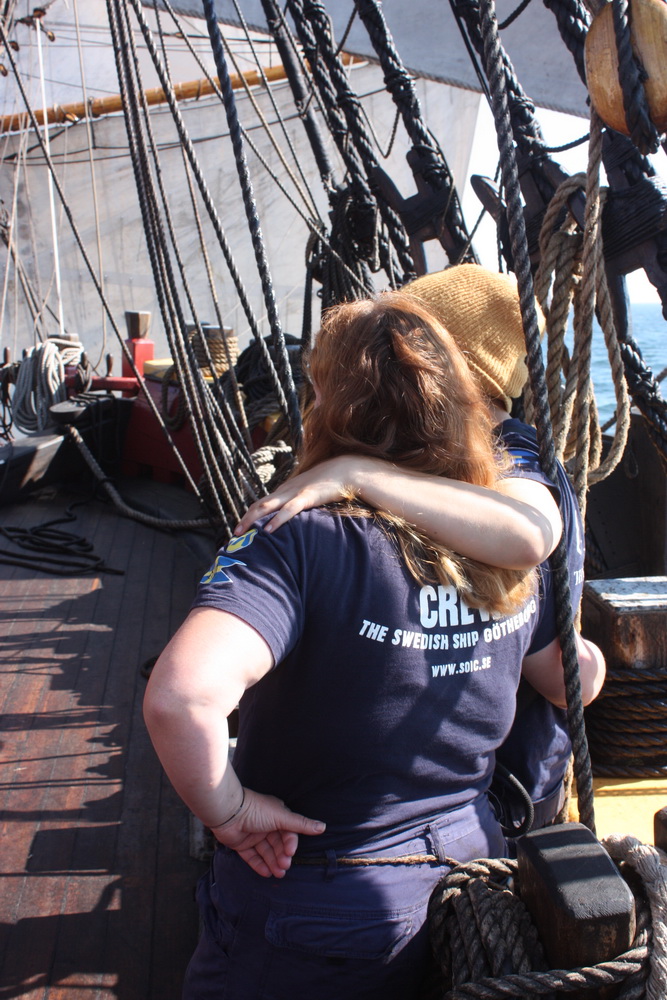 The atmosphere among us can only be decribed as immediate friendship! Especially the girls were hugging everyone many times =)
In the free watch everyone was just relaxing. The sunny weather invited us to lay on deck being perfectly lazy =)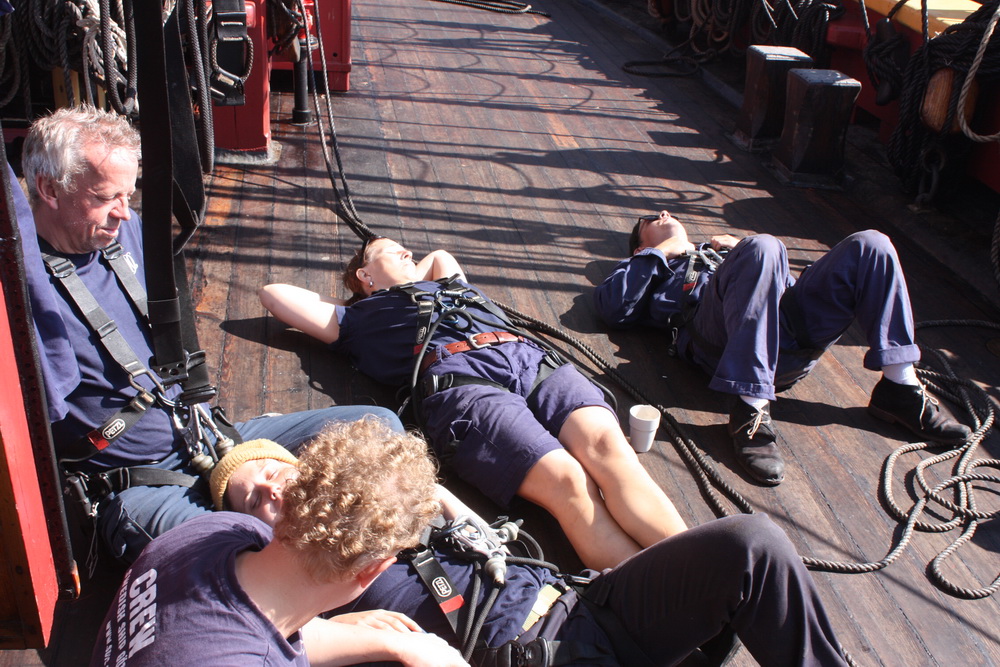 Even the captain who had his family with two kids onboard was one of us in these moments, calm and content. His two kids were around everywhere anytime, and appreciated by everyone.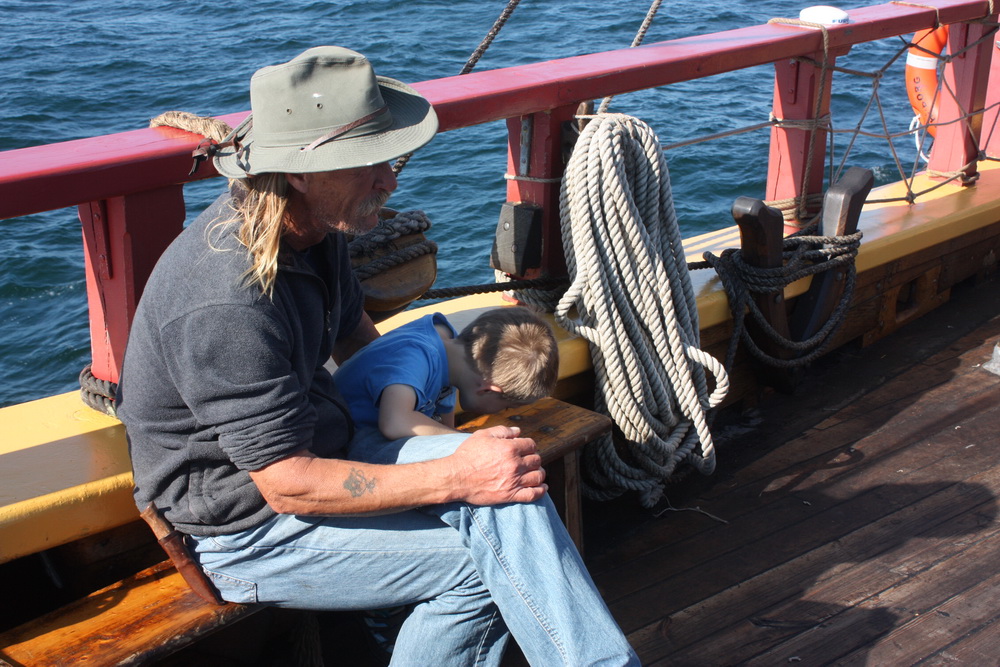 Meanwhile, the canvas was filled with wind to its utterest beauty! We were making 4-8 knots, depending on the tidal current, but all only by our sails.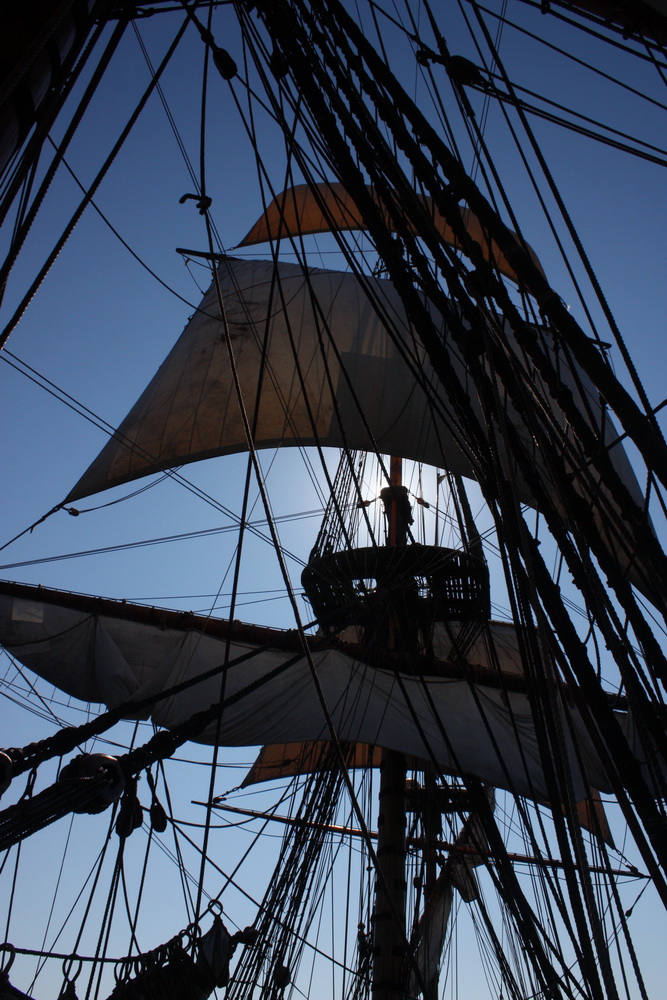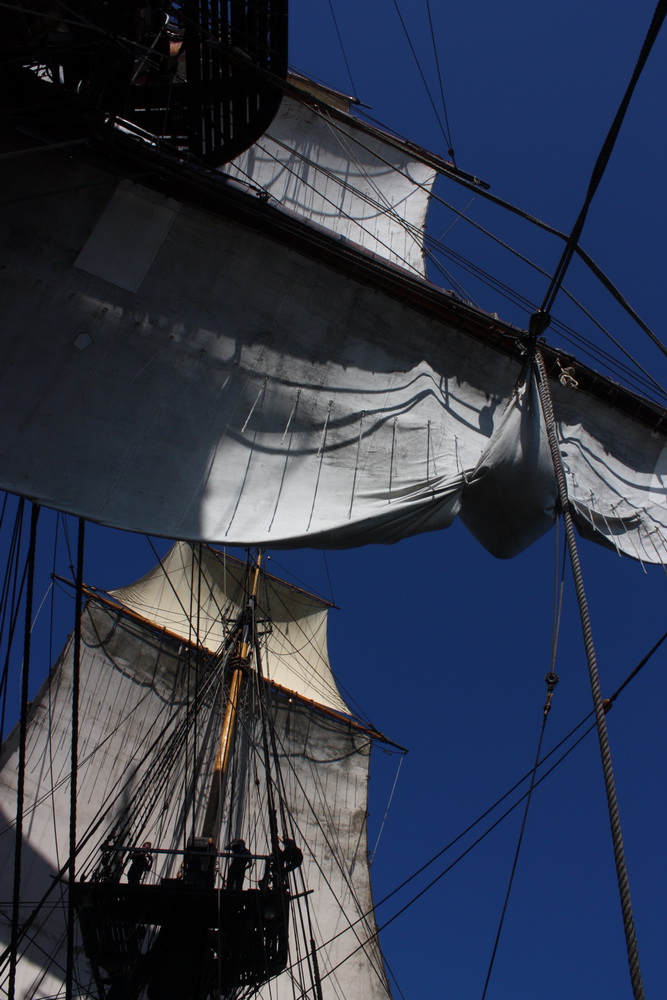 Special Show at the Gundeck after Dinner
On the gundeck, at a quarter past 6 PM, sometimes there were special events, like the SOIC history for the newcomers, excellently end vividly presented by Per Strängberg (watch leader assistent starboard).
Then we had a song video by Immanu-el (kind of ambient rock), and saw an old but rare movie about the old Cape Hoorn ships. As not all crew members could see this all together as some were on-duty, the show was repeated two hours later.
Another highlight was the presentation by Jean, an Frenchman, about the L´Hermione project in Rochefort, France. They are building another replica, and finished the hull in all details, historically correct. Now she will be rigged and we will see how far this project will go. Björn Ahlander and his gang who also built our ship did a lot of work for the rigging of the Hermione, and Jean was in the watches for he would learn how to use the rigging eventually.
---
20:00-24:00 Evening Watch
... I think is was this day when the watches started "altering" the ceremony =)
The usual way of changing watches is that both the old and the new watch take positions around the capstan. When watch leaders ended their explanations and recommendations for the day, the old watch says "God Vakt!" with a loud voice (just a little calmer at night). This is Swedish, the unquestioned commando language of the Götheborg, and means "A Good watch [we wich You]!". The new watch answers by shouting "God vakt ska de vara!!" - "A good watch this shall be!"
At some point, we were to take over from midships watch, but they said their parol in ... French? We had no idea. They were enjoying our confusion =) Just that they had a French girl in their watch gave us a hint. First we were dumpfound and said nothing - then we answered in Swedish "God vakt ska de vara!!"
This time I was BURR again (cannot believe it, but OK. So I am Utkik on the bowsprit again =)
Motors are off, we are a REAL sailing ship!
22:00 PM - time to be helmsman 2 and 1 (in that order) again.
And this is how it looks like (just the pictures were from the morning watch): Hemls(wo)man 2 is standing at the aft wheel, helms(wo)man 1 at the fore. The digital display tells what true course we have.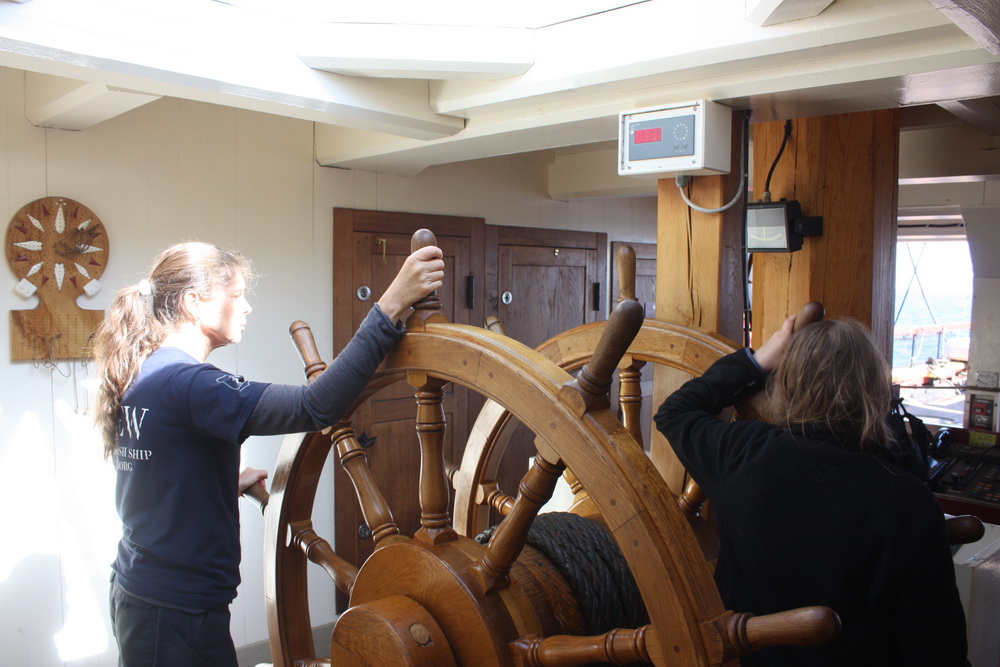 The nav officers cabin next to the helm, of course, looks like THIS: we have Radar, Electronic Seachart and automatic identifications, so everything IS under control!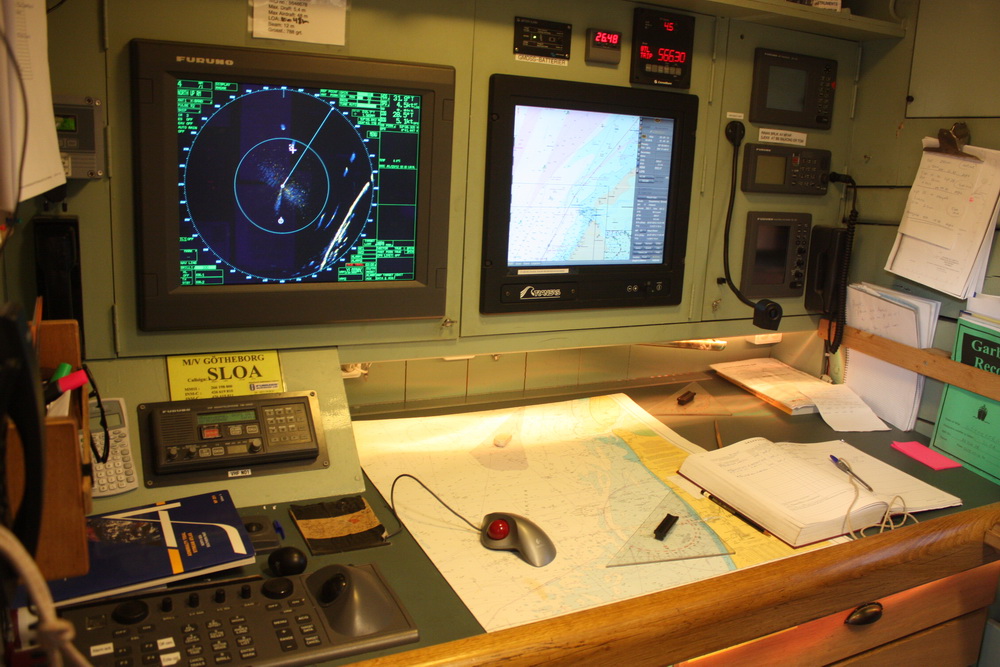 And on 24 hours PM, midnight, when the new watch takes over, we see the stars above our rigging, before we go to sleep!
Last challange for the day: making some pictures at midnight, but without flash (that is forbidden on deck in the night; it could be misinterpreted as an emergency signal by other ships, that is why). So I have some 10 to 30 seconds exposure time even when I take the highest ISO/ASA setting. But it worked. I just needed a hold on something stable ...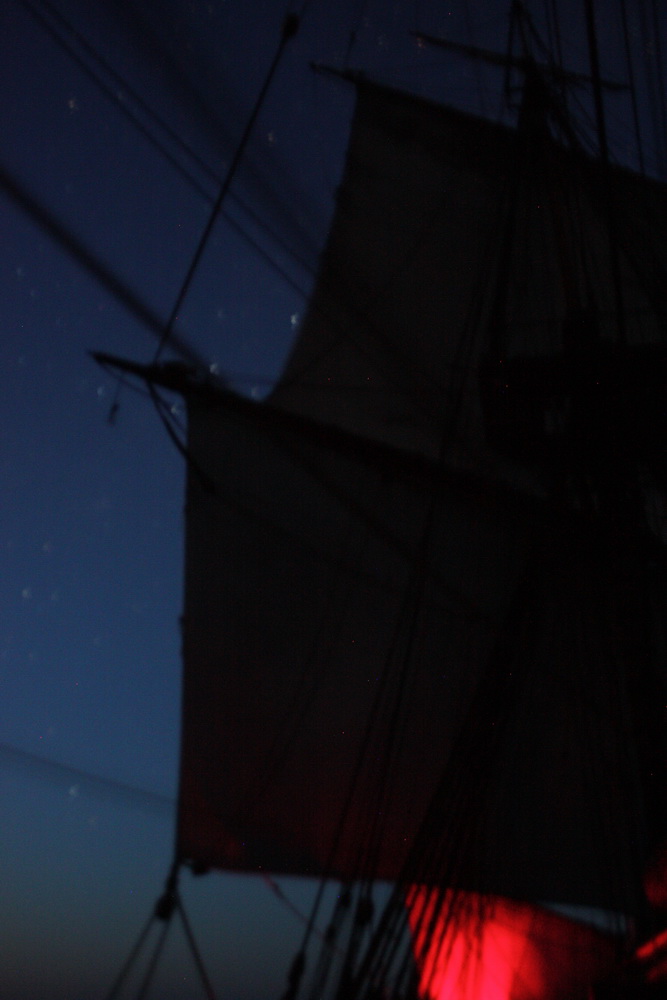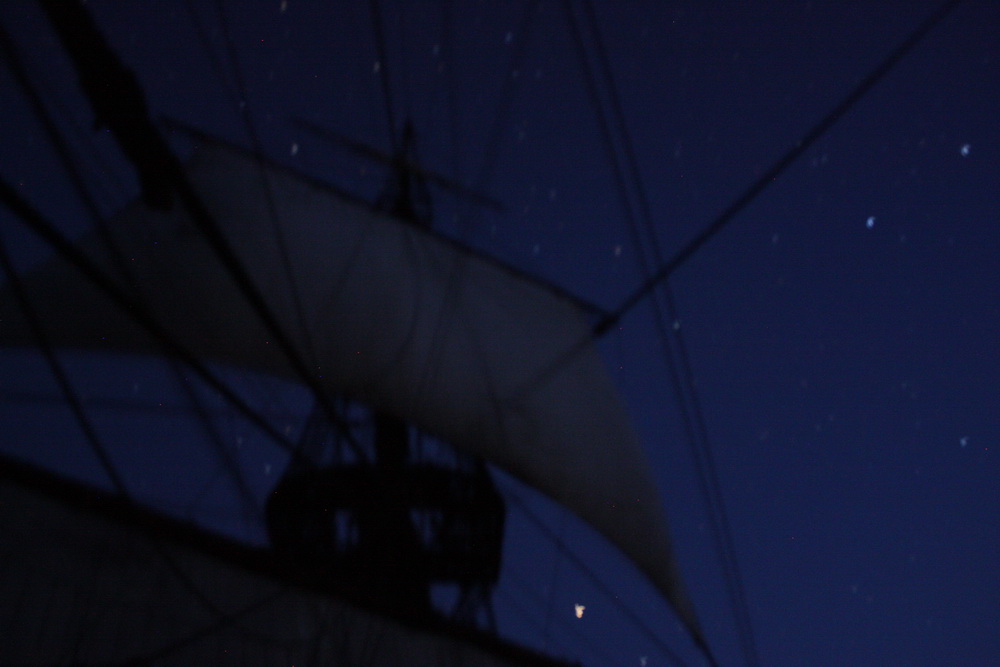 ---
Questions? Feel free:
j_gelbrich@gmx.net