I slept very well despite being seasick yesterday. 07:00 "purring". Breakfast. Feeling much better now, but it is almost totally calm outside. But the sun always shines!
Re-painting the rails in red (and ruin my historic cloth, for my bluewear was lost somewhere ... Linus fixed it for me - using terpentine =)

Others had many more small tasks. There is always work on a ship!

Meanwhile the ship still goes on propellers ... we need to be at our target port in time =)

Lunch: rice and beaf meal. Why did I not make any pictures of these excellent dishes - I have 3500 pictures but none of this?! It needs to be said that our food, without any exception, was ex-cel-lent throughout the whole sailing!!

12:00 "Goodvakt", starboard watch takes over; we get some important remarks on food and man-over-board situations.

Taking a some short nap, also Eddie. Am I getting too old for all this at 44 already? But I still love THIS SHIP and do not regret a second to be here!

13:00 some cleanups of the aft gundeck, another routine work for everyday.

13:30 taking a SHOWER and some sleep; I always get too little of it onboard. But as I experienced the same on the two sailings before (2009 and 2010), I took a consequence: I let it go. I let others take photos that we are going to share afterwards.
---
16:30 Awakened by the announcement that the ship will stop for a sea swimming!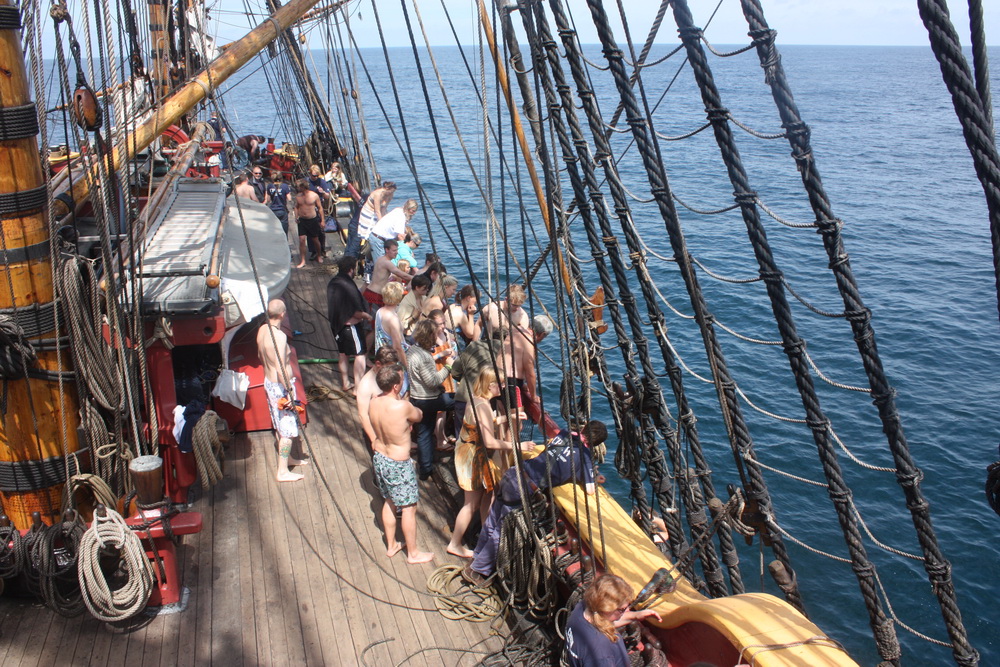 I would not swim in 10 degree Celsius water if I do not have to, but many others did it with joy!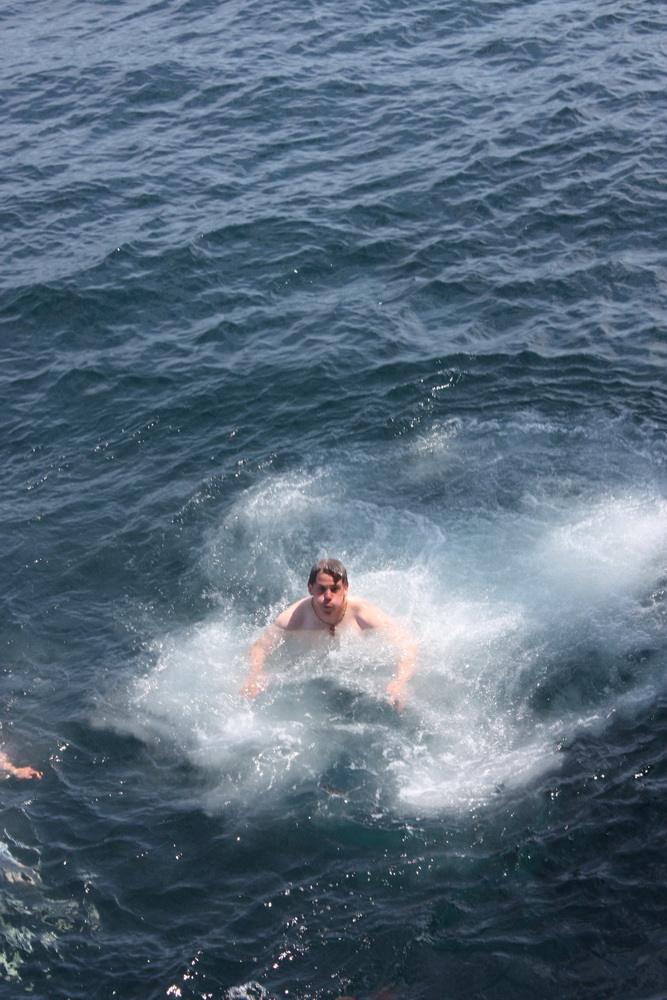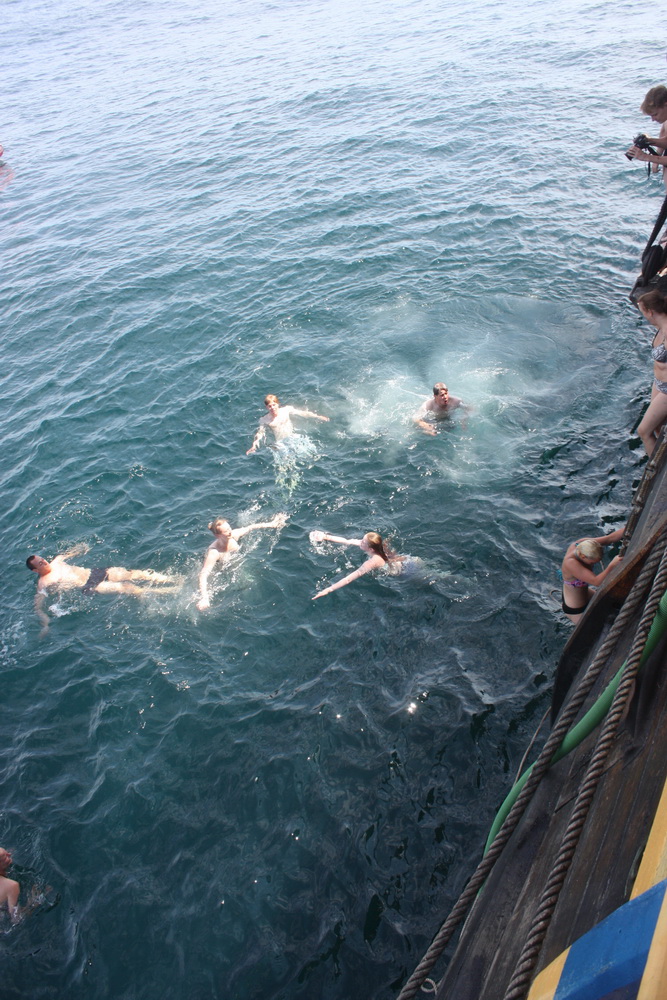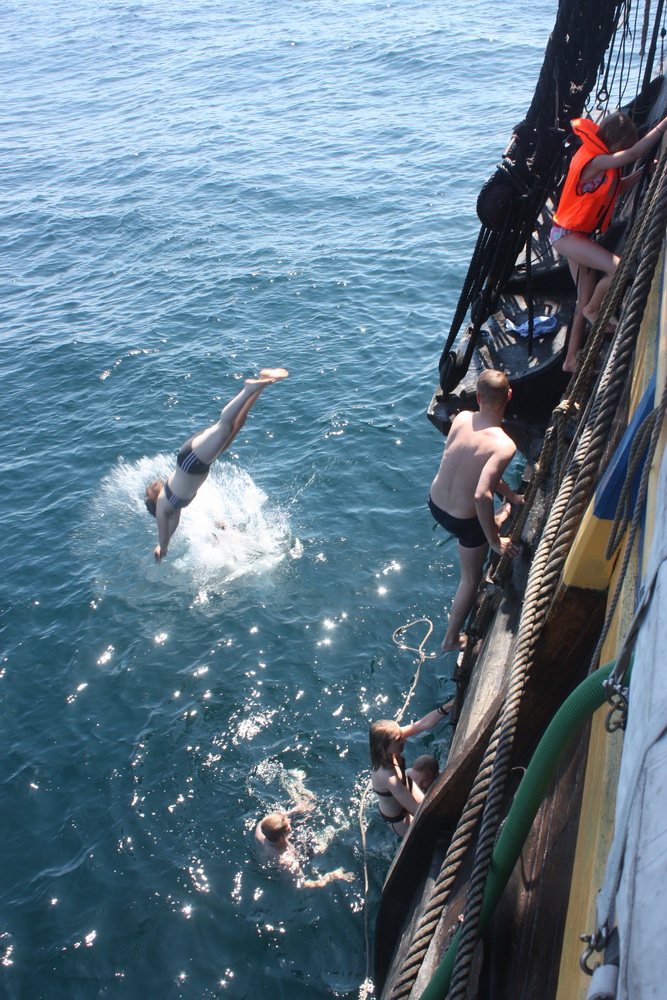 And after that refreshing dive, we had ice cream on deck!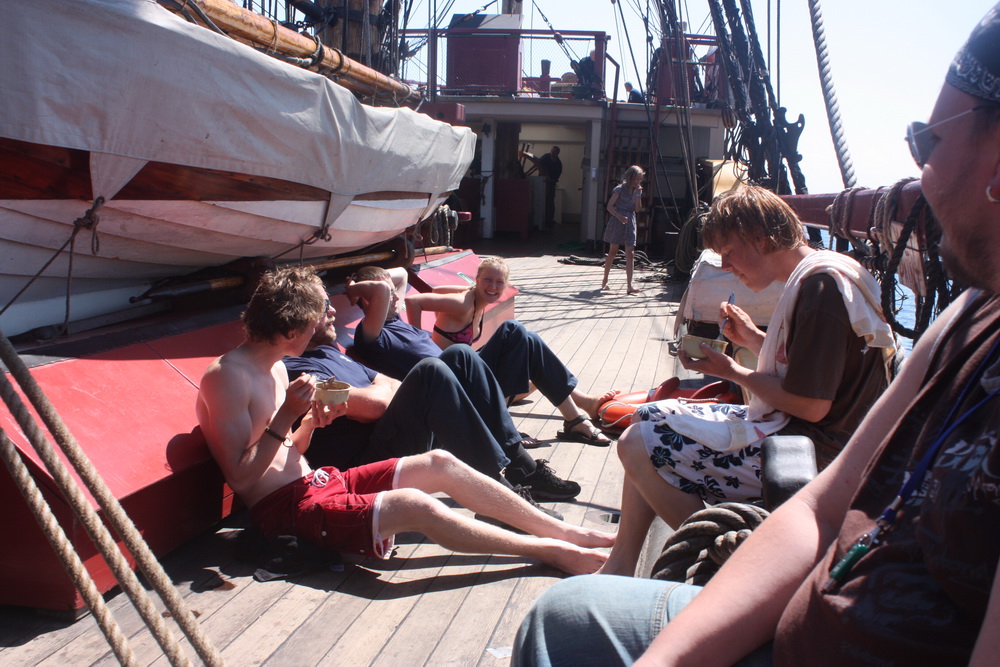 ---
We were in the English Channel, said to be the most frequently used ship route in Europe - but almost NO ships around us!? Are they all on vacations, or is this the world economic crisis (where shipping companies had been hit very badly indeed)??

Sea is calm, no winds still (what a word game), sun shines. A cruiser would love this for sure! But when are we going to SAIL?

Talking to our sailmaker from England, Philip. He was in the "Stad Amsterdam"! So I took the chance to ask him about that ship, its belayings and stunsails; she is one of very few ships having them. He had seen them being used, and he told me the details I longed for for such a long time. Most of the stunsail gears would go to the fiferails, and belayed somewhere, he said. There are no dedicated pins for stunsails, as they are used very rarely, in calm weather only. And they would be the first sails to be taken in again, before all others, when wind increased.

The Götheborg also had had stunsails, but those were lost in a fire in 2010 that destroyed much of the spare parts in port, unfortunately. The ship had used them only once, in 2007, in a calm in the Indian Ocean ...

I had taken some 400 photos this day (using my camera like a machine gun), and two Gopro films just from the swimming. Need to edit them afterwards.

I notice again that I am no longer as fit physically, by far, as the two times before! My body shows me new limits after my burnout in November 2010 ... that was the point I wanted to proove: where are my limits now ... I need to take care of myself. But for the rest, THIS IS HEAVEN, now for the THIRD time in my life!
---
20:00-24:00 Evening Watch
Just enough wind for the triangular stay sails.

I love these colors that are cast off with the late sun ...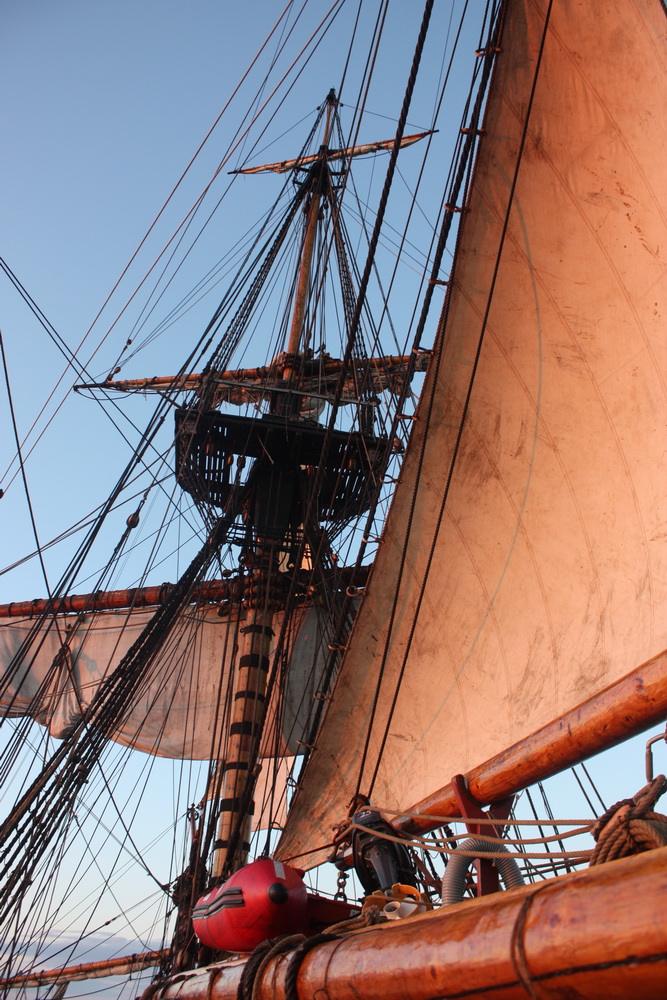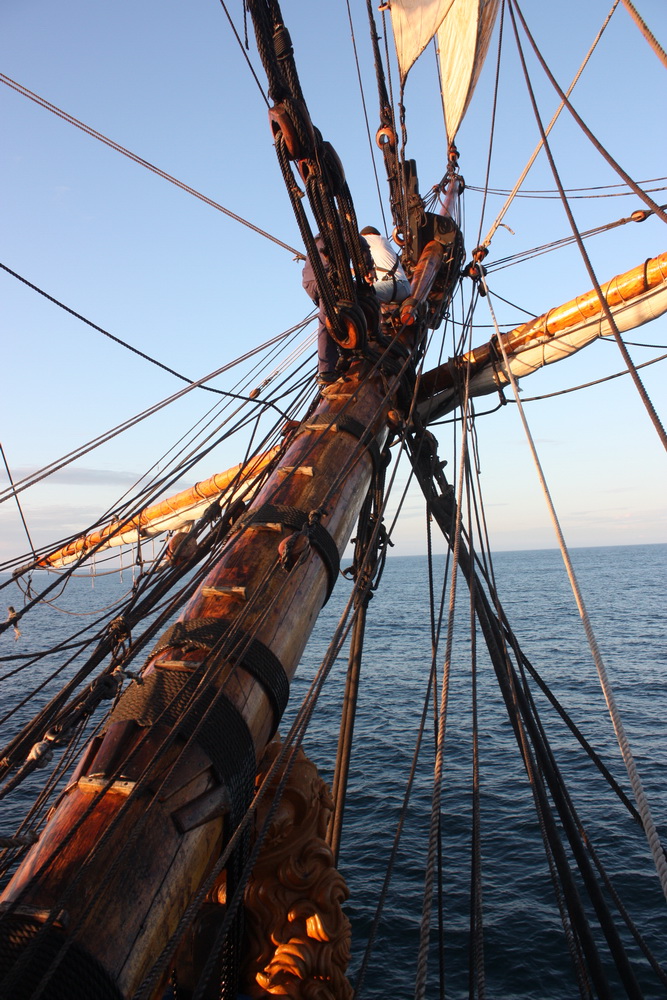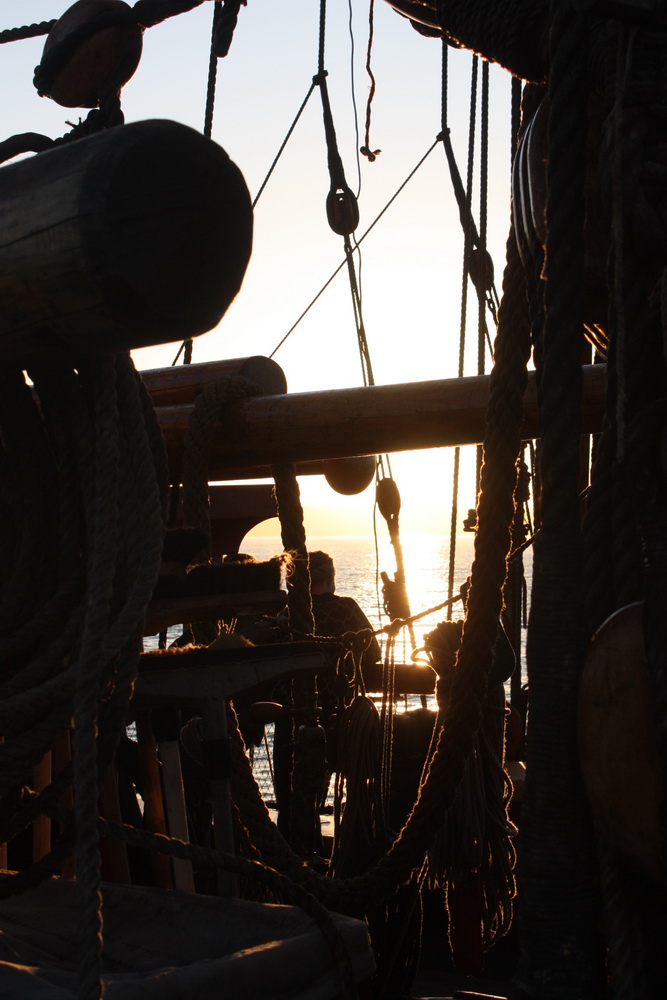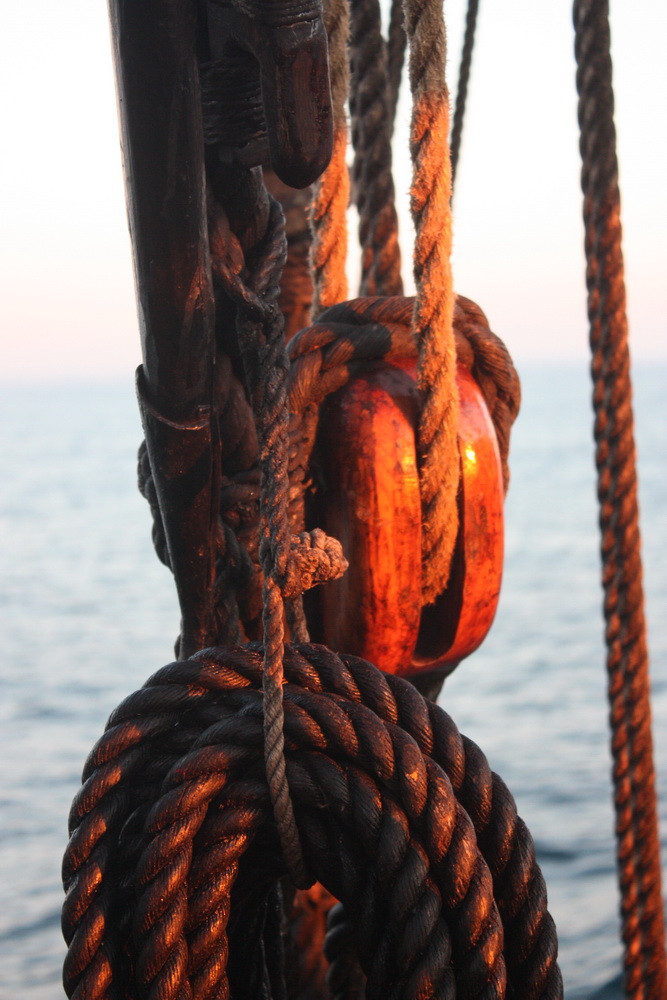 Sigge and Linus were very good instructors! And there are always lines to coil up =)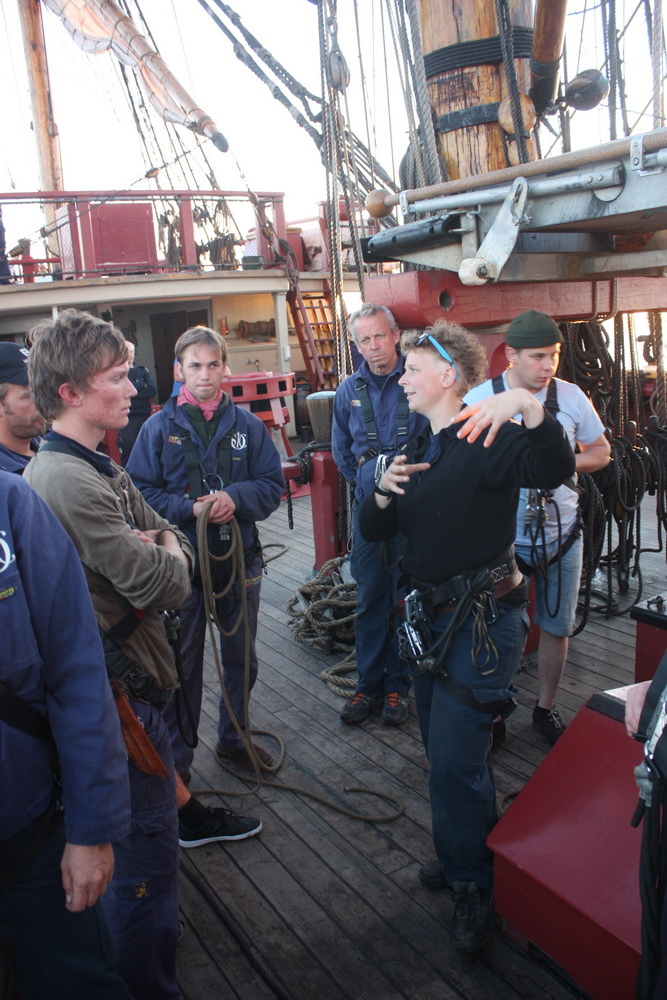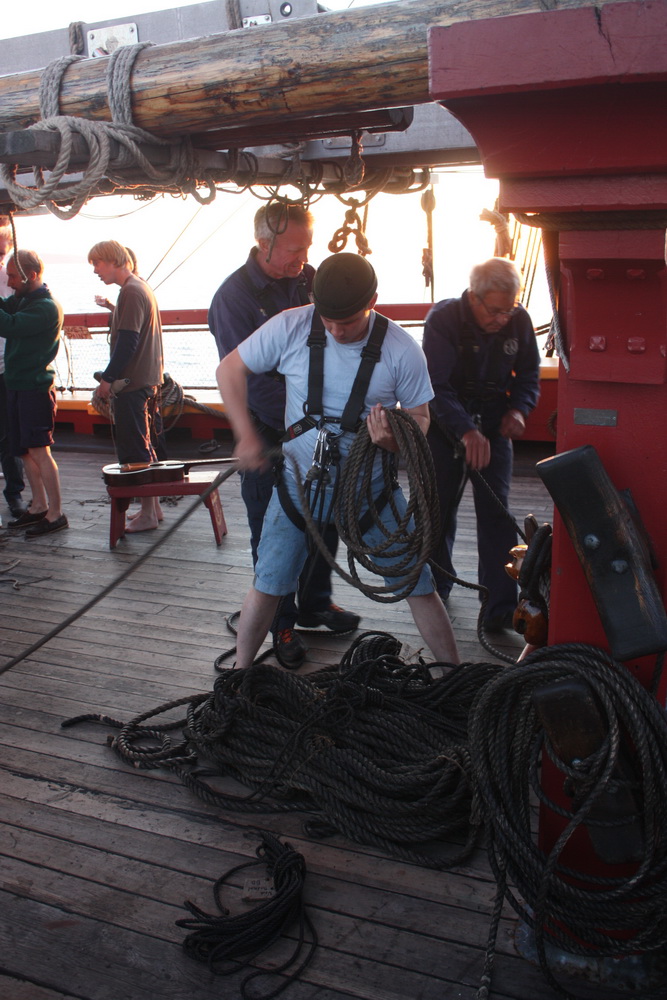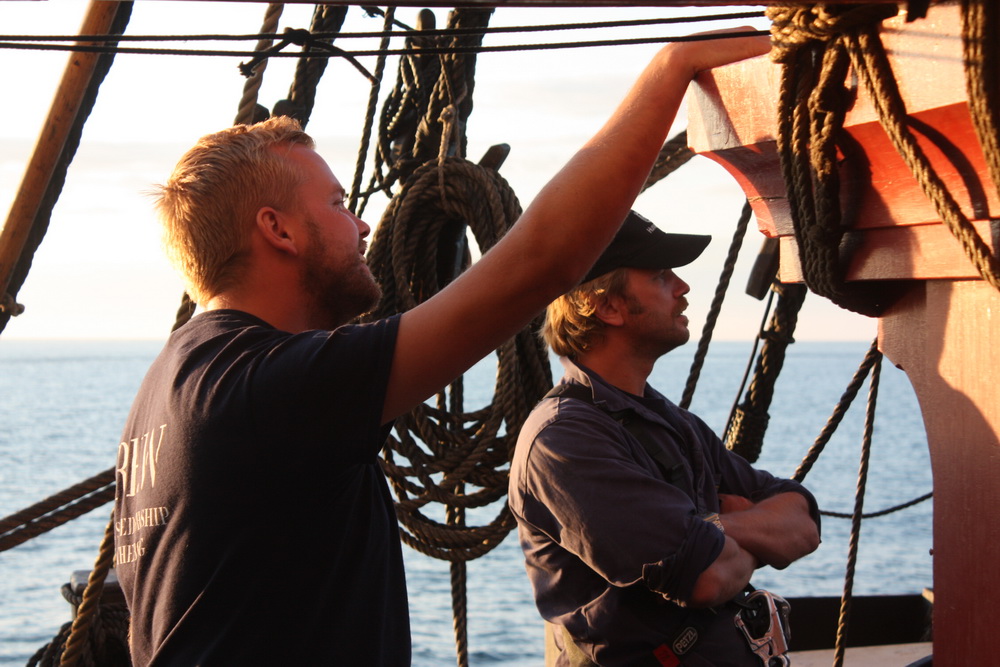 As always, we had no radio (except the nav officers, of course), no internet, no news, no nothing from the outside - and we did not give a dime on it! We had just our ship that was our life. It is incredible how fast we became a CREW.
What we had was our cameras; sometimes I felt every second of us had a Canon camera ... I borrowed my Gopro camera to Samuel, for he was much younger than me and thus, much more capable aloft in the rigging.
Some of the free watchers plaid music ...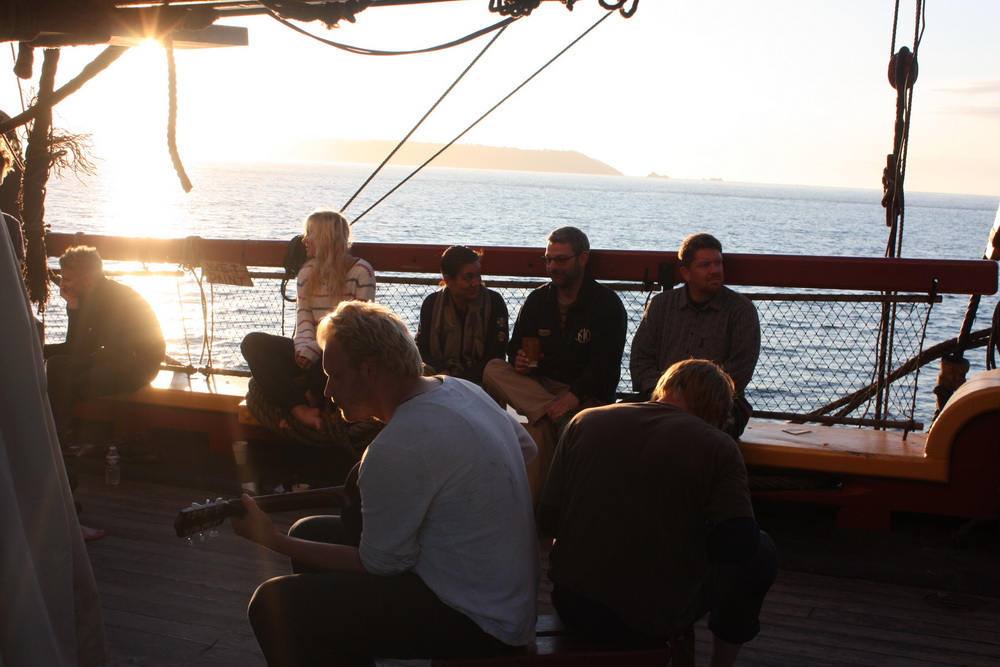 ... until the sun kissed the horizon!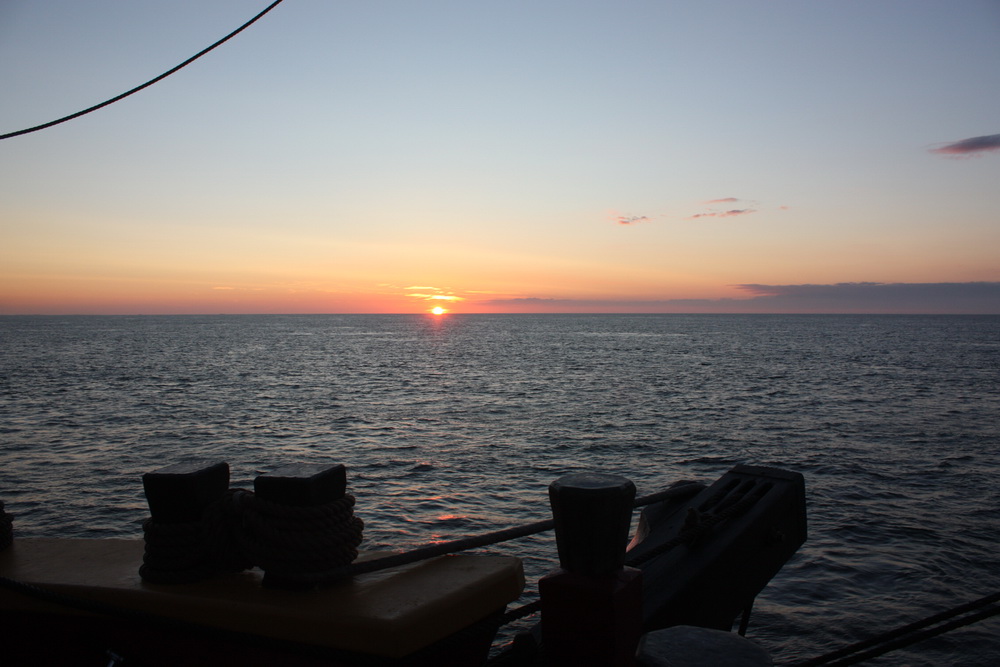 ---
Questions? Feel free:
j_gelbrich@gmx.net