Wednesday 2012-07-18 - Maritime Sightseeing
Up 07:30, breakfast. Then a shower =) ... writing this diary ...
Free Watch until 16:00 PM - a chance to visit the other ships and museums!
I had two targets: going to Musée de la Marine and the clipper Stad Amsterdam. So I went on land ... but there was MUCH more to see =)
---
Visiting a modern warship, the "P.H.M Bir Anzarane" of the Navy of Morocco: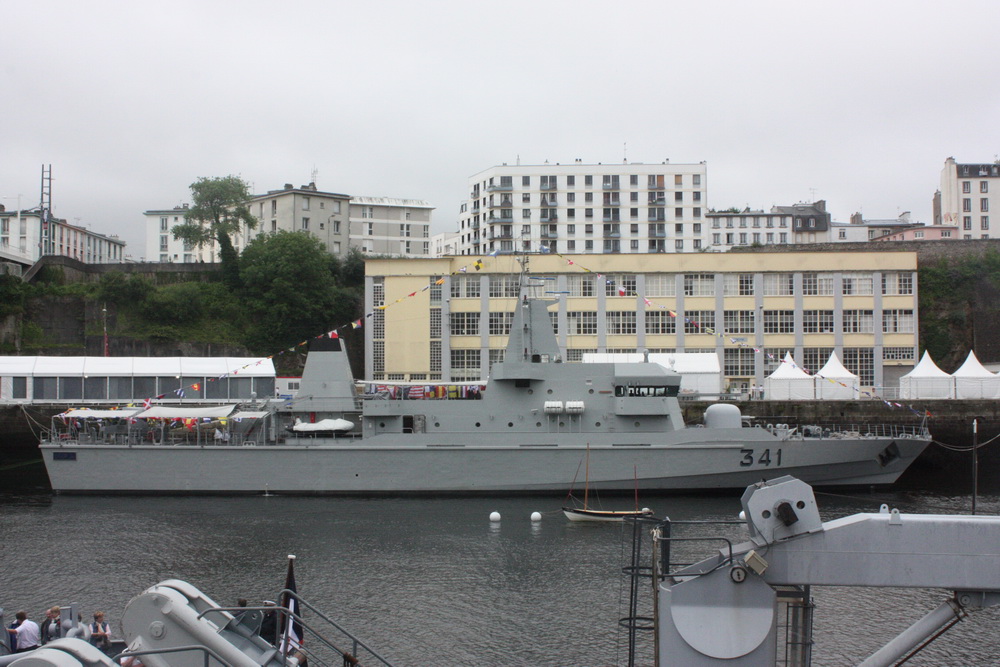 I came along this thip by chance, and in the first place, modern warships are not my focus - I like the old sailing ships. Morocco had its own exhibition area in the festival, showing a lot of models: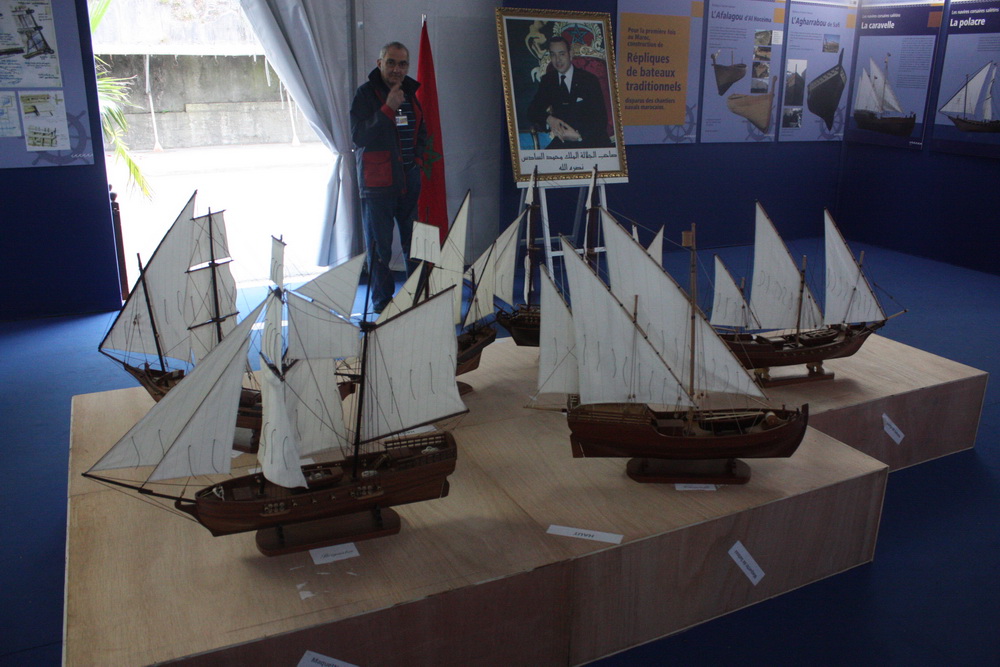 But the crew of the Anzarane was nice a welcomed me and more visitors, and the gave us a guided tour through the ship!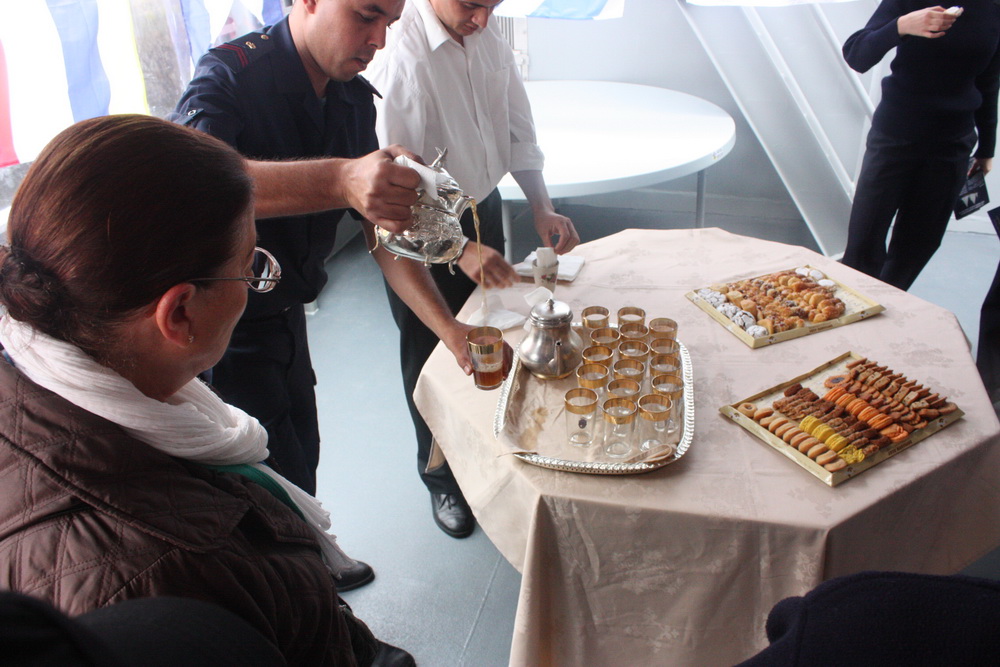 On deck I spotted a giant model of a mediterranian chebeque, an ancient sailing ship type that had been used for centuries at all North African coasts (still known as the Barbarian cost, for there were the prirates). I immediately started making pictures of this model - until I was soon politely but strongly asked to take my camera off; after all, I was on a modern warship!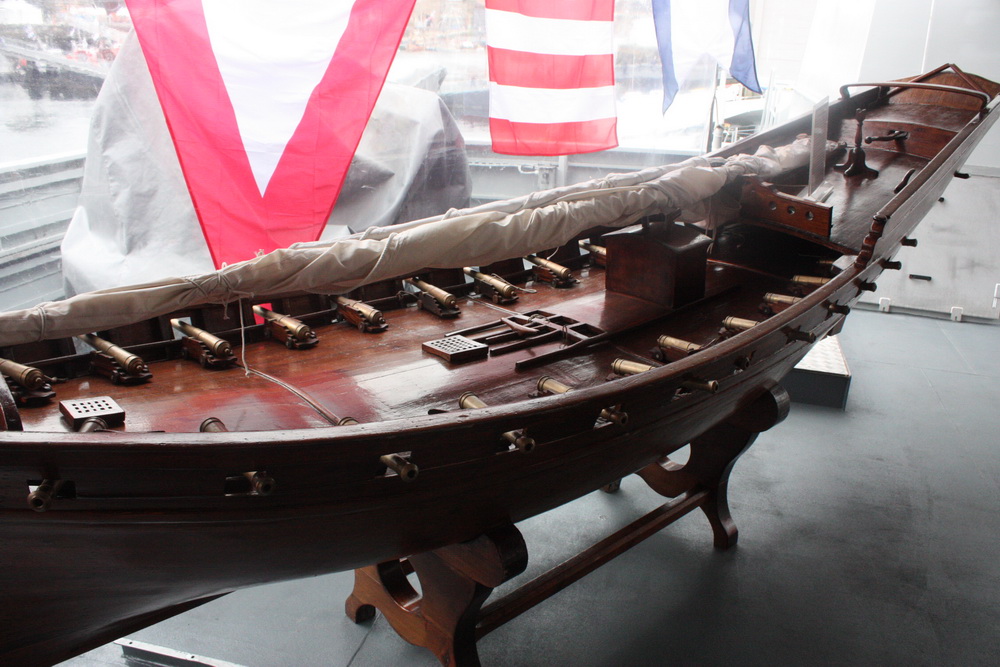 The crew took about 20 vistors even down to the machine rooms (which were excellently clean) and answered questions - well, I was maybe the only one who could not understand French. So well ... it was still very interesting.
---
A gun of the French battleship Richelieu, exhibited in front of the marine base
From Wikipedia: The Richelieu class battleships were the last and largest battleships of the French Navy, staying in service into the 1960s. They still remain to this day the largest warships ever built by France. Designed in the 1930s to counter the threat of the Italian Vittorio Veneto class battleships, the Richelieu class were essentially scaled-up versions of the preceding Dunkerque class, featuring a main battery of eight 380 mm (15.0 in) guns in two quadruple turrets in forward superfiring positions.
Leaving Brest in northwestern France for Dakar in French West Africa (modern-day Senegal), in June 1940 in a nearly completed state, she served during World War II, first on the Vichy Regime side, notably fending off a 1940 Allied attempt on Dakar. She supported a weak anti-aircraft artillery suite, and traditional only optical fire control means, until she joined the Allies in 1943. Refitted in 1943, in New York Navy Yard, she operated then with the Royal Navy forces in the Indian Ocean in 1944 and 1945.
She took part in the return of French forces to Indochina in 1945, and served into the 1960s.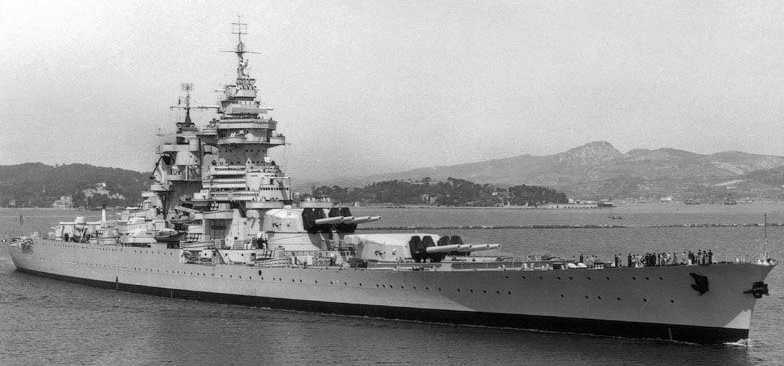 This picture I found at http://padresteve.com. This is what she looked like!
The Richelieu no longer exists. She was laid up in 1956, serving as a swimming school, until she was dismantled to a hulk in 1967, and eventually scrapped in Italy between 1968-69. This gun in Brest is one of her few remains.
---
Then I met our bosun Dag by incident on the quay. We admired a "sewn boat" (that is: no nails!) from Norway, a small replica shown here:
Finding a book shop in the festival area, of course I bought many books for my private maritime library =)
They were so many and heavy that I returned to our ship, bringing them back into my quarter, and start walking again.
Unfortunalely, I found that the clipper Stad Amsterdam and Staatsraad Lehmkuhl had left (for a one day tour only, which I did not know then). So I went for my second target, the Maritime Museum of Brest!
---
The Musée de la Marine is located inside the old Castle of Brest ...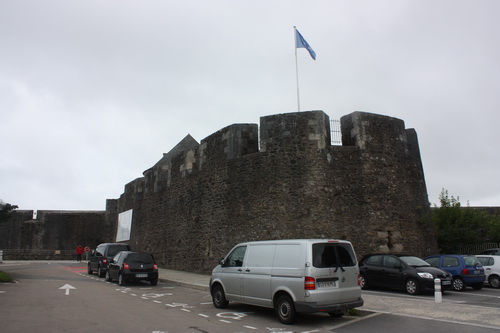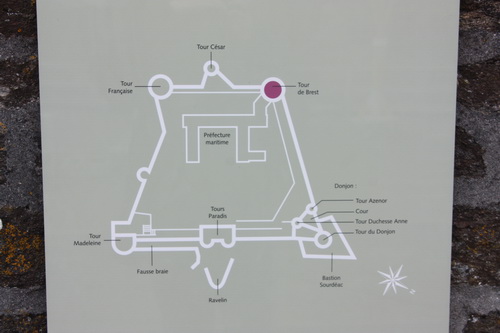 ... from which You could see all the ships on the quays =)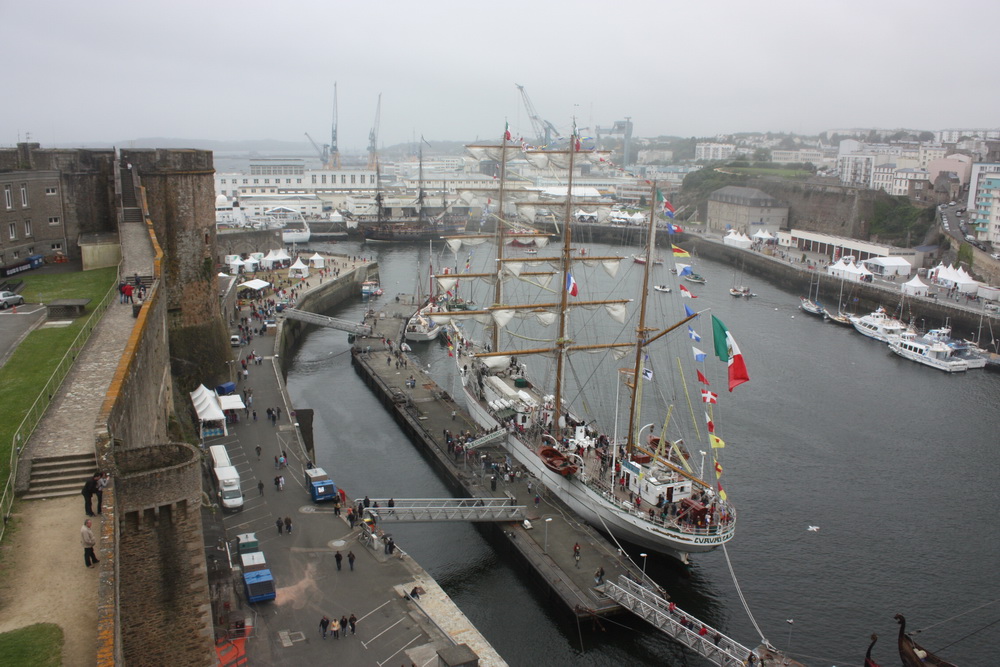 My French is only basic, but I can at least read much of it. The exhibition in the musuem is kind of small (well, it is a local museum) but excellent!
One model shows how old sailing ships were re-masted and fitted - without modern cranes, they did it all by large heavy tackles:
Another model shows how old sailing ships were built in the shipyards:
A number of French navy board models are here, too, often in 1:50 scale, showing all details of construction: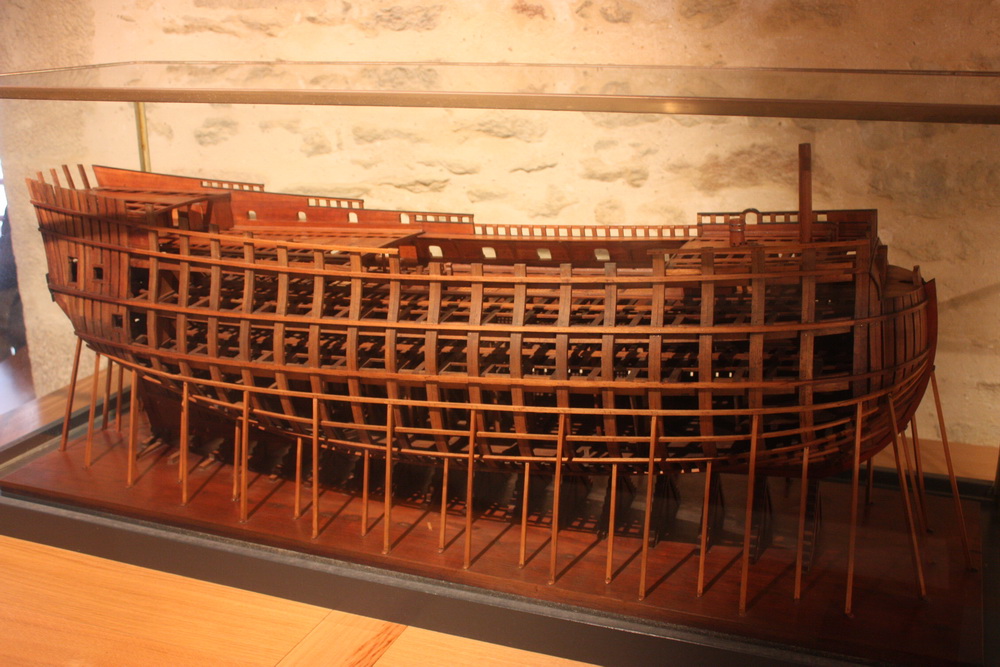 You see much of nautical instruments and even maritime artworks: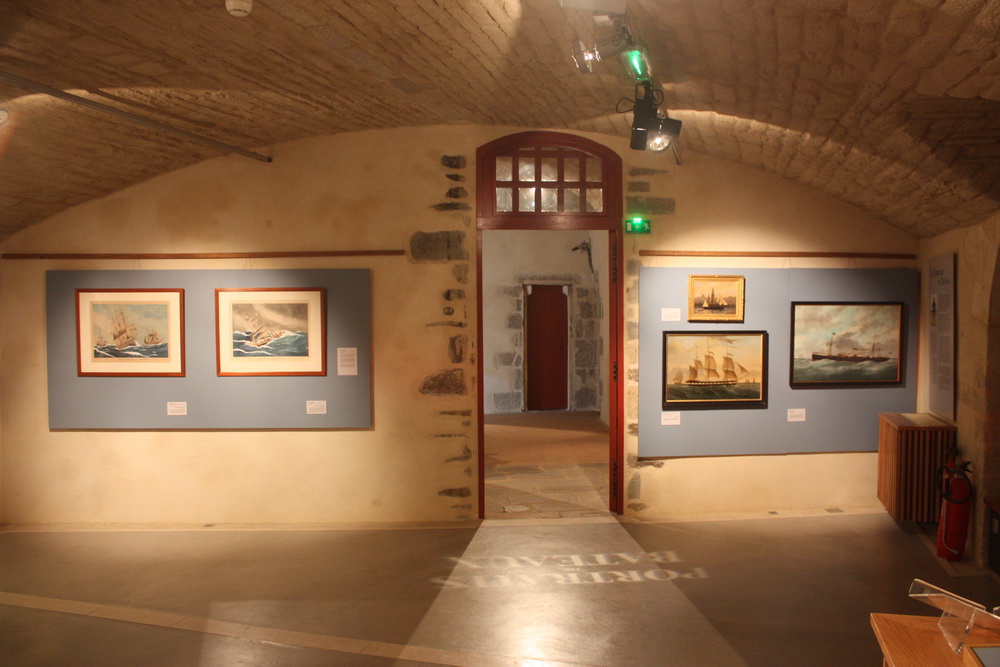 The special charm of this museum is its very location inside the castle: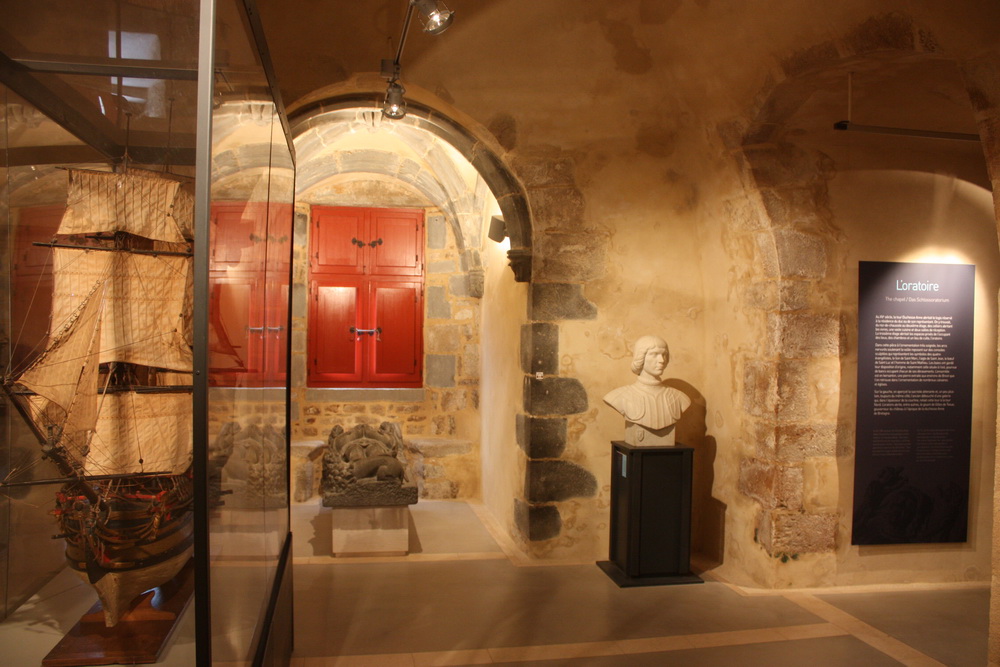 The most excellent ship model was this one: of course her name was "La Bretagne". She was a 110 gun ship (first class) of 1780. The model was built in scale 1:72. All details of the entire rigging are shown!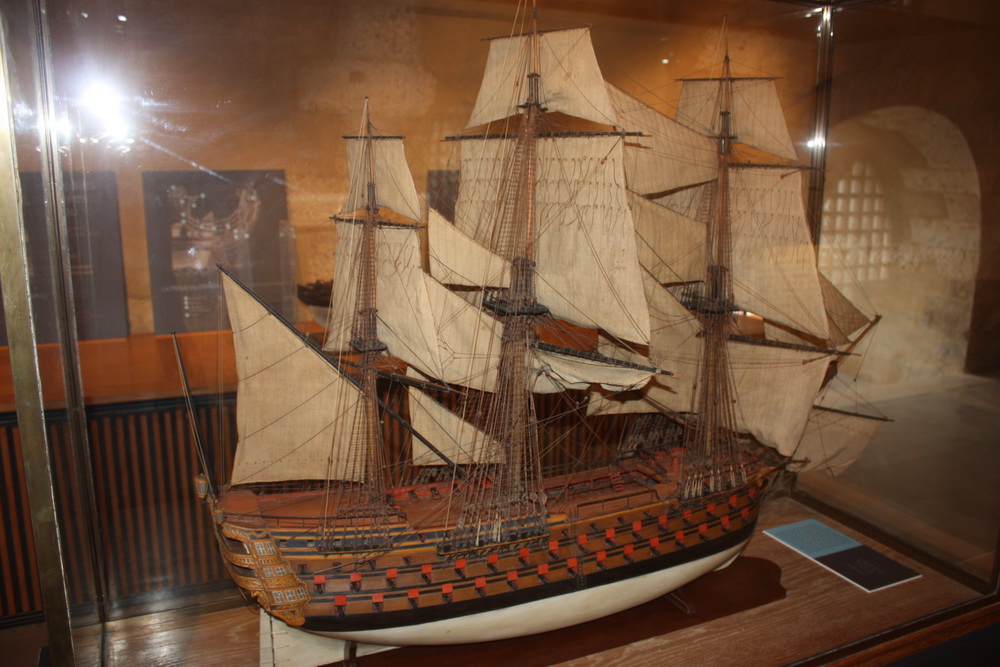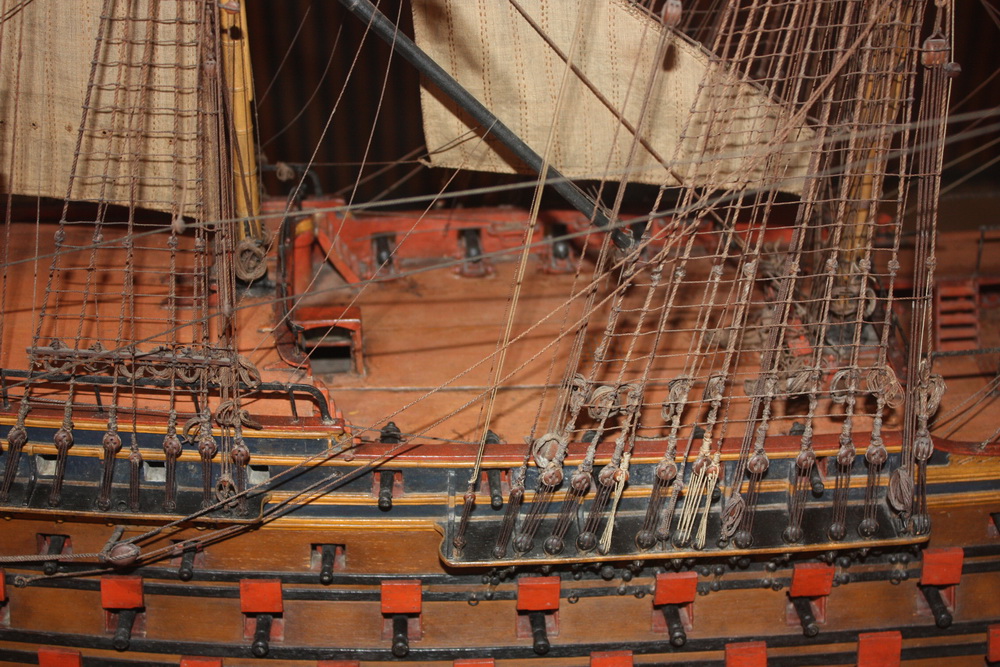 I entered the museum alone, but there were more of us going there. So I met Dylan, Johanna, Emil, and others from our watch, we were continuing together.
The museum also has a large collection of figure heads and ornamentation, which was so typical for the baroque era between 1700 to 1800: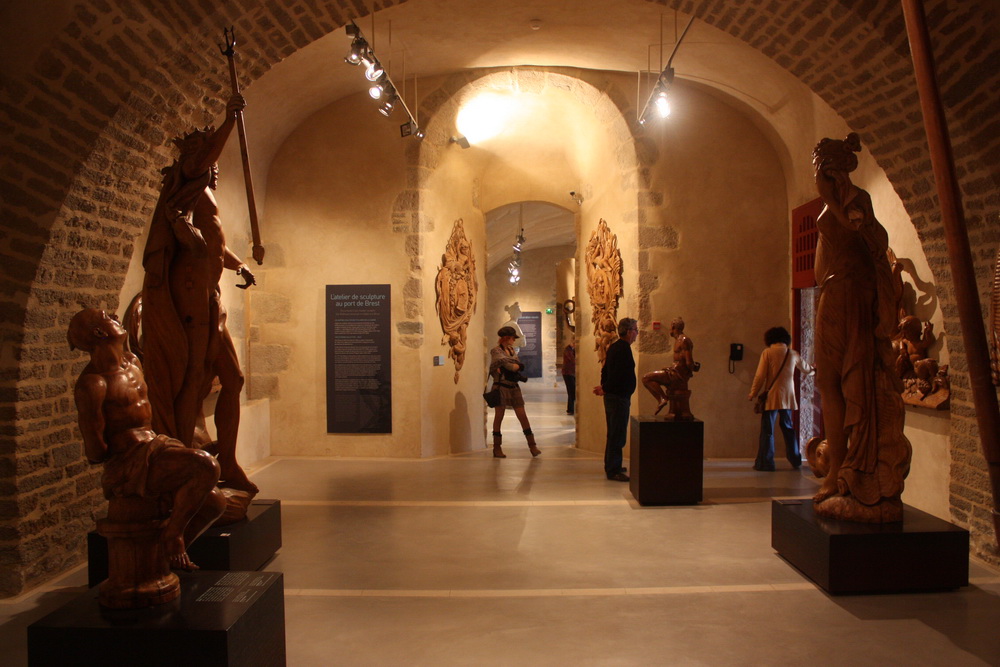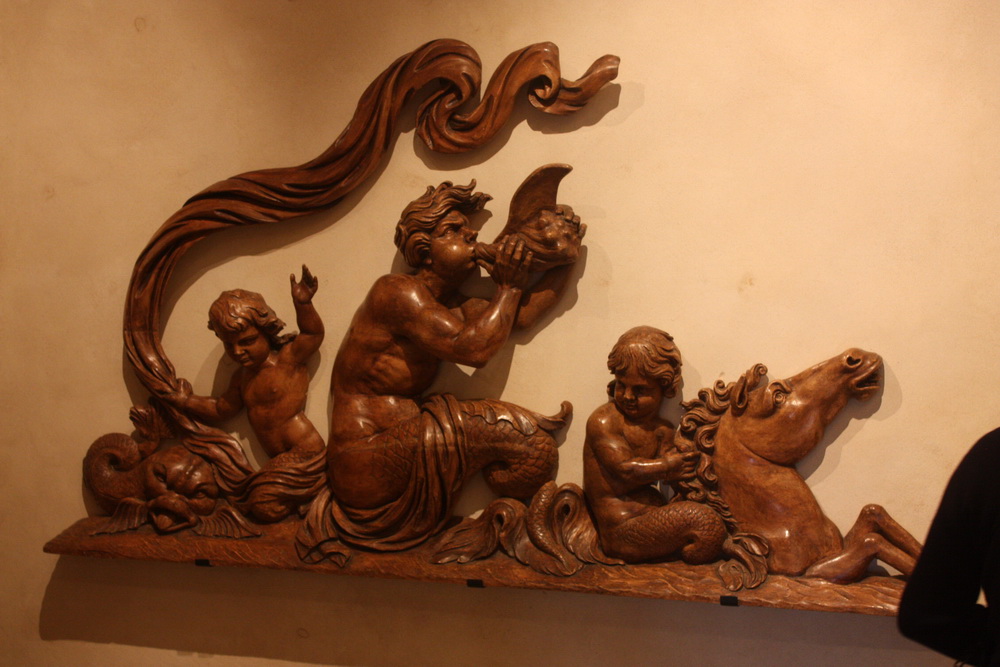 ... and of course, some original bronze cannons: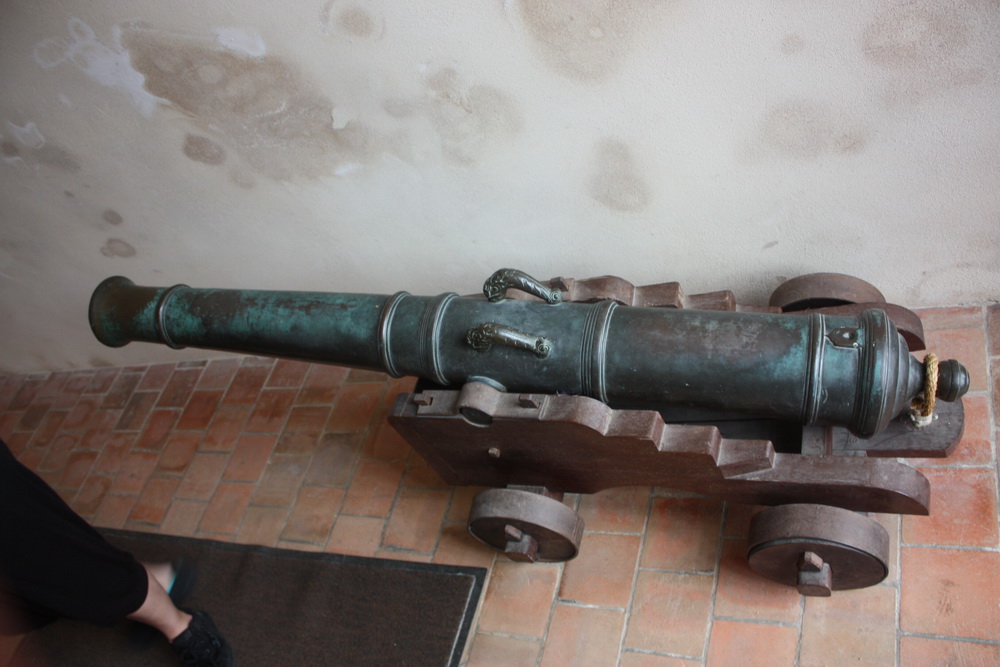 ---
Then we were going to town at 14:00, finding some shops. I bought some comics in French - the best method to learn another language in my view.
Back to capstan at 16:00 PM. Work to do ... and while working, there was no way to have my camera with me.
Many jobs seem to be so very small but time and effort consuming. That´s the way it is. From the point of "efficiency" or "ROI" of course, building and maintaining a replica sailing ship looks like an apotheosis of nonsense in our times! But yet, we do it!
I worked on the fore stay with Alexander until 19:00 PM. Our task really looked simple: making ties to the lashings of the fore stay, 5 on each side. The point is that these ties need to TIE the lanyards so that the stay is secured and can hold even the strongest winds. At some point it is astonishing how such a little tie from small yarns (not thicker than some millimeters!) can hold a lanyards of 1 inch, in turn holding the fore stay that is as thick as an arm! It can stand strains of several tons!
There is a special technique how to make these ties, and because of the strain from the mast it has to stand, this is a task of high resposibility, You must not do any kind of bungling here! I was not that experienced on this, but Alexander was, and he showed me once more all details so that I continued same way.
Here is a picture of the fore stay lashings: a lanyard goes 4 times through large deadeyes (blocks without sheaves). But both ends are loose! They are stopped with a "spanish winch", then the ties are made. The spanish winches can only be removed when all ties are ready: here is Dylan, out on the bowsprit, and the fore stay is the large rope between him and the camera. Look at the size compared to us humans!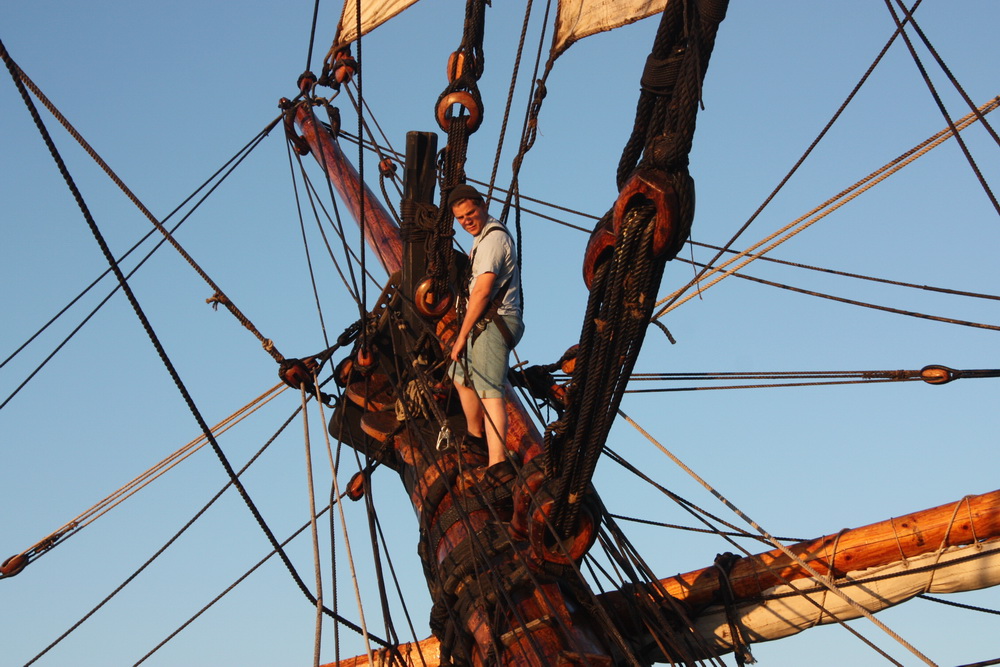 Working on the fore stay means that You are out on the bowsprit, on which there is hardly a place to stand for hours, So You need Your harness and hang Yourself into it, securing Yourself somewhere up there. And thus "hanging in your gears", You start working - that is hard work indeed!
20:00-24:00 evening watch on the quay with Kattis. No more visitors then, Open Ship ended at 20:00. But of course, some guys always want to enter our ship, and so I said my first full French sentence: "Maintnant, le bateau est fermé!" - the ship is closed for today.
I had taken some 350 photos this day, and made 3 movies using my Gopro camera; it also works very good in dark environments and at night, a real tiny spy camera! One of those movies was my round as a fire watcher, where You go into ANY corner of the ship to check for strange smells and such ...
00:30 sleep.
---
Questions? Feel free:
j_gelbrich@gmx.net