The Götheborg III at Erikspir in Gothenburg, Sweden.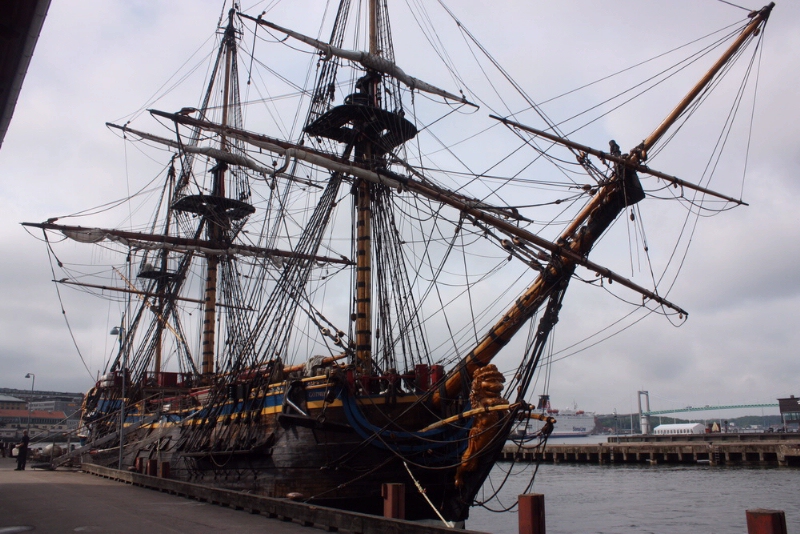 This day was the official day for signing in of the trainees ("påmönstring").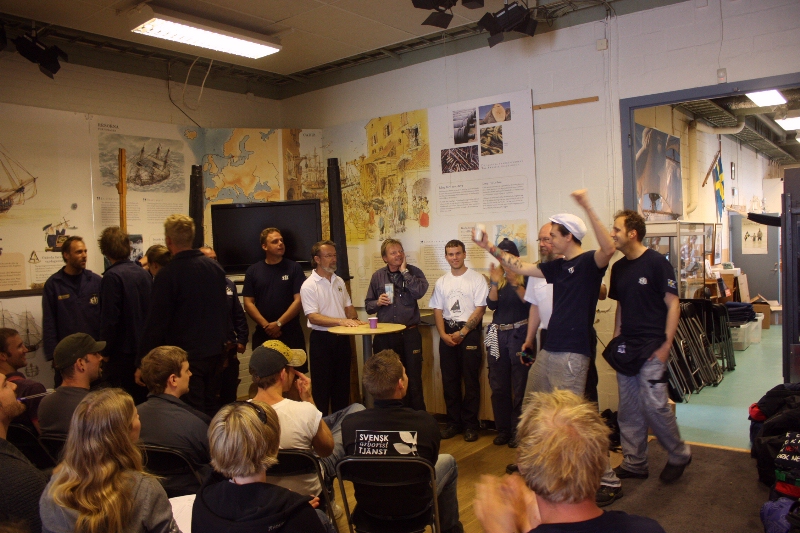 The three watches (starboard, port and midships) are grouped. I had the starboard watch this time, from 12-16 and 00-04 o´clock everyday, this is the usual rythm at sea.
The complete watch system on the Götheborg goes like this:
20:00 to 00:00 - First watch - Port Crew
00:00 to 04:00 - Middle watch - Starboard Crew
04:00 to 08:00 - Morning watch - Midship Crew
08:00 to 12:00 - Forenoon watch - Port Crew
12:00 to 16:00 - Afternoon watch - Starboard Crew
16:00 to 20:00 - Dog watch - Midship Crew
I was happy to meet Emil again, as our watch leader ("mastskeppare").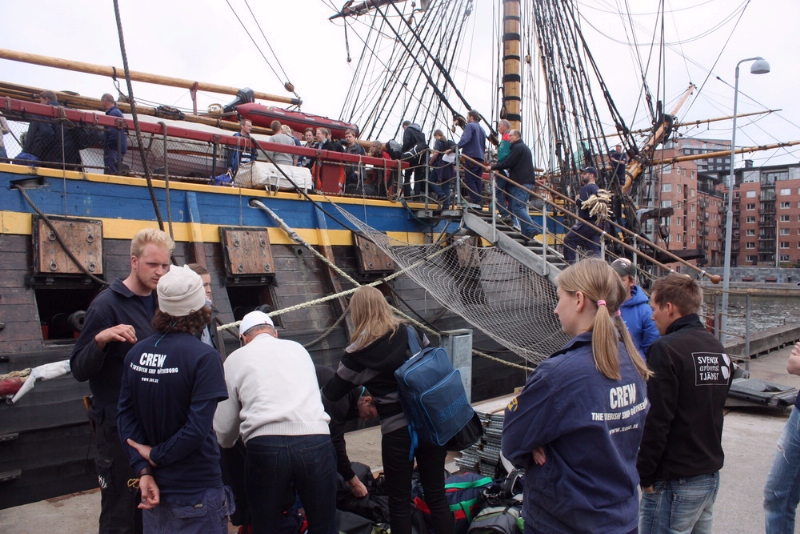 On the Götheborg, trainees are not supposed to have any maritime experience at all (although, some "experienced trainees" are with it). The SOIC wants to have good mixture of man and women, of all ages, enthusiasts and landlubbers, to be onboard and sail together. This concept may sound very unusual, but it has prooved to be excellent! Everybody can apply for a voyage at the SOIC Homepage, and the chances to get a place are not too low ... I got the opportunity twice!
All new trainees get a Familiarization tour, and weather clothes, provided by SOIC, for the week to come.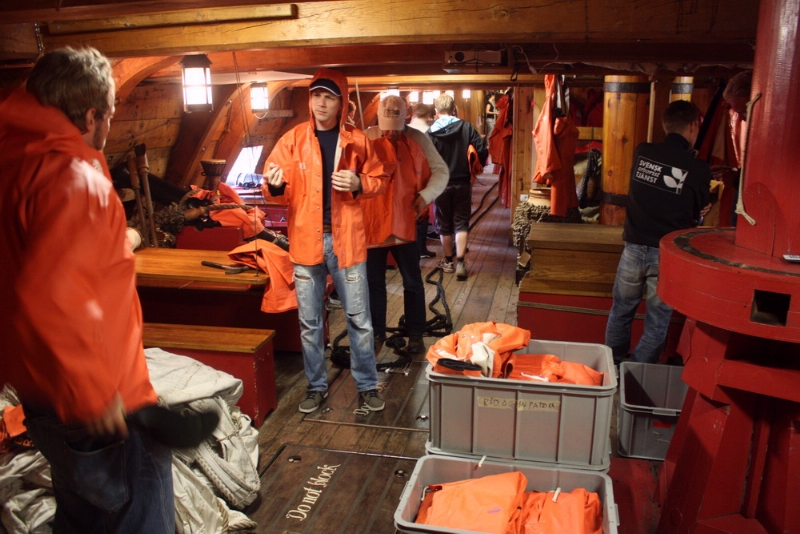 Also, as part of the Götheborg mission to keep maritime traditions alive, all people are provided with historical clothes, that we were to wear on departures, arrivals and other official "dates" with the media. And our captain Peter Kaaling really looks like a captain of the 17th century!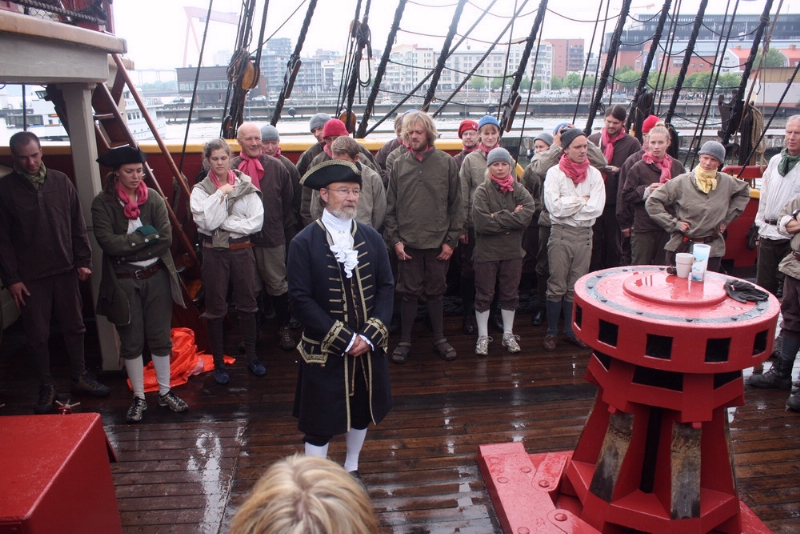 The weather was not friendly with us on our departure, and monday was a weekday so everybody worked, so there were only about 100 people ashore at the official departure ceremony, to say farewell to us. We sang the shanty "Bound for South Australia" - with some Swedish improvisations in the lyrics :)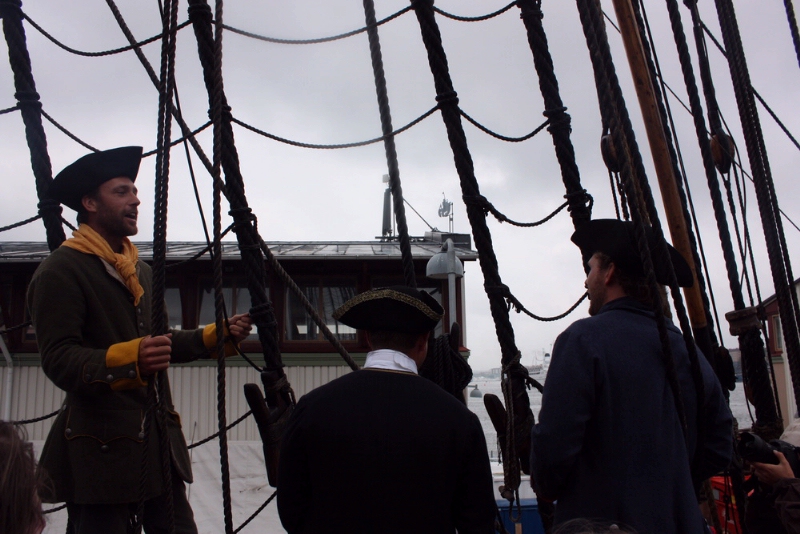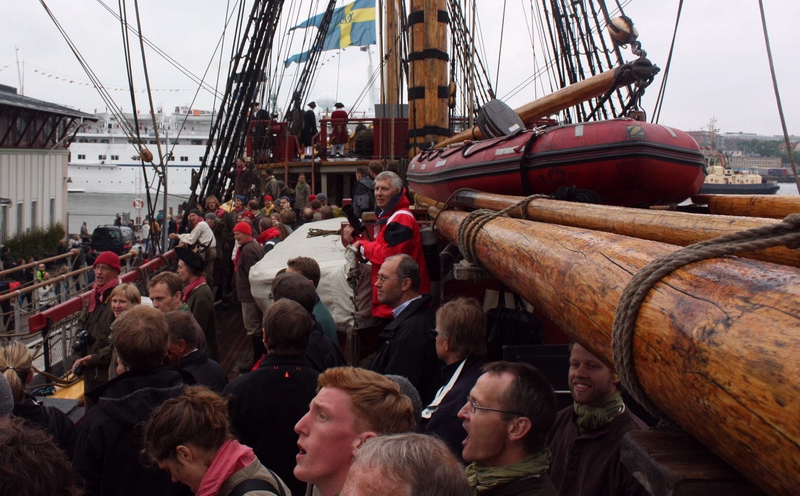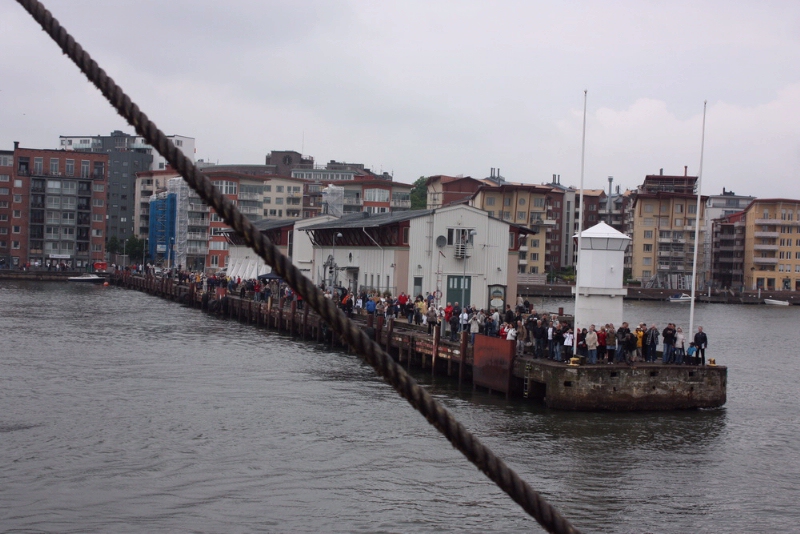 And with 8 shots salute from our cannons, we departed from Gothenburg.
Our watch began right away. We had to get in the guns again that had been used for salute shooting, and fix them for the voyage at sea. And the gunports had to be closed and tightened carefully. The experienced trainees could teach us the knots ...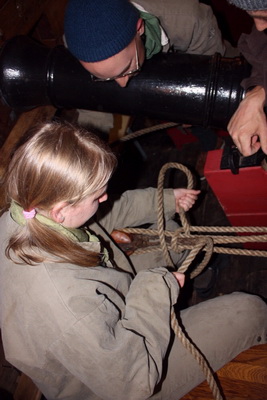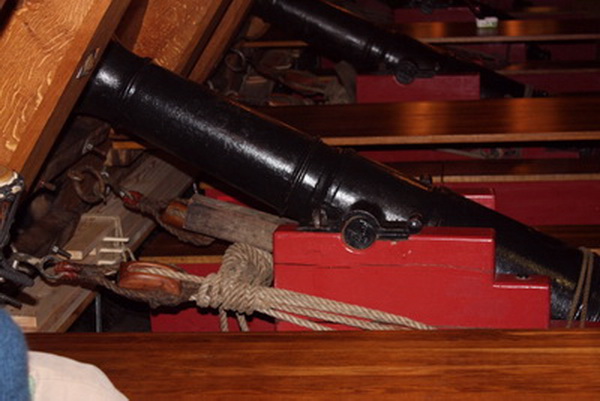 The Götheborg III has 10 guns, 5 on each side. They are almost like real ancient cannons, but of course, they are not capable to shoot real cannon balls, they can only be used for salutes, so they have no recoil :) So they "only" have a rigging for running them out, but no breeching line and no tackle to get them in; that we do by pressing our feet on their wheels ... but it works though.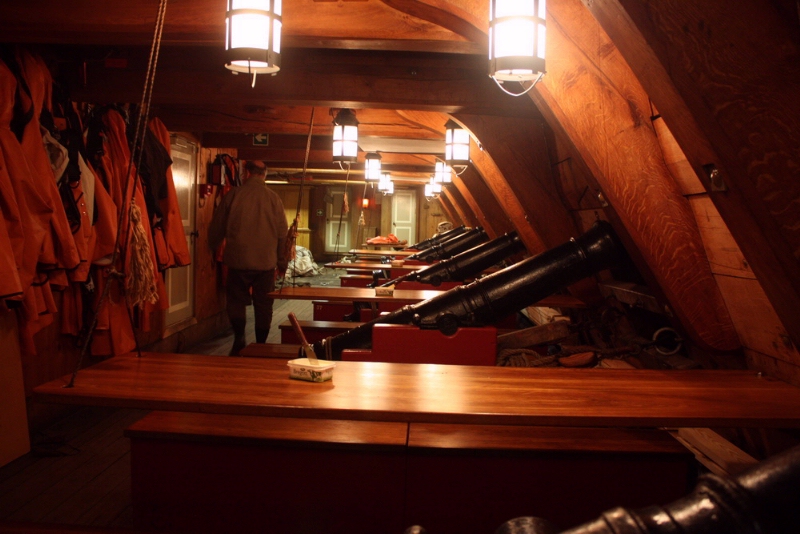 As we were to go up at 00:00 again for the "middle watch", we made some short name games to get to know each other, and took some sleep.