2009, June 14th. At Marstrand, the Volvo Ocean Race would take place, and our shooting salute would be the trigger of it!
---
The Götheborg III anchored before Marstrand island that we arrived in the night.
Letting go an anchor is a manouvre of its own :) It has a weight of several tons, like the ancient anchor, and it is hold by a "cat tackle". The lower part is loosened carefully and let down above the water, so it swings free ... and in a choppy sea, when You happen to match the "Eigen frequency" of that anchor arrangement, that anchor actually can harm the ship´s side! It swings back and forth like a church bell - and it also sounds like that! So we lengthened the cat tackle more for the final dropping, another dangerous situation. The cat tackle is loosened carefully, and the last meters of the line just run out like crazy, so Björn just let the line go and immediately fled the spot! Nobody must stand there to get hit by this line ... After this event, the belaying point of that line was too hot to touch - the cat tackle line was chafing only 2 seconds, but due to the weight of the anchor, it had a tremendous force! Pity, I have no photos of that ...
---
Around noon we went to our position at Marstand for the Volvo Ocean Race. Of course, OUR SHIP were the star of the event :) We were surrounded by hundreds of boats! We had historic clothes on and could view the race from a privileged place ... our salute opened the racing!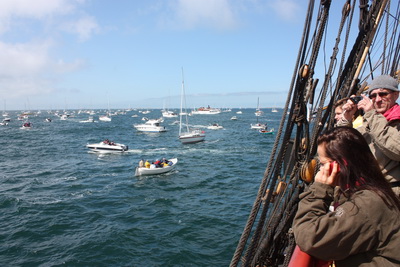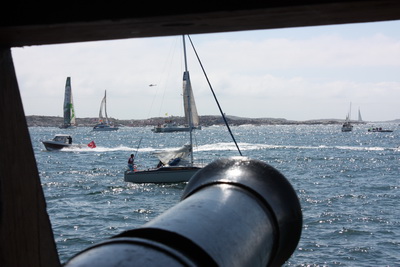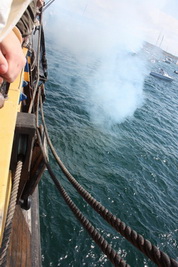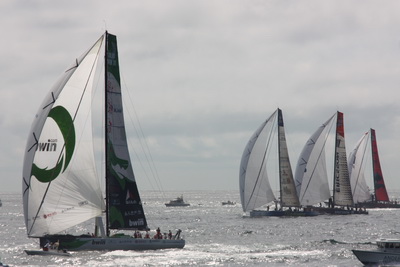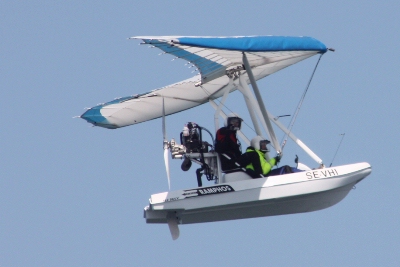 We were having much fun, indeed :)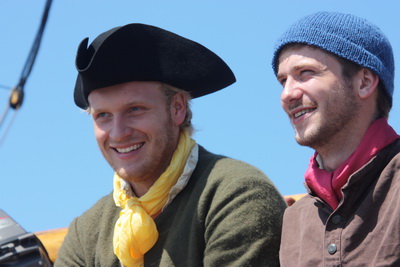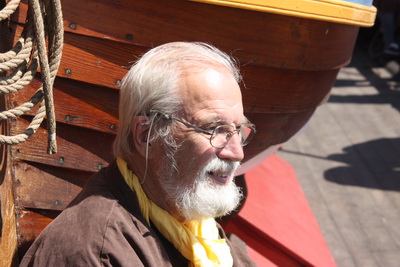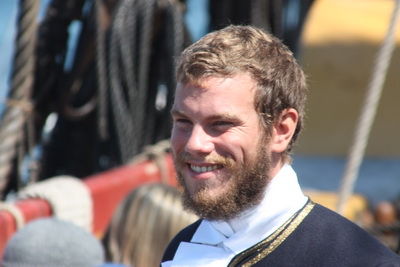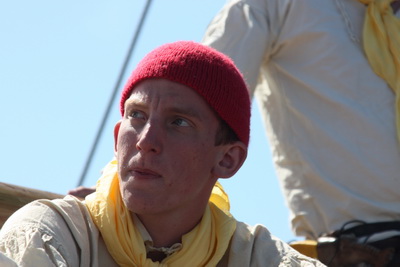 By the end of the day, our V.I.P.s left and we were anchoring again before the castle of Marstrand. We would start our sailing the next day.