2009, June 13th. My first voyage as a trainee ... we were bound to sail from Gothenburg, to Arendal in Norway; and before that, we would make a stop at Marstrand, a Swedish island not far from Gothenburg, to take part in the Volvo Ocean Race - not as a competitor, of course, but as the flagg ship to shoot salute, for opening the race!
---
I came by my own car from Småland in South Sweden where I live, some 3 hours to drive to Gothenburg. As we were to come back to here from Norway, by bus, I rented a parking place for one week ... quite expensive, but big cities simply are like that.

The Götheborg III laid at the quai of Erikspir. More and more trainees arrived ...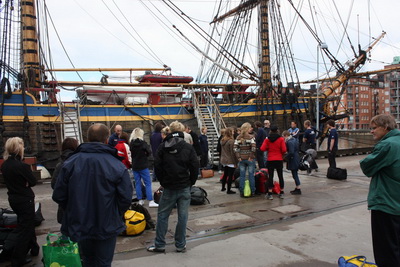 Then Marie-Louise, one of the core crew members, welcomed us for "påmönstring", the signing-in, and gave us an introduction. We went onboard and had a fika, a Swedish breakfast :)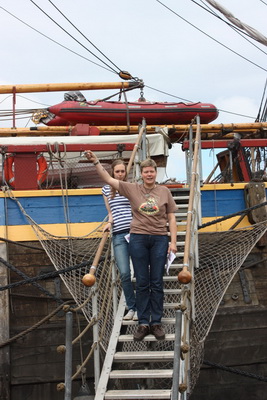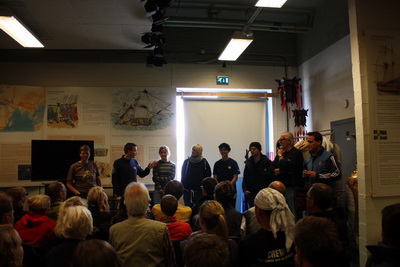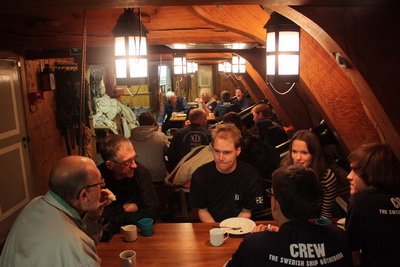 Now I could see the ship rigged again ... from my hobby of ship modelling, I had an imagination what all these lines are for; what I did not know was how to handle them in a manouvre ... to learn this, was my main goal of the voyage.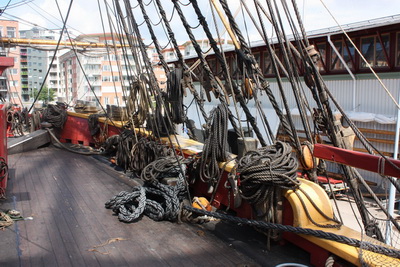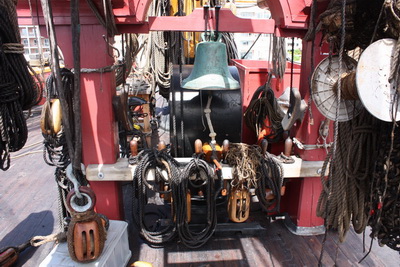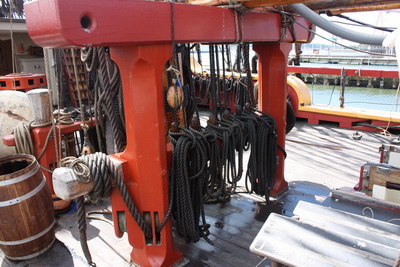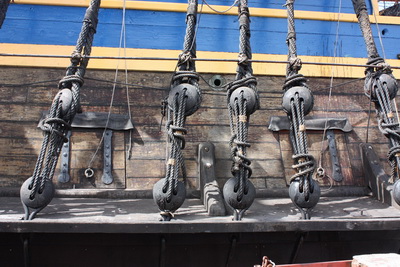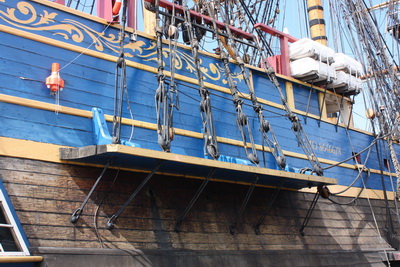 A part of this adventure was to wear historic clothes on official events, like departures and arrivals when we shoot salute. The SOIC has a dedicated tailor, and his work is marvellous!
These clothes are in size S, M and L, so there is a piece for everyone.
Historic clothes for a trainee consist of a white shirt, a neckscarf in green, red or yellow to indicate the watch (starboard, port or midship), a long and a short trousers (without pockets) in brown or green, and an ancient kind of pullover.
Of course, he made MUCH more fine ancient clothes for the women :)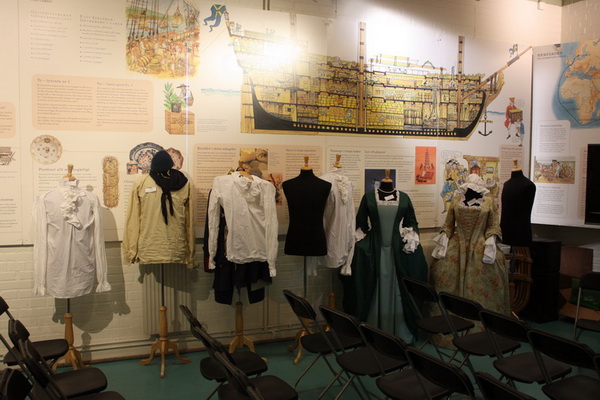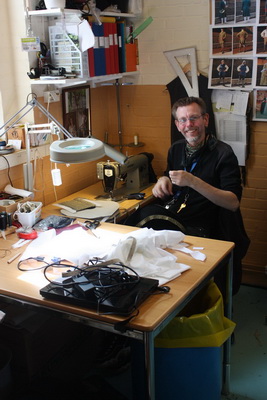 Then the three watches were grouped. I was in the midships watch, having duty between 04:00 - 08:00 and 16:00 - 20:00. The rythm at sea is 4 hours work, 8 hours free, 4 hours work, 8 hours free/sleep. So the ship is manned around the clock.
Emil was our "mastskeppare", our watch leader. Each watch consists of 18 trainees, some experienced (not me that time), the mate or boatswain, the watch leader and his/her assistant.
It is the official policy of the SOIC to have average people of any age and gender with the ship. Of course, most are between 20-30 years, many students, but some are older land lubbers like me. On this trip, we had a priest with us: Erland Svala, then 84 years old! Well, he was not charged with anything, we were happy to see that he can be with us at all ... he had the berth beneath mine.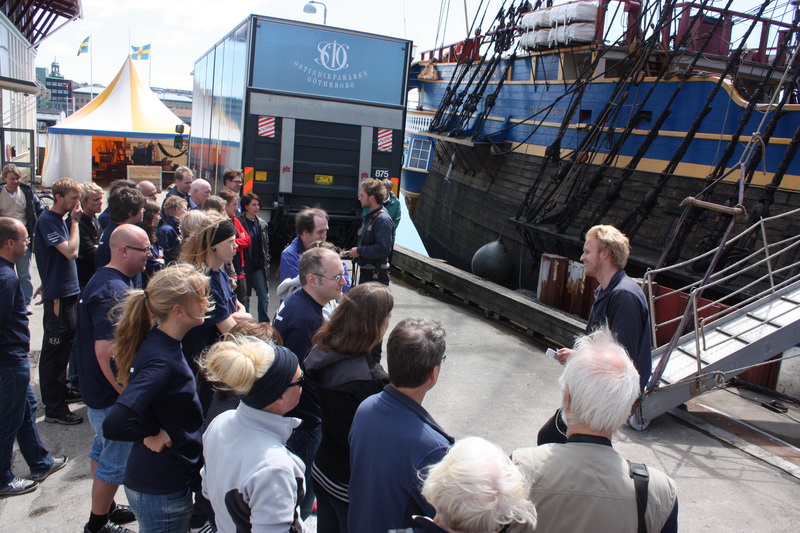 Most of us were Swedish, but we also had 2 Norsman, 1 Dane, and 1 German - my litle lot. If anyone could not understand Swedish, the commandos would also be given in English, but we all spoke Swedish, so there was no problem (Norwegian and Denish is very closed to the language).
Then we went down to our midships quarters ... I had a fixed berth for I am having a problem with my backbone, others had a hammock to sleep in :) And yes we had only one room for both genders - where is the problem? :)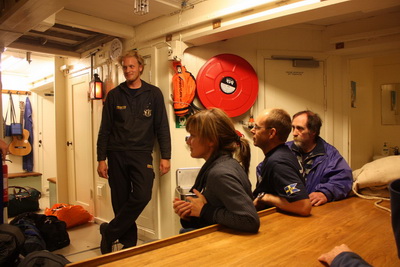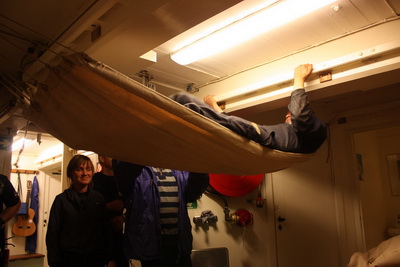 Emergency excercices before departing, to be approved by Swedish Maritime Authorities ... captain Peter Kaaling takes command.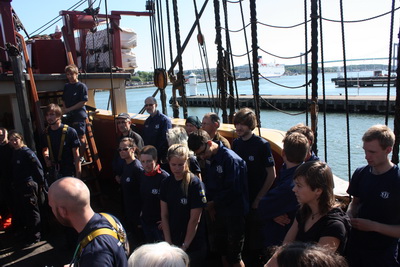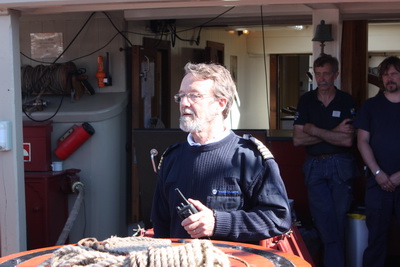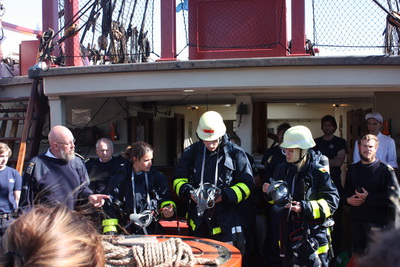 Familiarization: the entire watch is introduced into all quarters of the ship.
The Götheborg III actually is "Two Ships in One". She looks ancient from the outside. But inside, nicely hidden, where the ancient "hold" was to stow the goods, all necessary modern equipment to go to sea has been installed.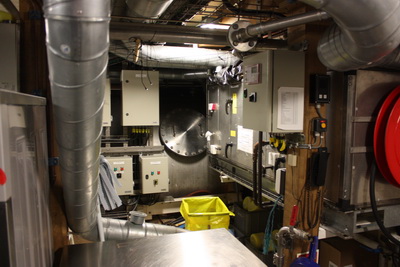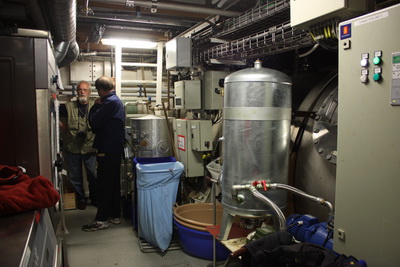 Departure: we cannot use sails in the harbour, so we use our two propellers ...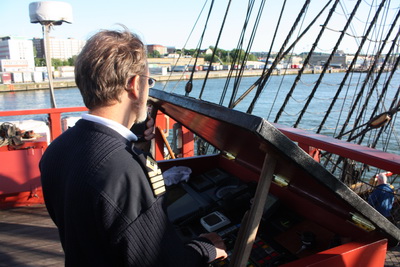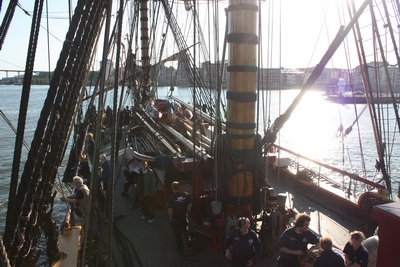 ... which are driven by two Diesel aggregates; some say this is fake sailing :), but it is necessary for maritime safety.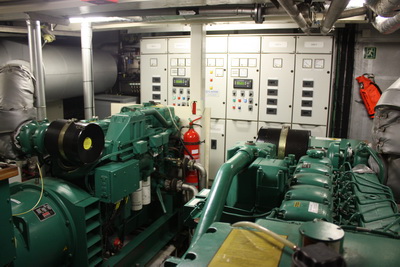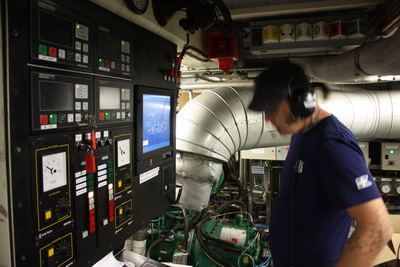 In the "arkliet", the room most aft where the rudder gear is placed, we receive our blue-clothes for daily work...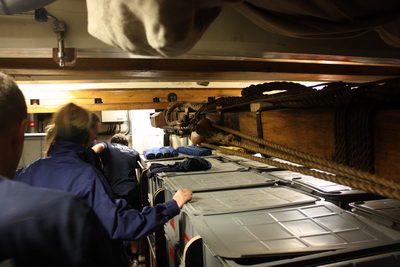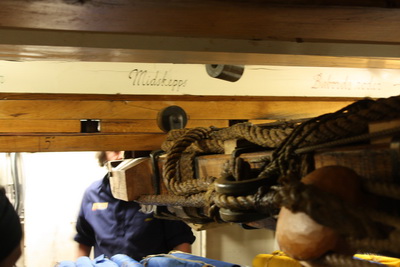 Then we continued our familiarization tour ...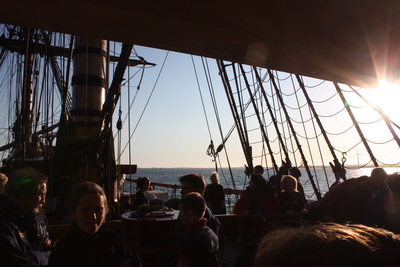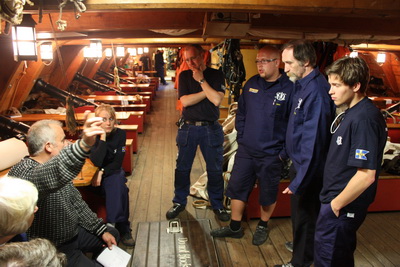 Mats, our mate, explained much to prepare us for our special posts. There are 4, called "BURR", each takes one hour to complete, then they rotate:
"Brandråd" = "Fire controller", the task is to look into EVERY room of the ship to see if something smells fire or else ... and report anything strange.
"Utkik" = "Lookout", standing on the fore castle, to look for any onstacles on our course, or ships coming too near (yes we have radar, too:)
"Roder 2" = "Helmsman 2", steering the rudder, helping Helmsman 1.
"Roder 1" = "Helmsman 1", steering the rudder, following the orders of the mate.
Another post dispatching is called "SURF", for rough weather:
"S ..." = sorry, i don´t remember that one :)
"Utkik" = "Lookout", standing on the fore castle, to look for any onstacles on our course, or ships coming too near (yes we have radar, too:)
"Roder" = "Helmsman", steering the rudder, following the orders of the mate. He/She may have up to 3 helping hands in heavy seas!
"Frälsare" = "Savior", looking for a man overboard; in that case, shouting "MAN OVERBOARD!" and casting out the life beld and the self-extracting liferaft. Then, never loose the person out of sight, to direct the boat to be sent out in the right direction.
And on all watches, two other trainees must help the cooks, being called "backisar" :)
That makes 18 - 6 = 12 trainees ready to do any kind of work on every watch. The post system is organized in a way that every trainee at least once gets charged with every post. And it works excellent :)
With no sails, as we had wind from the bow, we had not much to do ... Only the experienced trainees and the core crew were occupied to fix the topgallant yards that were still not up ... some others made their first climbing experience :)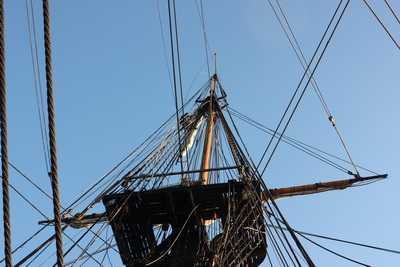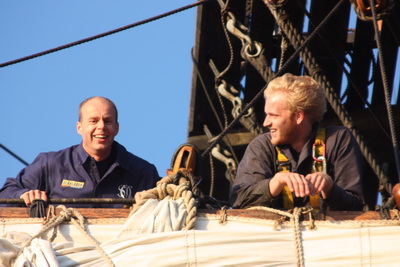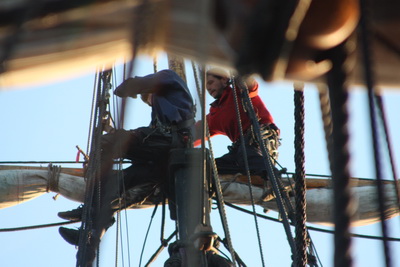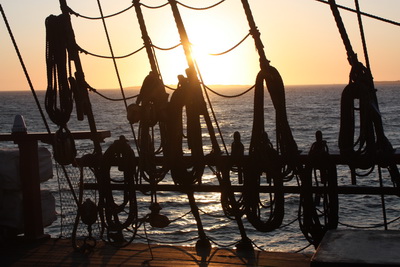 Then we went on by machines to our first destination next day: Marstrand.